COLUMBIA, S.C. — Springtime is supposed to be the busiest time of the year for restaurants, but the restaurant industry is facing a crisis period dealing with the effects of COVID-19.
You're coming out of the year-end holidays, the weather is nice, summer vacations haven't begun and Mother's Day and spring formals and graduations are big business for dining establishments of all sizes.
SMALL BUSINESS OWNERS: The Columbia Chamber of Commerce is asking small business owners to complete a short survey about your specific needs during the coronavirus emergency. Link to the survey is here.
This year, however, the restaurant industry worldwide is facing a crisis period dealing with the effects of the coronavirus or COVID-19. Between suggestions of people not congregating in groups of 10 or more and asking the public to stay at home, restaurant owners are having to make some tough decisions -- do you stay open and modify service, or close the doors until this phase of the pandemic passes? Any decision you make as a restaurant owner can cost you.
Sara Krisnow, spokesperson for the Lizard's Thicket restaurants in Columbia and Lexington, said all of the restaurants will remain open at this time. However, in compliance with Gov. Henry McMaster's ban on in-restaurant dining on Tuesday, March 17, Lizard's Thicket customers can come inside to place or pick up to-go orders only. Locations without drive through windows will begin offering curbside service for call-in orders.
Whitney Sullivan talked to Ricky Mollohan, owner of Mr. Friendly's in Five Points and Solstice Kitchen in northeast Columbia. Just last week, Mollohan had been planning to mark the 25th anniversary of Mr. Friendly's and kick off a big renovation at the Five Points restaurant. Over the weekend, though, he was faced with different decision: in the wake of the coronavirus threat, whether or not to continue dining service, adjust to take out only service, or close the doors at both restaurants.
In the end, Mollohan decided to close the doors.
"We just let them know (Sunday) night," he said. "It was just in the past three or four days that changed my mind. Several times. I've talked to as many people in the community, colleagues, city councilmen, people in the business that I really respect.
"Then I talked to our employees. Some of them I've known for 12, 14 years. They are family. And do you text somebody a message that says 'hey, we're gonna figure something out'? And then reality hits and finally you have to say we're drawing the line, this is the plan we're going with, and to protect them.
"Right now there are benefits that we can help guide them towards and keep them safe."
Still, it wasn't an easy decision to make. Talking about the staff, the history of the restaurant and how things have changed over the course of 25 years, and now having to deal with a temporary shutdown on the restaurant's actual anniversary, Mollohan got a bit emotional.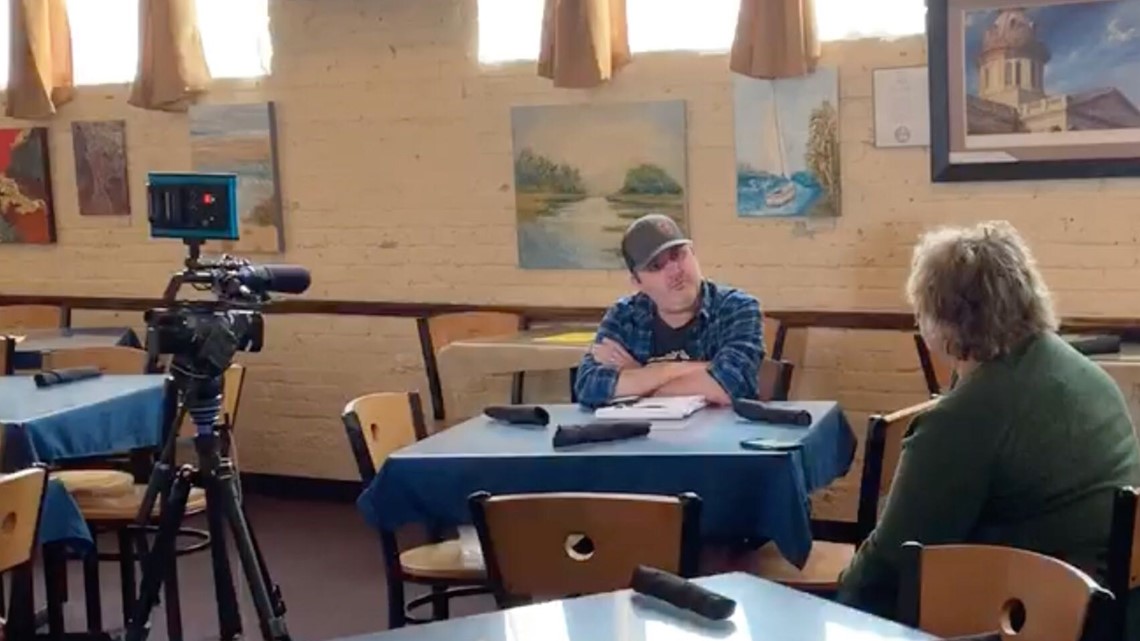 "Talking to the staff, I think I'm amazed at how they are accepting of it," he said. "Of course, I feared that there would be some that would completely not understand... but I'm proud because I think up until this point, they have all seemed to be calm -- on the surface -- and level-headed. They've asked questions, of course, they're concerned, they're worried, but I think that they recognize the difference between making the right decision for the long term, hopefully, and trying to string people along and make them promises."
You can see Whitney Sullivan's full interview with Mollohan Thursday on WLTX.
Are you a small business? The Columbia Chamber has a survey asking what small businesses need during this time. Click here for the link.
Some Columbia area restaurants have taken to social media to announce plans. Here is a list of modifications and closings:
Restaurant closings (period closed, if known)
Black Rooster, 201 Meeting Street, West Columbia
Bourbon, 1214 Main Street, Columbia
Goat's, 2017 Devine St., Columbia
Henry's of Cayce, 2108 State St, Cayce
Motor Supply, 920 Gervais St., Columbia (15 days, beginning March 17)
Mr Friendly's, 2001-A Greene St, Columbia
Silver Spoon Bakeshop, 2507 Devine St., Columbia
Solstice Kitchen, 841-4 Sparkleberry Ln, Columbia
Modified/take-out service
Backstreets Grill, 2400 Devine St., Columbia; take out
Big Daddy Burger, Forest Drive, 15% off entire order, take out
BLD Diner, Trenholm Plaza, Forest Acres; take out
The Blue Marlin, 1200 Lincoln St., Columbia/Vista, take out/curbside
Cafe Strudel, West Columbia and Lexington locations; open for business Monday - Sunday from 8 AM - 6 PM, with Curbside Service, Takeaway, Catered Service, Delivery, as well as Take Home Meal Prep
Carolina Cafe, 925 Sumter St., Columbia/UofSC; take out, limited free delivery
Crave Artisan Market, 2843 Millwood Ave., Columbia; take out, curb service and limited delivery
Duck Donuts, Cross Hill Market, 702 Cross Hill Rd., order ahead for pick-up or delivery, where available.
Gourmet Shop, 724 Saluda Ave., Columbia/Five Points; take out
Hall's Chophouse, 1221 Main St., Columbia; curbside service for take out
Il Focolare Pizzaria, 2150 Sumter St., Columbia; Dining room closed, take out only with expanded menu and online ordering available
Il Giorgione, 2406 Devine St., Columbia; take out
Lula Drake Wine Parlor, 1635 Main St., Columbia; Menu posted Tuesday-Saturday for food and wine bottle take out; dining room and bar closed
Market on Main, 1320 Main St., Columbia; take out or limited delivery area
The Mediterranean Cafe, 327 W Main St., Lexington; curbside service, 10% discount on lunch (M-F, 11am-2:30pm) and dinner (M-Sat., 4:30-9pm)
MOD Pizza, Columbia locations; take out, delivery only; temporary hours 11:30 a.m. to 8:30 p.m.
No Name Deli, 2042 Marion St., Columbia; No Name Deli will be doing carry out and drive-through pick up only starting Wednesday, March 18
Oak Grove Fish House- 309 Oak Drive Lexington; curbside, take out
Persis Indian Grill, 1728 Bush River Rd., Columbia; curbside, take out
Private Property, 220 W Main St., Lexington, 10% off all orders, family-style options available, pick-up or curbside service
smallSugar, 709 Gervais St., Columbia; Tables have been removed to provide at least six feet between guests, regular menu takeout available, curbside service
Spotted Salamander, 1531 Richland St., Columbia; Limited seating, call in for curbside to go, bulk items for take away
Sub Station II, ALL LOCATIONS; You have 4 main ways to get a sub from us: 1) Walk in and place an order to go. 2) Park in front of the store and either call us or just honk your horn, we will come out to your car, take your order and payment and bring your food out to you. You are welcome to eat in the car and enjoy our WiFi, but maybe move out of the front spaces to make room for others. 3) Order and pay online at Substationii.com for pick-up or curbside delivery to your car in our lot. 4) DoorDash
Tazikis Cafe, Crosshills, curbside pick up and delivery
Tazza, Trenholm Plaza, Forest Acres; take out
The Gold Den, 110 Columbia NE Dr., Suite I, Columbia; offering reduced priced meals for families and the community. Meals are only $5 each. You may call in your order and we can bring it out to your car or you may come in for carry out pick up for your meal.
The GRAND, 1621 Main St., Columbia; curbside to go or delivery within a two mile radius
The Other Store, 4130 Bethel Church Rd, Forest Acres; call in for curb service
Yesterday's, 2030 Devine St., Columbia; to go menu and comfort food by the pound, curbside (or limited free delivery on call-in orders 4:45-8:30 p.m.)
Breweries
Taprooms are closed, but some breweries are offering their product for off-premise consumption.
Angry Fish, 106 Fabrister Ln, Lexington; call ahead, online, in-person take out or curbside, some food truck availability
Columbia Craft Brewing Company, 520 Greene St., Columbia, 2-7 p.m. to go 6-packs, crowlers and growlers
Cottontown Brew Lab, 1223 Franklin St., Columbia; will take orders as they had sold out of canned beer Tuesday, March 17
Hazelwood Brewing, 711 E Main St., Lexington; open 1-8 p.m. for to go orders, no personal growlers
Krafty Draft Brew Pub, 269 Charter Oak Rd. Lexington; Opens at 4 p.m. for to go or limited delivery
Old Mill Brewpub, 711 E Main St., Lexington; full menu carry out plus some heat-and-serve options
Random Tap, 117 Spears Creek Rd., Elgin; take out food and beer
River Rat Brewery, 1231 Shop Road, Columbia; take away food and beer
Steel Hands Brewing, 2350 Foreman St., Cayce, six-packs available
Swamp Cabbage Brewing Company, 921 Brookwood Dr., Columbia; 32-ounce crowlers to go
Twisted Spur, 705 Gervais St., Columbia; open 4-9 p.m. for curbside to go food, growlers and crowlers