COLUMBIA, S.C. — The traditional version of the South Carolina State Fair won't take place this year due to the pandemic and will instead change into a two-day free drive-through version.
Fair officials announced Wednesday morning that they will do a revised event on Tuesday, October 20 and Wednesday, October 21. The traditional version, which had been scheduled to start a week earlier, will not take place.
"In the midst of the worst global crisis of our lifetime, we wanted to give the community something positive to look forward to," said South Carolina State Fair General Manager Nancy Smith. "Our team is proud to offer a free event where families and friends can experience the joy of the State Fair in a safe and fun environment."
She said rides could not happen due to safety precautions.
"As the state's largest event, we have a responsibility to take care of our neighbors and protect those we love," said Smith. "To prioritize community health and well-being, our team has spent countless hours developing the best and safest State Fair possible. Safety is always our number one concern, and it is clear to us that the State Fair must adapt to the challenges of the COVID-19 pandemic."
Smith said guests will enjoy free admission to drive through the fairgrounds and experience unique, car-friendly attractions that highlight South Carolina's agriculture, history, arts and culture — all from the comfort and safety of their cars. Meanwhile, in a twist on the restaurant drive-through concept, guests will be able to drive into the Lexington Medical Center Fair Park on the fairgrounds and purchase their favorite fair foods.
"We felt it was very important to continue to give back to the community and especially in the recent times that we've had, we think this will be something positive for the community and also to keep the fair's roots alive here," explained Smith.
The entire parking lot will be a food area. People will take your order and you'll receive it as you leave the area.
Part of the reason they got the idea for the drive-thru was from normal drive-thru's at fast-food restaurants.
"Our fair industry has really been devastated through the COVID-19 pandemic. Many of (the fairs) have already been held or were supposed to already have been held and have been cancelled. We're all looking for a genius way to do things and they started with the food drive aspect," said Smith.
There will also be a drive through cattle exhibit.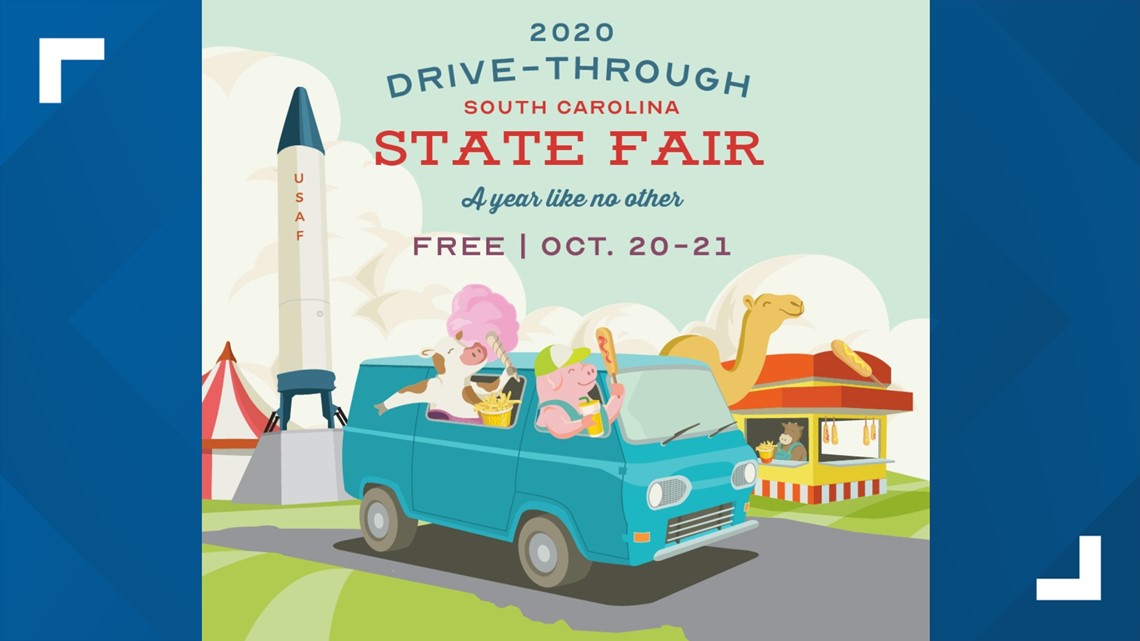 "The Drive-Through State Fair is going to give folks a snippet of the fair they've known their entire lives," said South Carolina State Fair General Manager Nancy Smith. "It will certainly look different, but we look forward to sharing this gift with the community. It will truly be a year like no other."
While people will remain in their cars at the event, the fair says they are working on plans to have things available such as restrooms in emergency situations.
Although South Carolina State Fair is a fun event for families, it's also a non-profit that gives back to the Palmetto State.
"The fair is a 501c3, we are a not for profit organization and I think something that most people really love to hear is the fact that we do give back to the community through scholarships," explained Smith. "We offer $300,000 in scholarships every year to graduating seniors that attend an instate school or university. That will be very much prominent at our drive-thru fair to let people know that's part of who we are and what we do."
"We've been bringing folks together for 150 years, and we plan on being here to continue our beloved tradition for decades to come," said Smith. "Thank you for standing by us now, and thank you for keeping the spirit alive as we bring your tradition — your South Carolina State Fair — to you in a new way this October. We'll be back — better and stronger — in 2021."
Smith believes this is the best option for this year's fair.
"Your South Carolina State Fair Staff has spent countless hours in trying to develop the safest and the best fair possible for everyone to come and enjoy and after many hours of that, it became obvious to us that the drive-thru fair was really the only way to do that," explained Smith. "With our social distancing and wearing masks and all of that, we just feel like this is the absolutely the best and safest scenario and that people can be able to come out and feel good about it and enjoy some time at the South Carolina State Fair."
Next year's S.C. State Fair will take place October 13-24, 2021.
Plan ahead for Carolina Lights, downtown's most popular drive-through holiday lights show
The second annual "Carolina Lights" drive-through lights show will take place December 5-27, 2020, at the LMC Fair Park at the S.C. State Fairgrounds.