ATLANTA — 'The Best of Enemies,' filmed in Macon, Georgia is a timely drama starring Academy Award nominee Taraji P. Henson (Hidden Figures) and Academy Award winner Sam Rockwell.
It tells the story of the unusual bond between civil rights activist Ann Atwater and a CP Ellis, a former leader of the KKK.
The two were able to forge a true friendship as they work together to improve Durham schools. It's a story about finding common ground that many say is as important now as it was back then.

The A-Scene's Francesca Amiker sat down with the film's star Taraji P. Henson and producer Dominique Telson to learn more.
Based on a true story, Bill Riddick was brought to town to smooth the road to desegregation. All he needed was two co-chairs who couldn't' be farther from different.
BEHIND THE SCENES : The Best of Enemies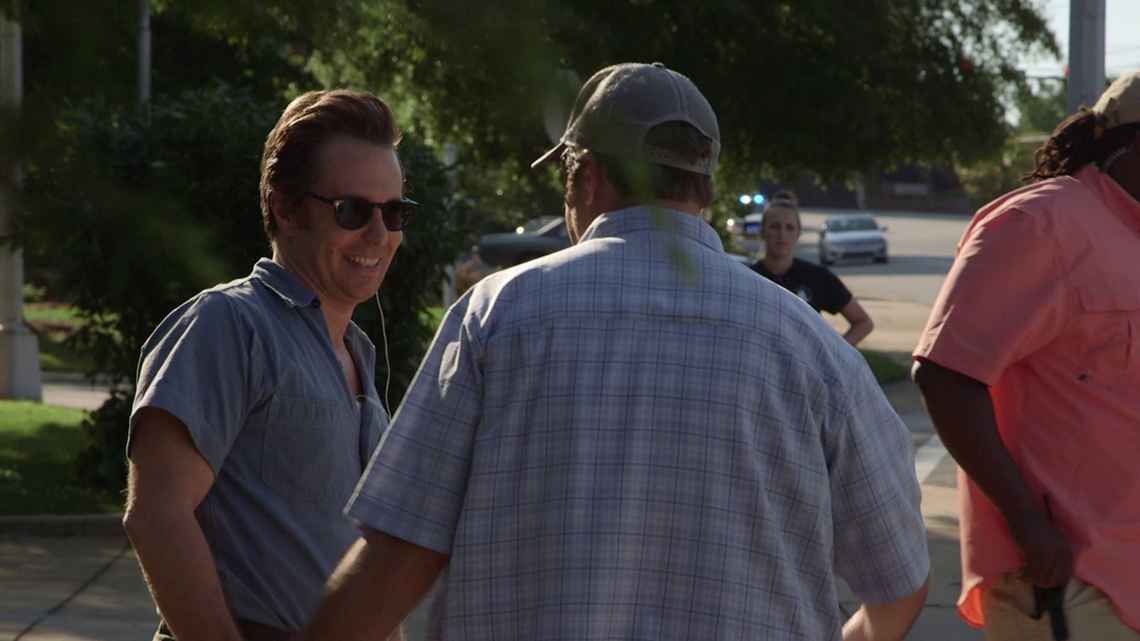 Ann Atwater (Henson), 32, was a single mother, raising her daughters in East Durham, NC.
Brazen slumlords, firetrap schools and do-nothing local officials were daily facts of life, but Ann fought back as a grass roots activist at Operation Breakthrough. Roughhouse Annie, as some called her, was a blessing to her neighbors, and a threat to her foes.
C.P. Ellis (Rockwell), 44, eked out a living at a tiny East Durham gas station. He owned the place, but in Durham he'd always be a "linthead" – poor white trash – just like his millhand dad, and his own four kids. C.P. joined the KKK because he wanted to belong.
They listened when C.P. spoke, and by 1971, he'd become their voice as Durham's Exalted Cyclops of the Ku Klux Klan.
RELATED: Man says his cosplay costumes went missing from Atlanta airport
RELATED: States vying for Georgia film dollars as Hollywood threatens to leave over 'heartbeat' abortion bill
The idea of Ann and C.P. ever exchanging a civil word was close to unthinkable. But in writer director Robin Bissell's 'The Best Of Enemies', a dramatic feature film inspired by true events, these two bitter rivals are forced to start talking to resolve a crisis in their dangerously divided city.
"It shows that this one woman, the strong woman roughhouse and he was able to reach a person that she originally hated and change that your directory of his whole life to the point to hate announce the clan," Telson tells The A-Scene.
Telson says this was one of her most powerful films yet, and it was one that real Klansman president CP Elliss and civil rights activist Ann Atwater were made aware of before they died.
Henson tells us she was nervous to play out someone's real life story, but she says there's a Little Ann Atwatter in all of us.
Netflix warns subscribers of price increase
Celine Dion is coming to Atlanta in January
Snow in Midtown - but it's only 60 degrees!
How Will Packer, Taraji P Henson kept Atlanta first producing 'What Men Want'
"I understood her passion and I am sort of like…I believed in justice for all. I was the kid who made the kid who was an outsider and insider. I was like come over here, what's your name? Or I would take up for the kids who are being bullied on, so I understood her passion and where she operated," Henson said.
And if you happened to be in Macon, Georgia during the summer of 2017, you may have seen a glimpse of the action. Crews spent several months filming around the city to bring this powerful film to life.
The production found its period-appropriate houses and office buildings in nearby cities such as Cartersville and Macon, as well as the south side of Atlanta, College Park and East Atlanta.
"The most important thing about shooting Durham 1971 is architecture that predates 1971," Jeremiah Samuels, executive producer said.