MCCONNELLS, S.C. — Families and photographers are flocking to a little piece of heaven in York County to capture that perfect summer photo before it's too late.
The sunflowers at Draper Wildlife Management Area in McConnells, South Carolina are in full bloom. But you'd better make plans to visit soon because they won't last very long.
"They're at peak right now. They'll probably last another week and a half. I'm not going to make any promises," said wildlife technician Jordan Moses. "But right now, they're pretty and full."
Moses planted about 25 acres of the bright, yellow flowers in two mourning dove fields back in April. The process is quite an undertaking.
PHOTOS: Sunflower fields in South Carolina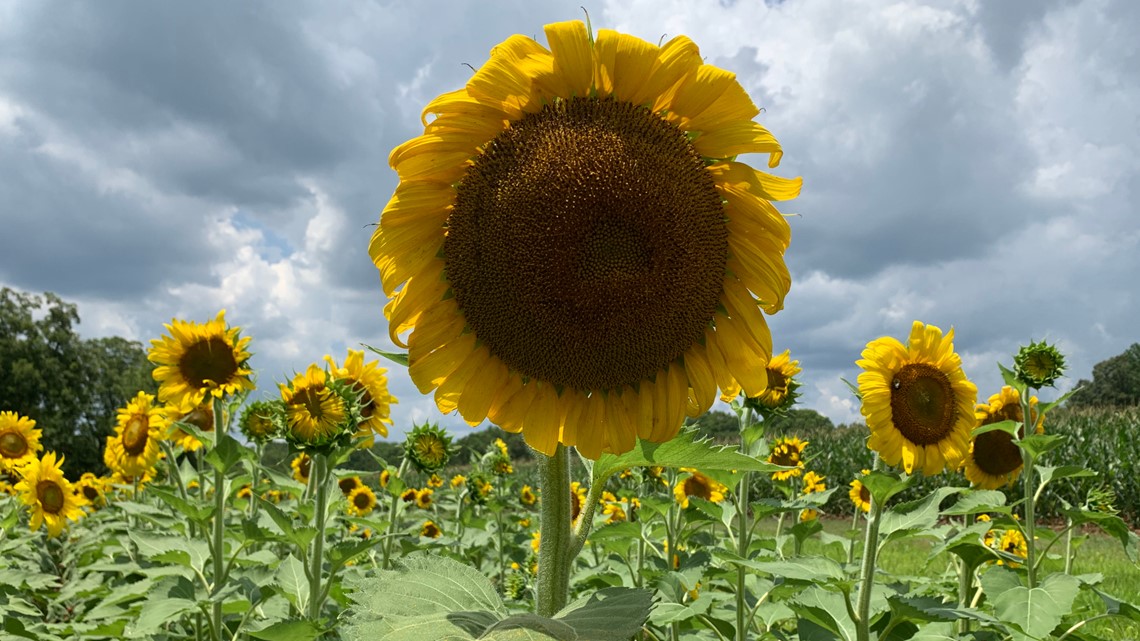 Moses takes soil samples from each field to the extension office in York County. From there, they are sent to Clemson University's Agricultural Service Laboratory.
"They'll give you recommendations as far as fertilizer," said Moses.
Then it takes about a week to get the fields ready.
"You really need to get it really smooth, free of debris," he said. "You wanna try to plant right before a good rain."
"There's all kinds of tricks for this stuff," Moses added.
The wildlife technicians usually tell people the crop should be ready around the 4th of July; at least, that's the goal. But that doesn't stop people from asking about them earlier.
"Our office gets a lot of phone calls about the sunflowers," said Moses.
Over the 4th of July holiday weekend, plenty of people came out to see the fields of gold. So many, in fact, Moses lost count.
"I have no idea. A lot. A lot of people," he said. "But some people will come two months down the road looking for sunflowers. We just tell them they've already done their thing."
You don't want to come out empty-handed. Bring your camera or cell phone for that must-have summer selfie. Bug spray, sunscreen, and water are good to have on hand, too.
Some folks even pack a lunch.
"I've seen people out here picnicking, so that's allowed. Just make sure you clean up your mess and take out what you brought in," Moses said.
There are many benefits derived from planting sunflowers, but the wildlife technicians' main focus is attracting mourning doves for the upcoming hunting season in September.
"Sunflowers are great for mourning doves. We also plant other preferred grasses and things like that that doves love," Moses said.
For now, Moses is reaping what he sowed and enjoying smiles on the faces of picture-taking tourists.
"I really enjoy doing this type of work. Just try to keep everybody happy," he said.
Draper Wildlife Management Area is open during daylight hours year-round. The address is 1080 Brattonsville Rd. The phone number is 864-427-5140.
Once you turn into the entrance, at the end of the road you'll find a large parking area with gates on the left and right. The big field is on the left; the small field is on the right.
You'll want to stay weather aware if you plan to visit Saturday or Sunday. Chief Meteorologist Brad Panovich said the sunflower viewing forecast for this weekend will be steamy and possibly stormy.
"The humidity will be a tad lower this weekend but still pretty hot and humid but more typical levels than recently. The storms chances are much lower as well just isolated to scattered storms late in the day and evening," said Panovich.
WCNC
MORE STORIES ON WCNC.COM
Look up! Saturn will be brighter and closer Tuesday night
Former Governor Pat McCrory says his identity was stolen while he was governor
Parents turn mobility invention for son with disability into gift for others