KNOXVILLE, Tenn. — Nearly all local lumber distributors in the Knoxville area say something similar when you ask them about the lumber shortage and subsequent high prices — they've never seen anything like it.
In one case it's Ward Witt, Vice President of Witt Building Materials in Knoxville.
If you're building a home, remodeling your deck, or just trying to build a flower box in your backyard, you probably know the price of lumber is insane — even if you don't work in the industry.
That's all thanks to a shortage that started when lumber mills closed and supply chains ran into issues due to the COVID-19 pandemic.
"It's really not one particular item, we're just having to buy what we can get when we can get it," said Witt. "And we're waiting extended periods of time to get it, four to six weeks in some cases."
The materials that workers can get their hands on is usually pricey — around $40 per sheet. They used to pay between $8 - $10 per sheet for materials that are used for almost anything from roofing to flooring and building walls.
"We're at all-time record highs," said Witt. "I mean, pricing is just unheard of, stuff that we've never seen before."
The National Association of Home Builders reported these skyrocketing prices are adding nearly $36,000 to the price of any new home. And that's not because of any price-gouging.
Instead, the rising prices are a simple supply and demand issue.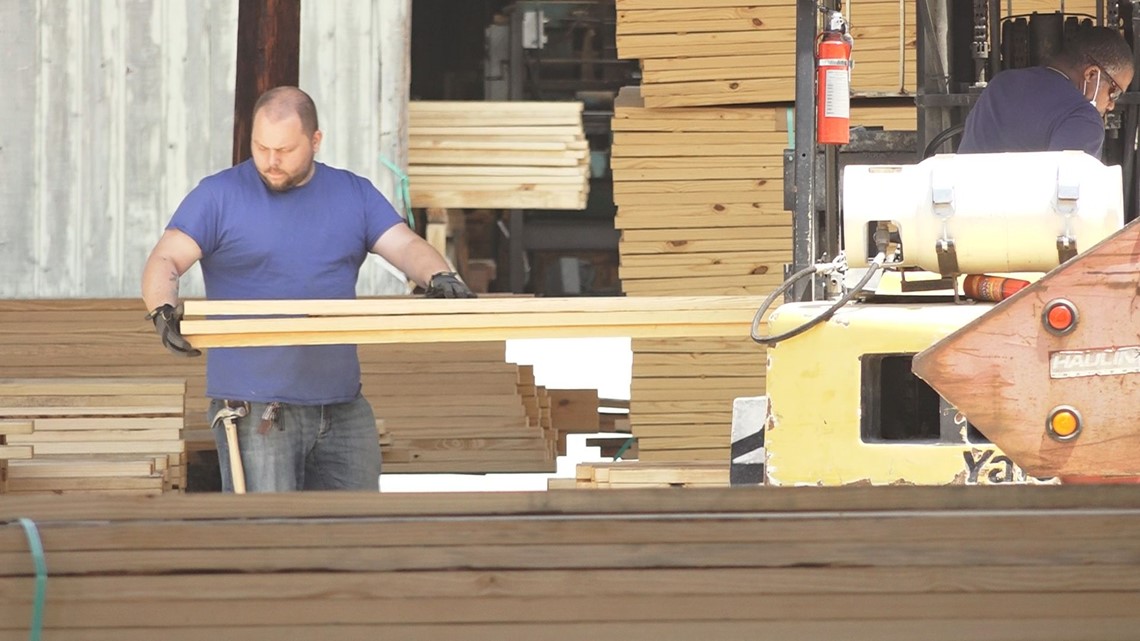 The persisting lumber shortage is thanks to a wild concoction of unexpected events that started with the pandemic last spring.
Lumber mills closed and then came back at smaller capacities, producing fewer materials. Witt said local lumber companies expected construction to slow down during this time so they shrunk capacity. Unexpectedly, demand for new construction materials did not stop.
"There's just an unheard-of demand," he said. "A lot of folks are moving to Knoxville from other parts of the country and it's creating a huge demand and building materials."
Fast forward to 2021 and two more unexpected events hit the lumber industry.
First, a fire at a Veneer mill plant in Mississippi cut down on the supply of some materials, and the ice storm that hit Texas caused a shortage of resin.
Those two incidents impacted the supply of items that are needed for engineered wood, leading to a shortage and price hike in that area.
There also aren't enough truck drivers and workers to move the lumber, but people still want to build. Demand has stayed high despite difficulties in transporting materials to developers and consumers, leading to higher prices.
And since prices are outrageous, lumber thefts are also on the rise.
In Cocke County, the sheriff's office is asking for help identifying two people caught stealing lumber on camera.
Local lumber companies hope things will level out by the fall, but no one can be sure when prices will go back to normal.
"Don't be surprised when you come in and something's five or six times what you may have expected it to be," said Witt.