COLUMBIA, S.C. — Dr. Ernest McNealey is the 30th president of Allen University in Columbia. Under his leadership, the University has revived its football program and put a MacBook in the hands of every student on campus. He's an artist at heart and in practice with the educational credentials and vision to prove it.
McNealey's been the change agent that alumni and supporters of the HBCU say will lead to a growing student population. During his time at Allen University, the school has added degree programs for students and graduate level programs. McNealey says he's excited about the progress his students are seeing as the campus grows its reach throughout the Capital City.
As he enters his 6th year as the school's leader, McNealey says he's become more patient. "Getting the right outcome is what should drive all human activity," McNealey said.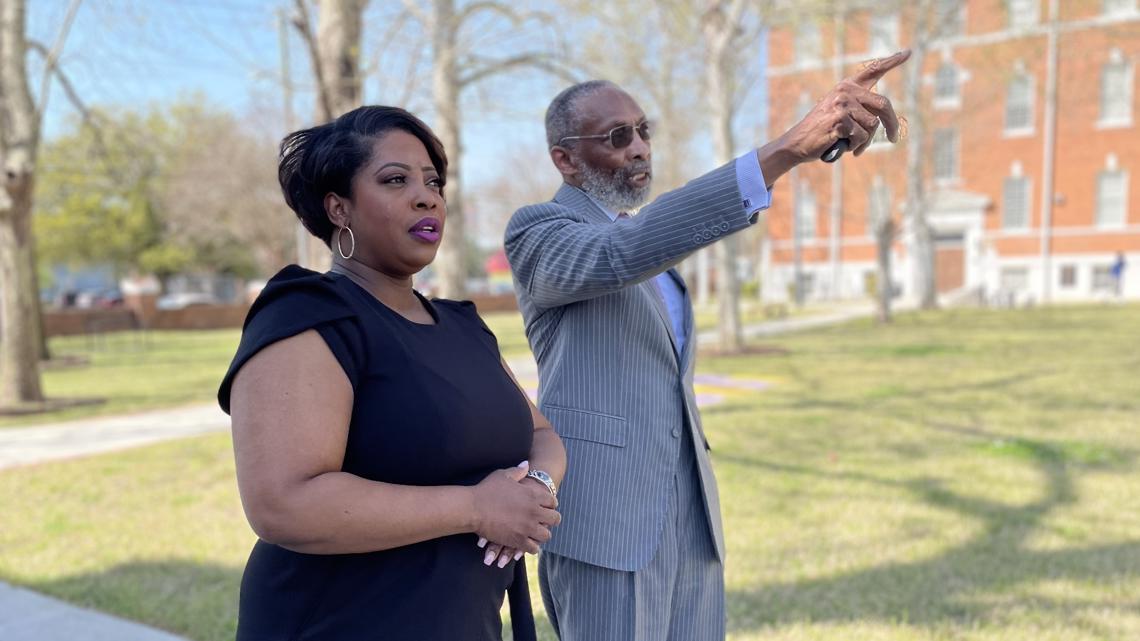 According to Allen University, during McNealey's tenure, the University successfully completed its 10-year reaffirmation of accreditation with the Southern Association of Colleges and Schools (SACS) and gained approval to move from Level II to Level III to offer a graduate program; new majors have been added; football and a marching band have been revived; campus upgrades have been undertaken; university finances have been stabilized; and the Dickerson-Green Theological Seminary was launched.
A Seat at the Table: Dr. McNealey, Allen University president
Prior to coming to Allen, McNealey was the principal officer in the McNealey Group, an Atlanta-based consulting firm, which specialized in accreditation, planning, financial modeling, and NCAA compliance. Models to research and redress persistent retention challenges were also developed and remain a core interest.
Before retiring from Stillman College, McNealey's leadership enabled the institution to reach its highest ever endowment, total assets, and enrollment levels. The college achieved its first-ever ranking in US News & World Report's top tier among schools in the Southern region and selection as one of the Nation's 15 Most Wired Campuses, as well as Apple Computers' Innovation in Technology Award.
McNealey was elected and appointed to a number of professional organizations. He served as a member of the NCAA D-II Presidents' Council, the HBCU Capital Financing Board, the Association of Presbyterian Colleges' Risk Management Board, the Honda Campus All-Star Challenge Advisory Board, the ETS/HBCU Advisory Board, and the Paul R. Jones Art Collection Board. He was a member of the Commission on Colleges of SACS and served on the Executive Committee. He also chaired the boards of the Association of Presbyterian Colleges and Universities, and the National Association for Equal Opportunity in Higher Education.
McNealey says at one time he aspired to be an artist and earned a number of commissions along the way. His art work hangs along the walls of the halls outside and inside his office. McNealey says he's highly motivated to do the things that most people find difficult. He says he's pleased at accomplishments when they happen because it frees him up to look to the next challenge.
McNealey holds a bachelor's degree from Alabama State University, a master's from Indiana University, and the Ph.D. from The Ohio State University. He is also a graduate of the Harvard Management Institute, a charter member of 100 Black Men of West Alabama, a Life Member of Kappa Alpha Psi Fraternity, and was inducted into Beta Kappa Boulé of Sigma Pi Phi Fraternity. McNealey resides in Columbia with his wife, Dr. Earnestine Green McNealey, an author; and has two adult sons.