A man who investigators have connected to at least 15 sexual assault and rape cases has been indicted on the charges when his DNA turned up in a handful of previously untested rape kits.
The Fulton County District Attorney's Office announced that 54-year-old Dandre Shabazz was indicted by a grand jury for a series of sexual assaults that occurred between 2001 and 2005.
According to the district attorney's office, the defendant drove up to women and lured - or forced - them inside before driving them to a park or abandoned home where he sexually assaulted them. The district attorney's office said that in every incident, Shabazz held a gun and forced the victims to engage in sexual intercourse and sometimes oral sodomy against their will.
He never used a condom and left DNA in over a dozen cases. But even though the women all reported the attacks, their rape kits went untested for years - and Shabazz never saw charges for those cases.
He was arrested only months after his final alleged attack in 2005 on charges of armed robbery where he was sentenced to prison with possible release in 2019. Now, new charges could push that date back much further.
PHOTOS | GBI adds employees to handle backlog of rape kits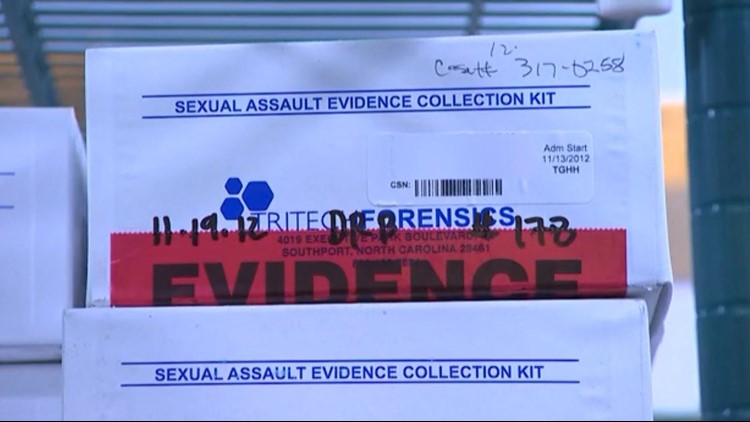 The serial rape case came to District Attorney Paul Howard's attention in 2017 when sexual assault kits were tested as part of the state's attempt to process a backlog of untested rape kits stored at Grady Memorial Hospital.
The kit that originally tied Shabazz to the other cases was dated back to 2003. Authorities said it contained a DNA match. It soon matched DNA in a series of other rape cases.
The district attorney forced a taskforce in 2018 to pour through data from sexual assault kits with the goal of investigating and indicting cases. The task force then found matches in the case and contacted victims - all of whom had been waiting for several years for their attacker to be caught.
The results come after a 2015 joint investigation by TEGNA and USA TODAY that revealed that, around the country, rape kits sat in storage untested years after they were taken.
At the time, the Georgia Bureau of Investigation had a backlog of about 270 untested kits. The cause behind the sky-high number of untested kits is debatable. Some blame lack of resources and technology while others said they were simply lost to time.
Whatever the reason, the GBI was awarded $2 million to eliminate the backlog and ultimately hired a third-party company to help test them.
The company is now testing 100 out of 250 new kits the GBI receives each month and has identified an estimated 250 suspects through the criminal database.
Sign up for The Speed Feed newsletter below to get the latest headlines in your inbox each weekday! (App users click here)