COLUMBIA, S.C. — WLTX wants to keep you informed on the latest news about the effects of the coronavirus (COVID-19) pandemic in South Carolina. Our coverage is rooted in Facts, Not Fear. Visit wltx.com/coronavirus-covid-19 for comprehensive c-overage and text questions to (803) 776-9508.
State and federal officials with the Centers for Disease Control and Prevention (CDC) are continually monitoring the spread of the virus. They are working hand-in-hand with the World Health Organization (WHO) to track the spread around the world and to stop it.
South Carolina's Department of Health and Environmental Control (DHEC) is leading the fight in our state.
Friday, April 3
Prisma Health COVID-19 drive-through testing locations will change their weekend hours
At Prisma Health Richland Hospital, weekend hours will shorten to 9 a.m.-1 p.m. on both Saturday and Sunday. The site will continue to be open 9 a.m.-6 p.m. Monday through Friday.
This site is outside Prisma Health Richland Hospital, 14 Medical Park, near the Emergency Department.
Testing is for patients with electronic orders from their Prisma Health provider or from a Prisma Health Virtual Visit provider. Paper orders from non-Prisma Health physicians also will be accepted. Patients must have official personal identification.
Lexington District One alters food program for children due to spring break
Lexington County School District one has announced that parents/guardians participating in the district's free food program for children will pick up Friday's lunch along with breakfast and lunch intended for Monday, April 6 and Tuesday, April 7.
The meal program will resume Tuesday, April 14 with students receiving Tuesday's lunch and the next day's breakfast.
Starting Wednesday, April 15, the district says it will be changing its feeding program into a two day a week program.
For additional details, click here.
Thursday, April 2
No meal deliveries April 6-10 for Kershaw County School District because of Spring Break. Meal deliveries and pick-up will resume Monday, April 13
BlueCross and BlueShield COVID-19 insurance procedures
BlueCross BlueShield of South Carolina announced today that the insurance company and its BlueChoice HealthPlan subsidiary will waive all out-of-pocket costs related to in-network COVID-19 medical treatment for members, through June 1, effective immediately.
No classes at USC through summer semester
The University of South Carolina will continue to have no students on campus through the summer semester, both for the Columbia and Palmetto College campuses.
The school announced the update late Thursday afternoon, saying they were doing that in the interest of the safety and health of students, faculty, and staff. That would mean no class through August 1.
The Lexington County Sheriff will read you a bedtime story
Wondering what's for dinner? New free mobile app can track participating local restaurants and food trucks.
12-year-old Irmo boy and his grandmother want to gently remind others of social distancing with homemade buttons
SC law enforcement officers continue to serve their communities --- even at a distance
SC High School League holds out hope for spring sports season, has not made final decision on athletic year.
The latest numbers from DHEC
SC Department of Employment and Workforce releases data from the week of March 22, 2020, as the US jobless rate hits a record 6.6 million due to coronavirus-related layoffs
Messages of hope start appearing at Prisma Health locations across the Midlands.
Local embroidery shop wants South Carolinians to remember to support local businesses during the coronavirus pandemic
Local brewery, distillery shift production to a different type of alcoholic product
Lexington man spreads signs of hope throughout his community
There is a nationwide shortage of trained Emergency Medical Technicians (EMT) and paramedic personnel. In order to help fill the shortage, Midlands Technical College launched a nine month paramedic certification program.
SC Department of Agriculture Commissioner Hugh Weathers says it may take some time to know the full effect of COVID-19 on farmers in the state, but, as spring harvest season begins, there is financial aid available.
Due to a low crime rate, Forest Acres City Council has not yet enacted a curfew for residents but urges Gov. McMaster to issue a stay-at-home order.
Wednesday, April 1
Hospitals continue to ask for medical supplies
The Center said it is continuing to look for supplies at fair market values to meet the potential increased future demand due to coronavirus. Spokeswoman Jennifer Wilson said recent donations have helped
Sometimes feels like too much-- messages of hope in the pandemic
At the Prisma-Health Richland campus, messages like 'We're all in this together,' 'Think positive,' and 'Keep shining beautiful ones; the world needs your light,' are just a few to surface this week.
Most people complying with stay at home order in Columbia
Chief Holbrook said they have only issued two citations related to curfews. And as far as arresting anyone for not complying, the chief said that would only be a last resort.
SCDHEC announces new COVID-19 cases and deaths
DHEC, says there were 4 new deaths and 210 new cases of coronavirus in the state.
The South Carolina Department of Natural Resources sent out a list of cancelations.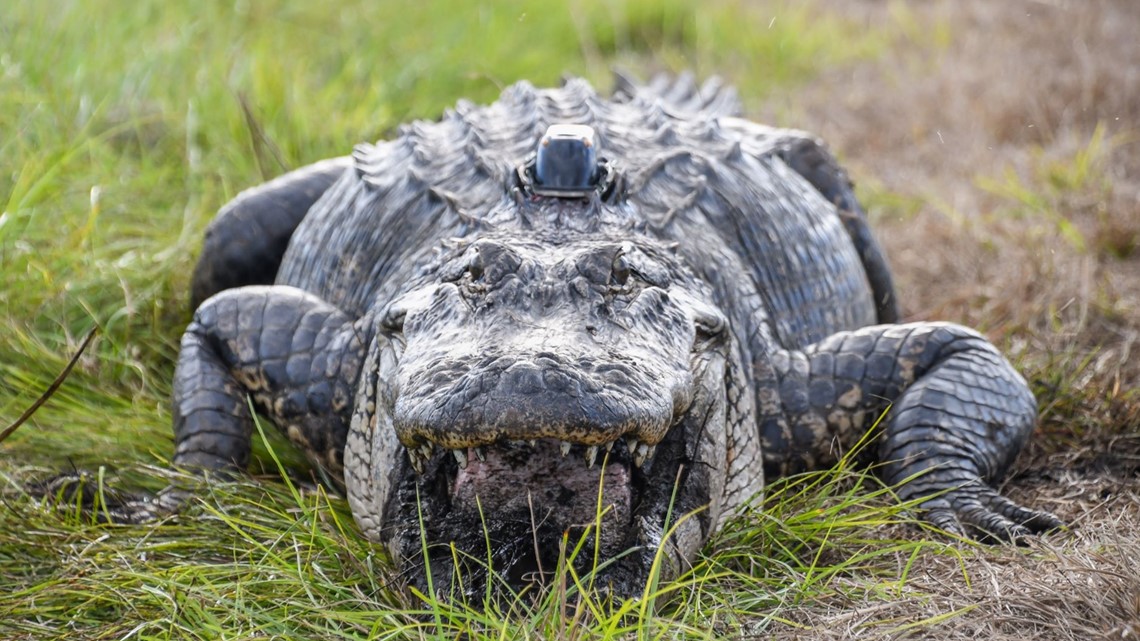 Following are SCDNR-related cancellations:
2020 Turkey Lottery Hunts - all dates all SCDNR Lottery hunts on WMA properties have been canceled.
Sandhills National Wildlife Refuge hunts remain open unless a "Stay Home" order is declared. You can see that order here.
Coyote Management Workshop – Webb Wildlife Center (April 2-3)
Fish Brosnan Forest Fishing Rodeo (April 4)
Table Rock State Park Fishing Clinics (April 4 & April 18)

Diversity Outreach Program - Congaree Creek Heritage Preserve Nature Walk (April 11)

Diversity Outreach Program - Volunteer Lab Day at Parker Annex Archaeology Center (April 13)
SC Envirothon Competition (April 24) - Postponed

Blue Hole Recreation Area Fishing Rodeo (April 25) - Postponed

Historic Camden, Kershaw County Fishing Rodeo (April 25)
8 Oaks Park, Georgetown County Fishing Rodeo (April 25)
Charles Town Landing, Charleston County Fishing Rodeo (April 25)
Blue Heron, Jasper County Fishing Rodeo (April 25)
Cohen Campbell Fishing Rodeo (April 25)
Lake Hartwell Fishing Clinic (April 25)
Lexington Wildlife Chapter Fishing Clinic (April 25)
Santee State Park Fishing Clinic (April 25)
Diversity Outreach Program - Horry County Fishing Clinic (May 1)

Union County Fishing Rodeo (May 2)

Star Fort Fishing Rodeo (May 2)

Croft State Park Fishing Rodeo (May 2)

Darlington County Fishing Rodeo (May 2)

Barnwell Hatchery Fishing Rodeo (May 2)

Peachtree, Horry County Fishing Rodeo (May 2)

Hardeeville, Jasper County Fishing Rodeo (May 2)

Goose Creek, Berkeley County Fishing Rodeo (May 2)

Lake Thicketty Fishing Rodeo (May 9)

Lick Fork Fishing Rodeo (May 9)

Marlboro County Fishing Rodeo (May 9)

Burton Wells, Beaufort County Fishing Rodeo (May 9)

Forrest Hills, Colleton County Fishing Rodeo (May 9)

Black Swamp, Hampton County Fishing Rodeo (May 9)

Academy First Responders Rodeo at Lake Cooley (May 9)

Diversity Outreach Program - Margaret H. Lloyd (Camden) Nature Hike (May 23)
Sun City Grandparents Park Fishing Clinics (May 16, June 20, July 18)
Bat netting is canceled until further notice.
All volunteer lab days at Parker Annex Archaeology Center are canceled until further notice.
All Trailer and Take One Make One (TOMO) events are canceled until further notice.
Town of Batesburg-Leesville Comet line suspended
The COMET has suspended route 97 to Batesburg-Leesville during the ongoing State of Emergency due to COVID-19. When service is restore we will share that information with you.
First responders in Lexington County will unite Friday as "Sirens for Solidarity." Emergency units not on call will sound their sirens at 7 p.m. April 3 as a show of support and service for the community.
The SC Commission on Higher Education announced refund and credit guidelines for colleges and universities in the state to ensure all students are treated fairly.
University of South Carolina begins refunding students on-campus residential housing, meal plans and parking costs due to classes canceled due to the coronavirus pandemic. Greek organizations will be handled separately.
Students can expect refunds in their accounts by April 22.
Fort Jackson ships out approximately 800 basic training graduates to advance training facility in Virginia
Tuesday, March 31
Governor Henry McMaster shut down all non-essential businesses in South Carolina. The executive order focuses mainly on entertainment venues, athletic and recreational facilities, and close contact service providers.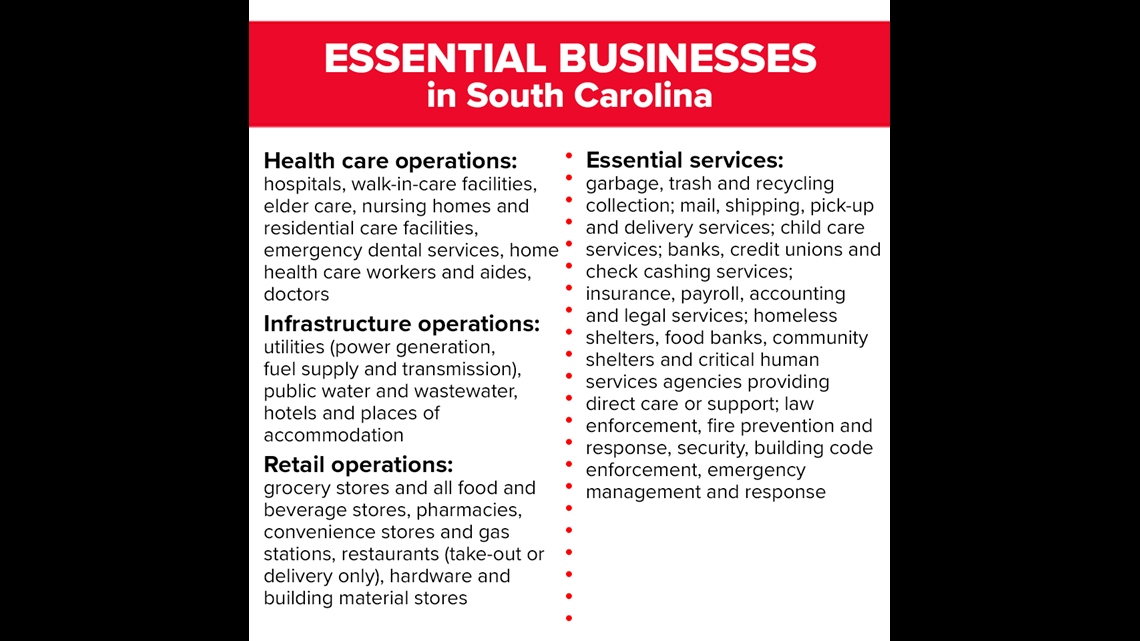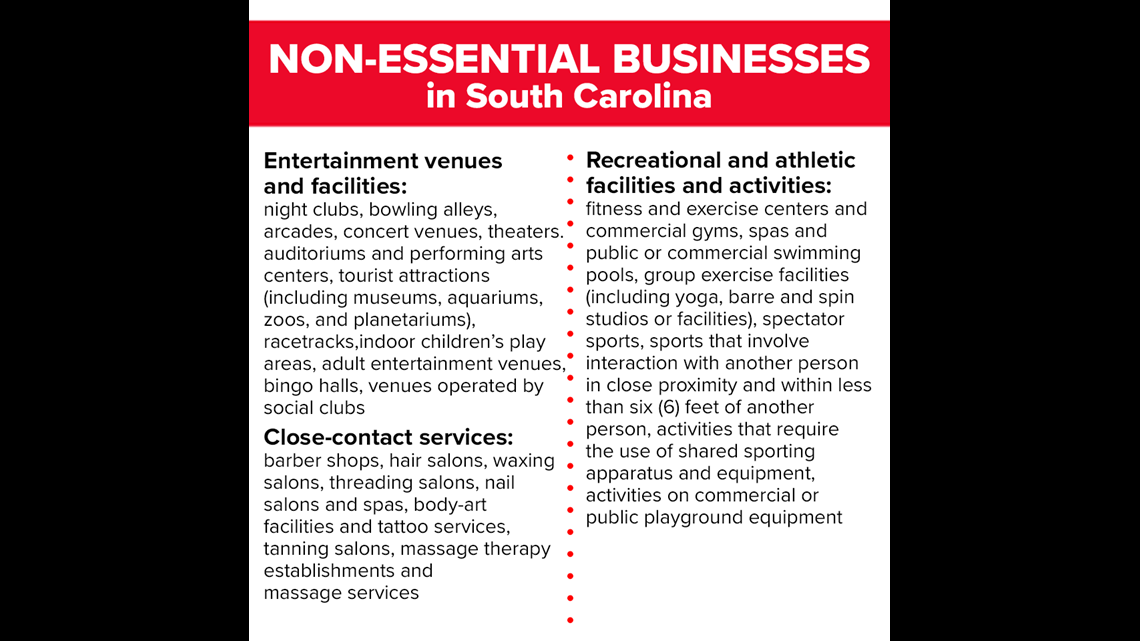 DHEC says it is not tracking confirmed cases of coronavirus in health care workers as lawmakers call for more equipment