IRMO, S.C. — Refugees from Greece have made thousands of masks to give out to churches in the Midlands.
With masks being in high-demand because of COVID-19, they are not always the easiest to find.
Robbie McAlister is a consultant in ethnic ministry and refugee work and immigration. He says a lot of the South Carolina Baptist churches have been taking trips to Lesbos, Greece for ministry work.
"It's the largest refugee camp in Europe. Since 2015, over three million refugees have come into Europe and about a third of them have come through the islands of Greece off the coast of Turkey," said McAlister.
McAlister says many of the refugees come from places like Afghanistan, Pakistan and Iran. He says there's more than 15,000 refugees at Moria Camp in Lesbos. The camp was built for fewer than 3,000 people according to the consultant.
"We've had the opportunity and the privilege to go in with close to 300 people in the last three and a half years on multiple teams from our churches in the state to serve these vulnerable people and share the love of Christ with them as we serve them in every day life," explained McAlister.
With the island having to shutdown because of the pandemic, the 'When We Band Together' organization worked with the Moria Camp and set up a manufacturing area where people can volunteer their time to make masks for people in the camp.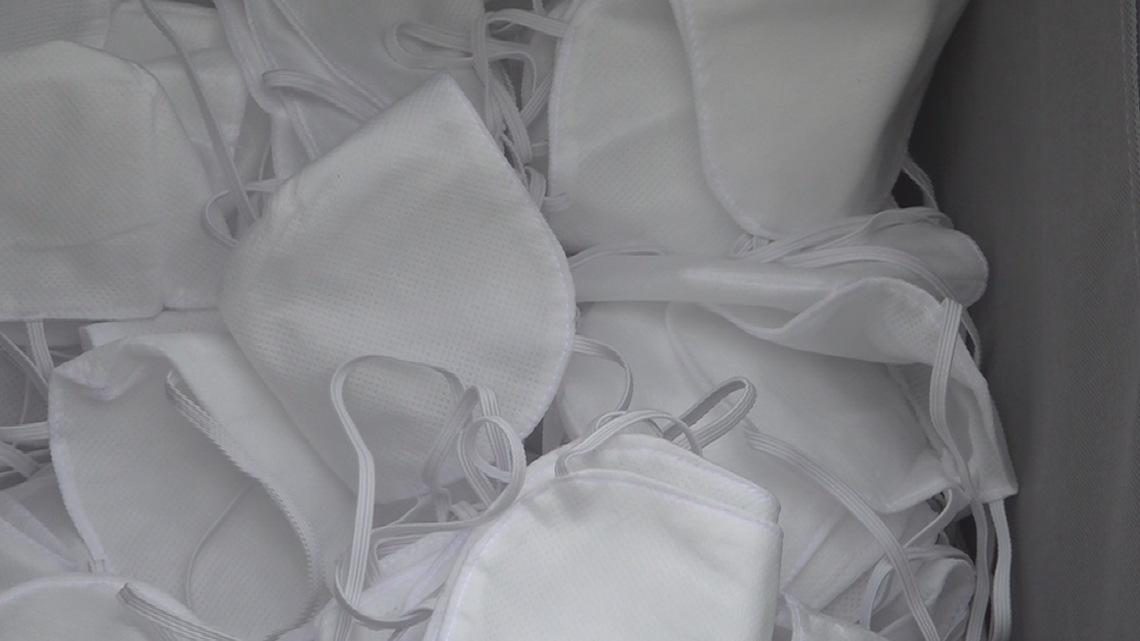 After finishing up making masks for the camp, refugees decided they wanted to make masks to send to people in different countries who have helped them in the past.
McAlister worked with the When We Band Together and the Evangelical Immigration Table to receive the masks and distribute them to churches in the Midlands.
"The reciprocal love and care that the refugees have had for us, they have nothing but they give us whatever they can to show love back to those of us that have gone and tried to help them in any way we can," said McAlister.
The masks will also be given to other places around the world.
A note from the refugees is included with the boxes and says, "These were handmade by refugee volunteers in Lesvos, Greece. We sent them to you for your safety and health. We are all one people and must protect one another."
One of the churches receiving the masks will be River Springs Church in Irmo.
Jimmy Parris, the pastor of the church, has spent time in Lesbos for ministry work. He took a team there in February.
"We're excited to make those available to our members here on Sunday morning for appropriate social distance and safe (COVID-19) worship in here but also we have a community blessing box that we try to put groceries in, we try to put diapers in and try to put things to bless our community and we'll also probably put some in there to share with the nearby community," said Parris.
Parris says it's part of the refugees' culture to want to help other people, and it's humbling.
"It's pretty remarkable. When we're actually working with them in Greece, it's not uncommon at all to have a person, a refugee, we call them people of concern, people who are broken and hurting and don't have anything at all... it's not weird at all to have them try to bless you as you bless them," explained Parris. "It didn't shock me at all to find out that they were using what they had to try and bless us even here."
"Each of those men, women and children are people with value, people that's been created by God for a reason, that each of them are just like us with hopes and dreams and desires and they want to give back. They want to love and be loved just like we do," said Parris.
McAlister says he plans on giving out more of these masks to churches in South Carolina as they receive them.
"I hope that South Carolinians will understand that we live in a world where we're all trying to care for one another in one way or the other," explained McAlister. "Refugees are coming and we hope that South Carolina will accept refugees more in the future and around our country as well."