ATLANTA — Julieanna Shedrawy likely never knew what hit her.
The 49-year-old mother of two was on her way to work in the left lane of Georgia 400 southbound when a loose wheel flew off a northbound pick-up truck pulling a trailer.
The wheel and tire bounced over the median, slamming into the roof and windshield of Shedrawy's Nissan.
The first 911 caller described her frantic attempts to save Shedrawy's life.
"The car in front of me, a tire flew up and hit her windshield, and she is unconscious. I am an RN. I am trying to get in her car," the caller told the 911 dispatcher.
Despite the nurse's heroic efforts at CPR, Shedrawy was pronounced dead behind the wheel of her car.
► RELATED | She was headed to work when tragedy struck
Photos: Rogue tire kills woman on GA 400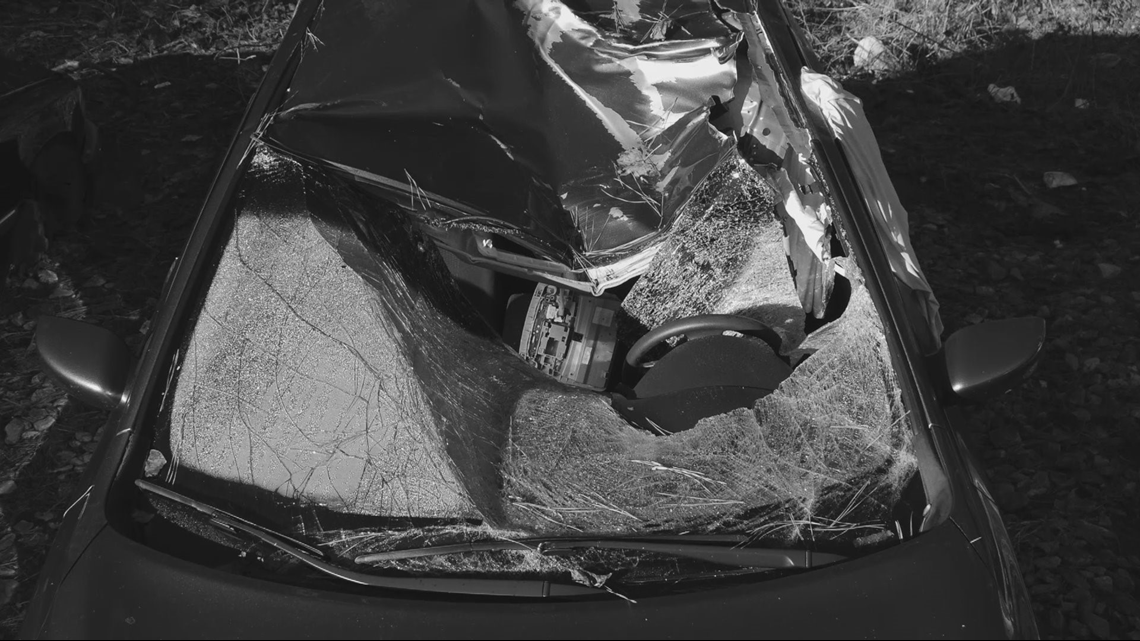 "Julieanna, that morning, was on her way to work," her friend Oswald Morgan told us. "She was really doing what we all do, something very routine. And the next moment she was gone," he said.
It may seem like a freak accident, but data from the National Transportation Safety Board (NTSB) shows loose wheels cause an average of about three crashes on American highways.
The NTSB first investigated the problem after a series of fatalities related to wheels coming off big rigs in the mid-1990s. The NTSB suggested increasing maintenance inspections.
A Canadian investigation followed a similar series of fatal incidents involving tractor trailer wheels in Ontario around the same time. That investigation resulted in a new 'absolute liability' fine of up to $50,000 for truck drivers and trucking companies if a wheel comes loose.
Fines for loose truck wheels in the United States are only around $150.
Loose lug nuts caused the two left-rear wheels of a city bus in Florida to come off at highway speed on I-95. The 2017 incident sent the bus into a pick-up truck, and then a third vehicle rear-ended the bus, causing the engine to explode.
Investigators determined that a contract mechanic was distracted by a cell phone call and forgot to tighten the lug nuts before putting the city bus back on the streets.
Palm Tran, the public transit service for Palm Beach County, fired the maintenance company. Palm Tran also got the former vendor to pay for a safety device we'll explore in a minute.
SCHOOL BUSES AT RISK
A nearly identical situation caused the wheel to come off a school bus in Charlotte, North Carolina. A mechanic for Charlotte Mecklenburg Schools forgot to tighten the lug nuts on a bus after routine brake maintenance.
The left-rear wheel of the bus came off on the first day of school, with 26 students on board. The wheel hit a car and caused a serious wreck.
A few of the kids on the bus were treated for minor injuries.
WXIA
A SOLUTION COSTS JUST 65 CENTS
Both Charlotte Schools and the Palm Tran bus service turned to the same solution: Wheel Check.
It's a small, fluorescent-colored piece of plastic that slides over each lug nut after they're tightened with a torque wrench. Each torque indicator has a point on one side, forming an arrow shape. They're installed with all the arrows pointing in the same direction, so if even a single lug nut loosens even a quarter turn, the arrow on the torque indicator will point away from the others.
WXIA
They cost just 65 cents per lug nut. The typical big rig has about 100 lug nuts, so the cost to outfit a tractor trailer is around $65.
Truck and bus drivers can simple walk around the vehicle during the routine pre-trip visual inspection and immediately see if any of the lug nuts are loose.
UBIQUITOUS IN CANADA – RARE IN THE UNITED STATES
We drove through two large Metro Atlanta truck stops, passing hundreds of trucks, but we found the torque indicators on only one.
In another truck stop off I-75 farther north, we also spotted only one rig with the Wheel Check devices. The truck had Ontario tags.
Two decades after the safety devices were invented, Canadian trucks are far more likely to have the torque indicators than their American counterparts.
Why? Because of the difference in the fine.
The torque indicators are not required in either country, but the potential of a $50,000 fine has served as an incentive for Canadian truckers to spend the $65 per tractor trailer.
SOME SCHOOL BUSES HAVE THE SAFETY DEVICE, OTHERS DON'T
We checked with several Atlanta-area school districts.
At first Atlanta Public Schools told us that "most" APS buses have the torque indicators. We visited the bus yard and saw that only a few buses seemed to have the Wheel Check devices installed.
A spokesperson revised the district's statement to indicate that only "some" of APS school buses have the safety devices, and reiterated that they're not required by regulation.
Cobb County Schools, DeKalb County Schools, and Fulton County Schools don't use the safety devices on their buses.
Gwinnett Schools told us they use 'torque striping' which involves marking each lug nut with bright paint or a liquid polymer to create a similar visual indicator for bus drivers during their walk-around inspection.
We spotted the torque indicators on a Cherokee County school bus. Cherokee Schools told us that they're in the middle of a program to install Wheel Check devices on all county school buses by this summer.
Meanwhile, Julieanna Shedrawy's friend hopes even drivers of smaller trucks put the torque indicators on their wheels – wheels like the one that killed the mother of two.
"If Julieanna's tragedy could save lives...I think that would be the most amazing and incredible thing that could actually happen," said Morgan.
WXIA
The Reveal is an investigative show exposing inequality, injustice, and ineptitude created by people in power throughout Georgia and across the country. It airs Sunday nights at 6 on 11Alive.
More of The Reveal:
Shocking videos show metro Atlanta school bus drivers putting kids' lives at risk
She called 911 when a plane crashed. 'They put me on hold'
Keyless ignitions linked to more than two dozen carbon monoxide deaths
New troubling trend emerges as Kia/Hyundai engine fires continue