50 years after victim of Houston 'Candy Man' killer Dean Corll was found, there's a new sketch in efforts to identify him
In one of the darkest chapters in Houston history, dozens of boys in the Heights began disappearing in the 70s, lured by a sadistic serial killer.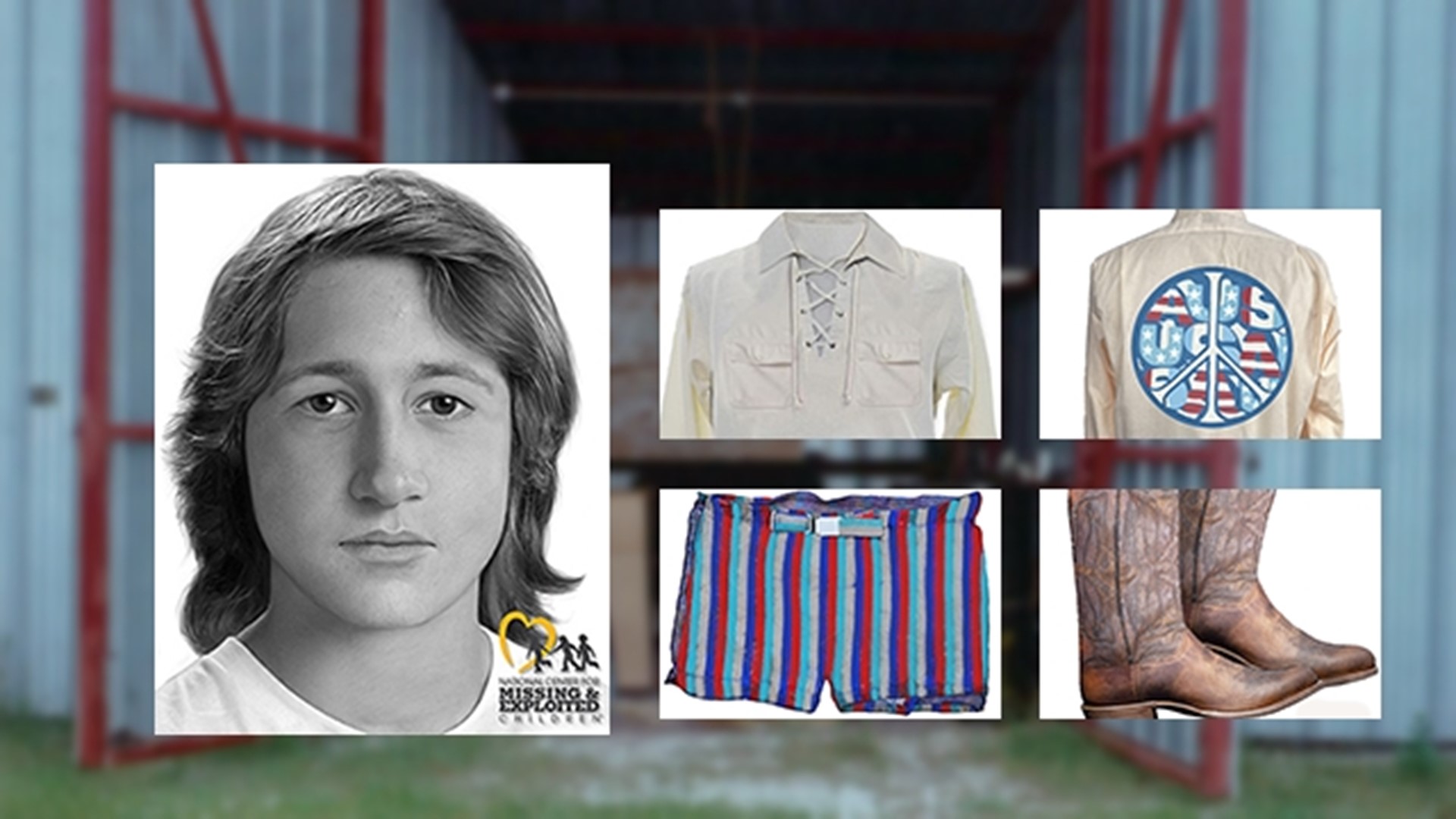 Fifty years ago this week, two teen serial killers led police to the bodies of 28 boys and young men buried in gravesites across the Houston area, including a boat storage shed, the Sam Rayburn Reservoir and a High Island beach on the Bolivar Peninsula.
The Houston Mass Murders came to light on Aug. 8, 1973, when police were called to Corll's home on Lamar Street in Pasadena. Henley, 17, was standing over the body of Corll, 38. Henley told police that he shot him six times in self-defense. But that's not all.
Henley and David Brooks, 18, admitted they helped Corll kidnap, torture and kill dozens of young males from 1970 to 1973. For two days, they led shocked investigators to one gravesite after another, 28 bodies in all. They said the victims, who became known as the Lost Boys, were tortured and raped before they were killed.
Some of them had been reported missing by their families but were written off by police as runaways.
Over the years, 27 victims were eventually identified.
Who is John Doe 1973?
:
Trying to put a name with a face
"We remain hopeful that this young man's family and friends are still looking for him," NCMEC Forensic Services supervisor Carol Schweitzer said. "He may have siblings, cousins, classmates, neighbors or friends that have always wondered what happened to him. This young man's friends and classmates would be in their late 60s to early 70s and we hope that this new imagery reaches them and helps bring in that one single lead needed to resolve this case."
NCMEC forensic artists have created a new reconstruction image of what John Doe 1973 might have looked like.
Investigators believe he was between 15 and 18 years old at the time of his death and had likely been dead about a year before he was found. He had brown hair, approximately seven inches long with brown eyes.
The victim also had a mild form of spina bifida, which may have caused him lower back pain or affected his stride. It's also possible it didn't cause any noticeable symptoms.
They also worked with the Harris County Institute of Forensic Sciences to create digital reconstructions of the items found with John Doe: red, blue and turquoise striped Catalina swim trunks with a silver buckle that had wings on it; a 70s style, khaki, long-sleeved shirt with a large peace sign over a red, white and blue USA on the back; and brown cowboy boots with the word "NEOLITE" on the heel.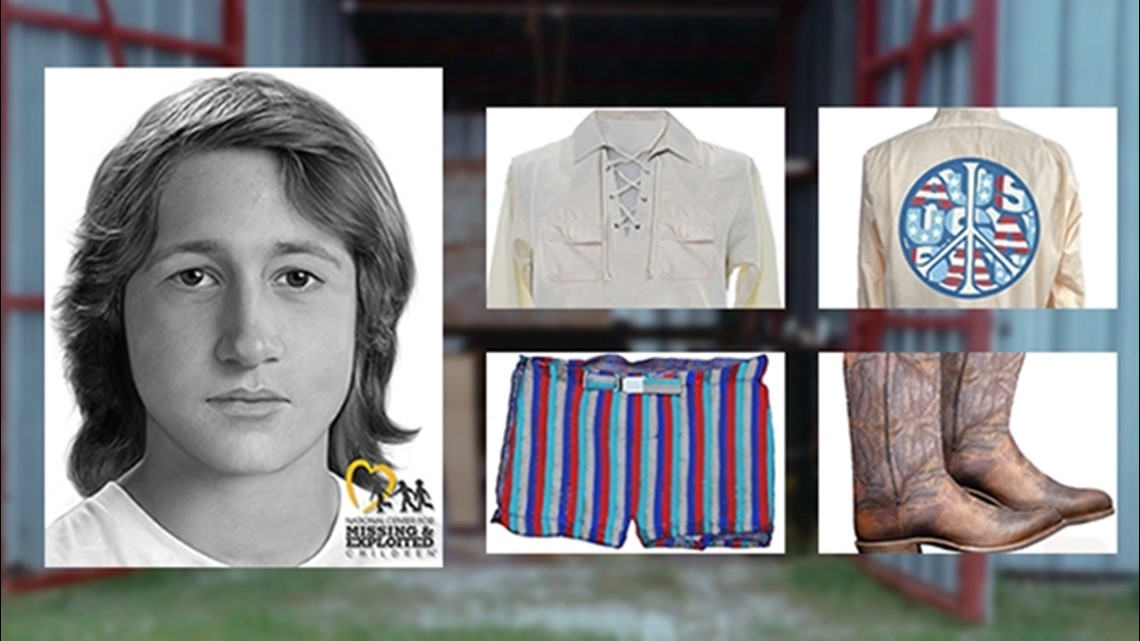 The shirt had Western-style pearl buttons on the front pockets and tiny lettering under the peace sign believed to be LB, H or 4, MF, possibly a military reference.
A knotted leather ankle bracelet and dark blue corduroys were also found with his remains.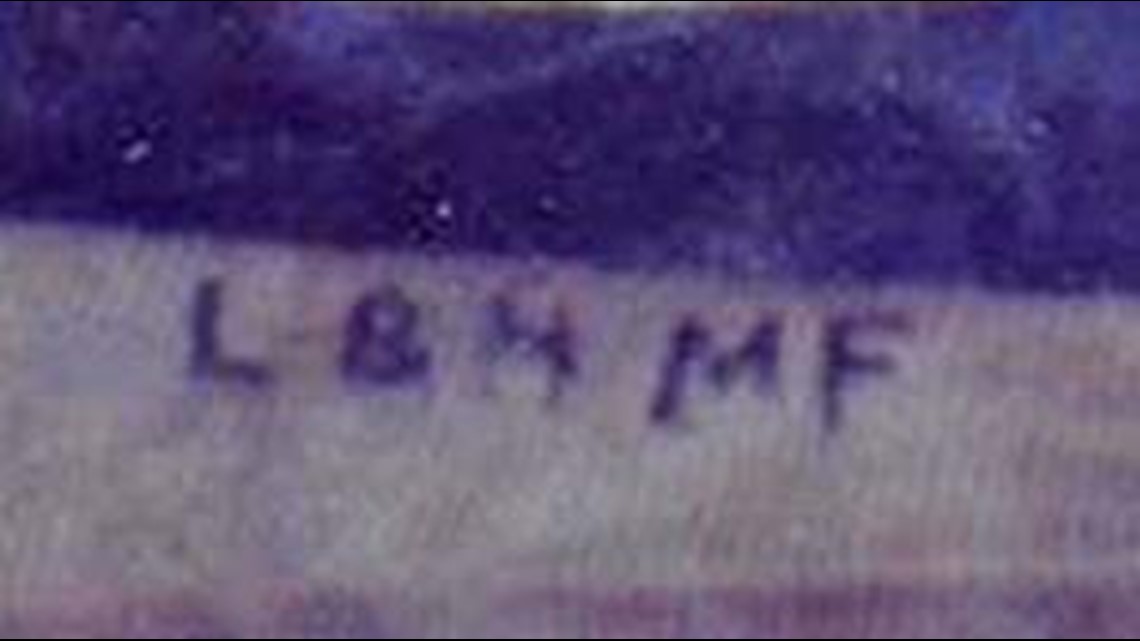 Missing Pieces
:
Who is Bobby French?
In a 2018 Missing Pieces report by KHOU 11 reporter Grace White, the Harris County Institute of Forensic Sciences released a clay re-creation and a computer-generated sketch to show what the boy might have looked like.
Dr. Sharon Derrick, a forensic anthropologist for the Harris County Institute of Forensic Sciences, helped identify seven of Corll's victims. She's not giving up until the last Lost Boy has a name.
"I just want people not to forget about this," Derrick told us then.
We also learned that investigators received a tip that John Doe 2013 could be Bobby French. The tipster included the photo below.

Investigators have entered John Doe's DNA into the national databases and CODIS but it led nowhere.
Forensic genetic genealogy also failed to provide answers.
Another victim was finally identified in 2008, 37 years after he disappeared in 1971, with help from a facial reproduction and DNA.
Randall Harvey was 15 when he vanished while riding his bike from the Heights to Oak Forest where he worked at a gas station.
"His boss called my mother and said he didn't show up for work," Randall's sister Lenore told us.
The family had no idea what happened to him until he became the 26th victim identified.
Dr. Derrick's reproduction of what he might have looked like turned out to be remarkably close. The grateful family invited her to speak at Randall's memorial service.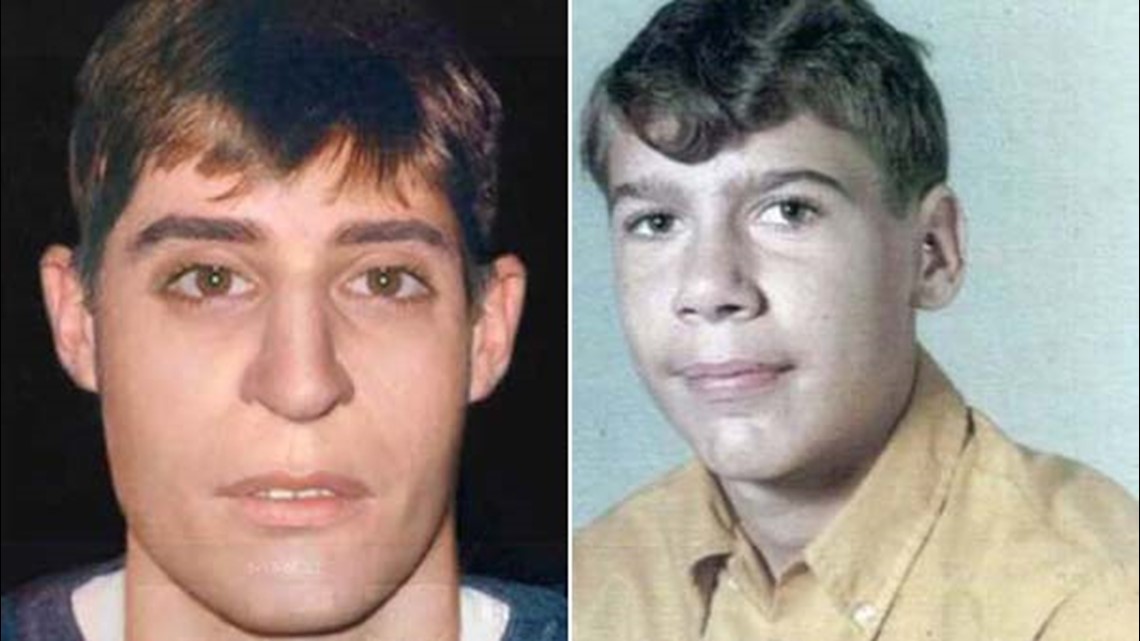 'Candy Man' killer
:
Who was Dean Corll?
Dean Corll got his nickname because he worked at his family's Heights candy shop, the Corll Candy Company, on 22nd Street, near Helms Elementary School.
After Henley killed Corll, he and Brooks pleaded guilty and were sentenced to life in prison.

Fifty years after their murder spree, the National Center for Missing & Exploited Children is asking anyone who may have information on John Doe 1973 or the items he was discovered with to come forward.
If you have any information on John Doe 1973, please call the National Center for Missing & Exploited Children at 1-800-THE-LOST or the Harris County Institute of Forensic Sciences and reference case number ML73-3356.
"I just want people not to forget about this," Dr. Derrick said.