The 1,000 Year Flood: One Year Later
For most of us, October 4, 2015 will be a day we will never forget in our lives. How could we? Whether we were the ones directly affected by the rising waters or those who saw what happened around them by watching reports on TV or online, it's hard to believe we witnessed a day unlike any other in our region's history.
There were horrifying, sickening sights to to see. Cars washed right off the road with people inside. Homes of our friends and neighborhoods filling with water so fast that those inside ran to rooftops, just to save themselves and their families.
When the waters receded, and the scope of the damage was known, we learned 19 souls were lost.
One group, a trio from Kentucky, were traveling down a dark, rural road in Richland County after a long day of work. They didn't know someone had removed a warning barricade their path that would have let them know to turn around because the road has washed away.. They didn't know that the road was gone, and their truck fell inside the newly created chasm.
Roads were impassable--over 500 were closed at the peak of the problem. Whether they were two lane county roads or six lane interstates, neither were spared when the rivers and creeks beside them swelled.
Inside people's homes, there was another problem. There was no running water in some spots for days, and no clean water to drink or cook with for others for over a week.
But there was the good. No, that's not quite right. There was the great.
The first responders who put their own lives at risk to cross roads that became raging rivers to rescue the stranded, those men and women who likely worried that October 4th would be their last day on Earth. There were the everyday people who joined the rescuers, casting their personal boats into the waters to go look for their friends and their neighbors and take them to safety.
There were those firefighters who went to a local hospital to make sure the patients inside had clean water for treatment. The police officers who patrolled the streets and kept people away from danger. The EMTs and hospital workers who had to work those long hours under extreme conditions and still be expected to perform critical, life-saving care. And the National Guardsmen who rescued people and helped build a new rock dam at the Columbia Canal.
And there were the volunteers who sprang into action. The people who generously gave money and donated supplies, such as bottled water and food, and the others who made sure those goods were received. There were the people who took buckets of cleaning supplies and helped their neighbors salvage what was left of their homes and throw away what had been ruined.
Today, on this one-year anniversary, we'll be telling the stories of those who survived the flood. We've also provided here a look back at some of the stark images from that time, that take us back to that day, and let us all know what we overcame. (For the best viewing experience, view this on our desktop or mobile website page)
The following photo galleries were collected from a variety of sources. Many came from you. Others, from our team of photographers. But all show either the extent of the devastation or the effort to help those affected recover.
PHOTOS: Gallery 1 of the 1,000 Year Flood in 2015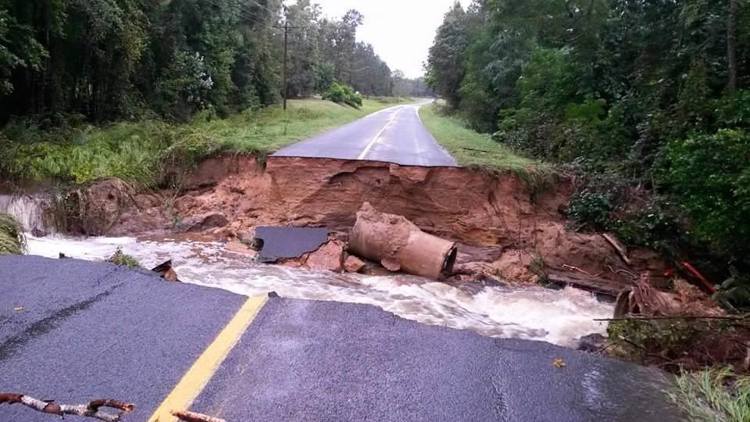 PHOTOS: Gallery 2 of the 2015 Flood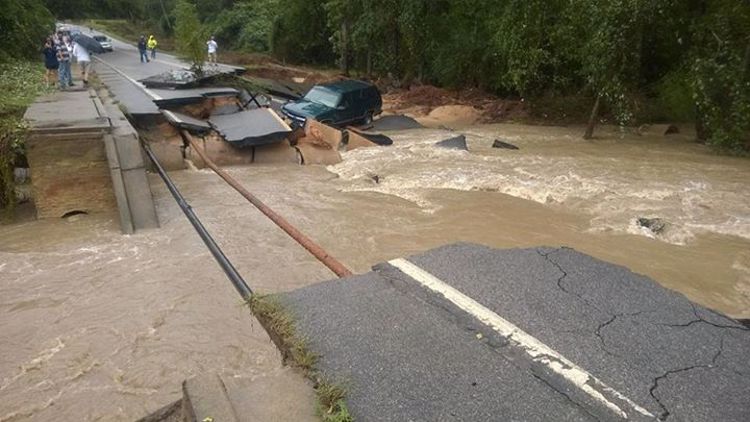 Thousand Year Flood: The Cleanup and Recovery
The Damage and the RescuesA dumpster floats down Garners Ferry Road
A Rescue Along Decker Boulevard
Aerial footage shows the extent of the damage
By the Numbers: The Impact of the Flood
Storm related fatalities: 19
Total Cost of Disaster: $2.2 Billion
Displaced citizens: more than 20,000
Shelters: 32 (includes standby locations)
941 citizens sheltered
Emergency meals served: more than 2,000,000
Citizens without water: 40,000
Highway Patrol calls: 8,407
Collisions during the event: 3,521
Dam breaches/failures: 50
Dams under emergency orders: 75
Roads and bridges closed: 500+
Water rescues: more than 1,500
Calls taken by the Public Information Phone System: 12,900+
EMAC (Mutual Aid from other states): 42 requests fullfilled by ten states
SC National Guard deployed: 4,100 personnel
Counties declared disasters: 36
Resources: Where to Give and Get HelpUnited Way's Restoring Hope http://RestoringHopeSC.orgOne SC Flood Relief FundApply for grants, request fundingwww.yourfoundation.org803-254-5601St. Bernard Projectwww.stbernardproject.org803-281-2744southcarolinarecovery@stbernardproject.comResource guides, homeowners check lists—for homeownersSC Legal ServicesServices depend on incomewww.sclegal.org803-799-9668Columbia Mental Health803-898-8888Walk-ins 8:30am-NoonSalvation ArmyCan help with some housing, clothingwww.doingthemostgood.org803-7650260The Cooperative Ministry3821 West Beltline803-799-3853