COLUMBIA, S.C. — Richland County Sheriff Leon Lott and Columbia Police Chief Skip Holbrook announced four new arrests from the violence from Saturday's protests in downtown Columbia, but he said this is just the start.
The suspects' arrests were announced at a news conference Thursday morning. Lott said the men arrested were not protesters but criminal opportunists.
"I want to make a distinction between the protesters and the criminals who used this as an opportunity to do bad things," Lott said. "They're completely different."
They're identified as Marshall Everett French, 22, of Gilbert; Datrion Gamble,23 of Columbia; Marcelo Woods, 27, of Columbia; and Randal Metcalf, 31, of Gaston. All were arrested 24 hours before the news conference.
The two law enforcement officials played a series of videos that showed some of the acts of violence that were witnessed. "I want people to see this," Lott said. "If you do this stuff, you're going to jail."
Officers say French smashed the glass of the Aloft hotel in the Vista, which was captured on video and shared on social media. Lott said he also tore down a fence at police department headquarters.
Lott said Gamble was arrested for using a large stick to hit an unmarked Columbia Police vehicle. He said he also struck the shield of one of the officers who were trying to protect the car.
Deputies say Woods was arrested for being in possession of a Columbia Police Department jacket from the attack on a vehicle that was attacked by Gamble. They add that he also tried to break the door of a Columbia Police vehicle that was later set on fire.
Lott said he's talked to three of the four, who he said apologized to him for their actions.
Lott also showed a video of a man blindsiding and punching another man who was near the parking garage near the police department. The victim fell to the ground after the assault, and the suspect ran way. The man in that video has not been identified.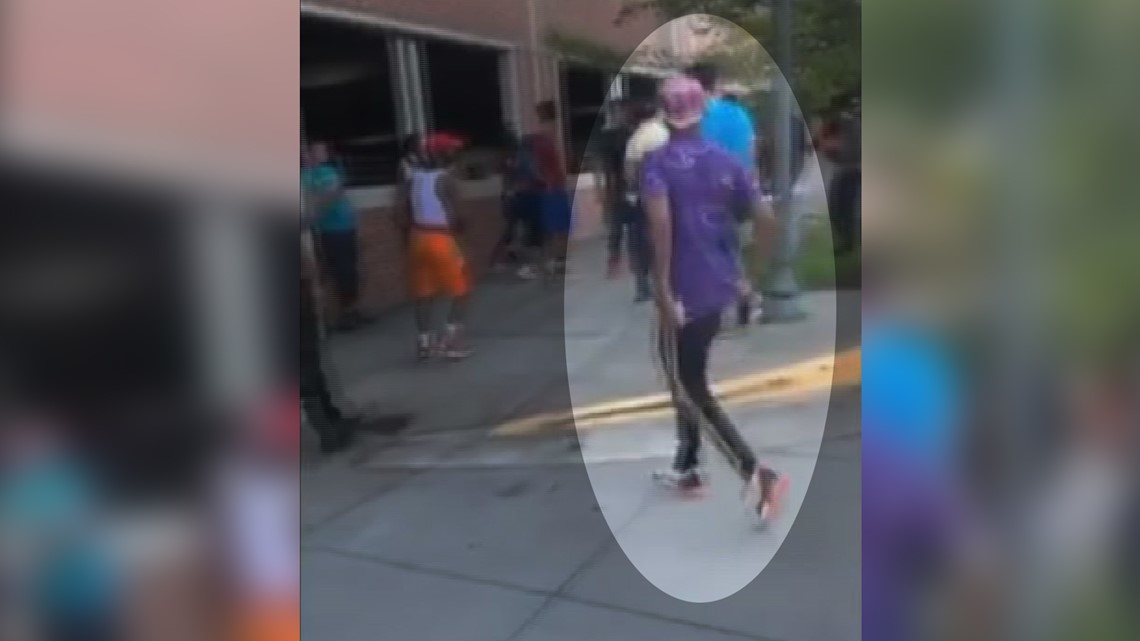 "It was bad, but as the Chief and I promised on Saturday, Sunday, and all this week is we're going to hold these people accountable. Peaceful protesters we're going to protect them as best we can and assist them. But those who are going to do what you saw there? They're going to go to jail and we're not going to stop until we catch all of them," Lott said after playing the videos.
The sheriff also discussed the reports of men in Hawaiian shirts. Lott said he actually met the two at the State House earlier in the day, and when he asked what they were doing, they claimed they were there to provide security for the event at the request of organizers. One of them stole a police jacket, Lott said, and was present during the violent acts.
Lott said he's gotten information that he may be part of the "Boogaloo movement," which Lott described as a "radical group" who wants to create a new civil war. "We saw that on Saturday," Lott added.
He's hoping people can help identified the men so they can be arrested.

The events Saturday began with people marching and protesting peacefully in the streets near the State House and the Vista. But as the afternoon wore on, there were some pockets of violence, with people items being thrown and several people being hurt.
Police used tear gas to break up some of the groups. Things continued to escalate when two Columbia police cars were set on fire and windows were broken at multiple businesses in the Vista.
Lott said about 75 people tried to surround the Columbia Police Department headquarters, perhaps with the intent to set fire to it.
Richland County deputies say bullets were fired at their officers near the Vista. None of them were hit by gunfire.
Twelve police officers were injured with one Columbia Police officer needed to go to the hospital.
Officers say 55 people were arrested in total on Saturday and Sunday, according to the list. The youngest person arrested was 18, while the oldest was 47.
The charges ranged from breaking curfew to looting and failing to stop on police command. However, five people faced weapons carry charges, while one of those was charged with discharging a firearm.
Almost all were from South Carolina, and most of them were from the Midlands. Just five were listed as being from out of state, with the furthest being from New York state.There were two people who did not have a listed town, however.