YORK COUNTY, S.C. — The York County Sheriff's Office is facing a lawsuit from a man who was shot by deputies outside his home two years ago during a mental health emergency, according to the man's lawyers.
Note: This story contains content that may be difficult to read and watch. Discretion is advised.
On May 7, 2021, Mullinax said police were called to his property on East Highway 324 near Rock Hill because he was experiencing a mental health crisis. During the situation, Mullinax's mother was consoling him while he was sitting in his truck.
Law enforcement body camera and dashcam video released by Mullinax's lawyer shows deputies arrived in at least four vehicles and immediately walked toward Mullinax's truck and yelled for him to show his hands. Seconds later, deputies began firing shots at Mullinax, who was hit nine times and shot at almost 50 times, according to the lawsuit.
At the time of the shooting, Mullinax's mother, Tammy Beason, was still standing adjacent to his driver's side door.
"Never in my life have I ever imagined I would be put in danger by someone on the law enforcement," Beason said.
Mullinax was sitting in his truck with a rifle but claims he did not point the weapon at deputies or his mother. He claims he only intended to use the weapon on himself.
Mullinax claims he had his hands raised in the air when one of the shots fired by a sheriff's deputy hit him in the back of the head.
"Almost 50 shots, including to the back of somebody's head? That person's not a threat," Justin Bamberg, Mullinax's attorney, said.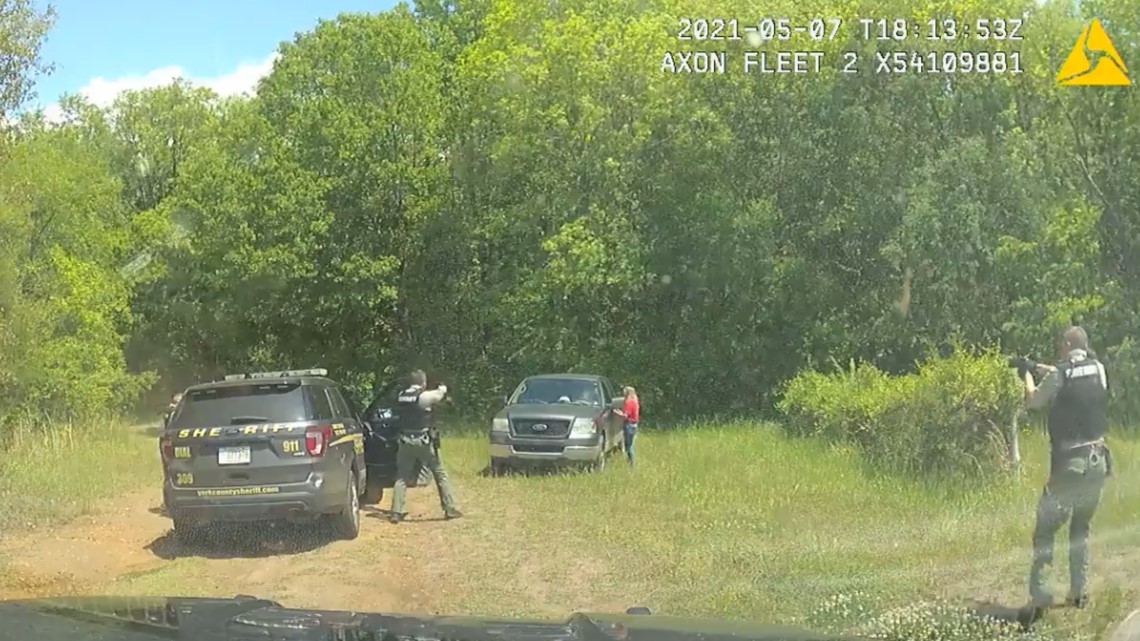 After the shooting, Mullinax was motionless inside his truck as deputies placed him in handcuffs, the video shows. He was placed on the ground and later transported to a hospital for medical treatment.
In the video, Mullinax's mother can be heard screaming. She was later placed in handcuffs by deputies and walked away from the area.
Mullinax was charged with pointing his firearm at the deputies. Mullinax has maintained he did not point the weapon at anyone and pleaded not guilty to the charge. The criminal case is still ongoing.
"If it helps even one person in this world to not have to go through what me and my family have, I'm okay with it," Mullinax said.
In the immediate aftermath of the shooting in 2021, the York County Sheriff's Office initially said in a public statement that Mullinax, who was unnamed in that initial press release, fired shots at deputies. However, officials later retracted that allegation.
The South Carolina Law Enforcement Division (SLED) opened an investigation into the shooting. In reviewing SLED's findings, the 16th Judicial Circuit Solicitor Kevin Brackett decline to prosecute the officers in the case, saying the use of force was appropriate, "given the nature of the threat."
"As they approached his truck, Mr. Mullinax retrieved a shotgun from the rear seat of the truck and presented it or pointed it at the officers," Solicitor Brackett said. "The officers justifiably believed that Mr. Mullinax posed a threat to their lives and possibly the life of the woman standing near his vehicle door. Based on this reasonable assessment of the threat, they opened fire with their service weapons in self-defense...."
In dispatch audio and body camera footage shared by Mullinax's attorneys, investigators can be heard asking about warrants for Mullinax's arrest before the shooting took place.
"York P.D. was looking for Trevor Mullinax last night," one investigator said to the dispatch operator.
When they arrived at the scene, video shows officers tell someone, "he's got to go to jail."
But, Mullinax's attorneys say the burglary charge their client faced when officers approached him was later dropped.
"Yes, there were warrants. Those charges were dismissed," Taylor Bell, who's also representing the family, said, "but they took the, 'Oh, he's got warrants,' and overlooked the fact that this was initially a welfare check from his cousin that said, we're just trying to get some help."
Mullinax is requesting a jury trial and to be awarded damages deemed fair by the jury for emotional, physical, and legal anguish lamented on him and his family.
"If he had a shotgun and if he brandished it, they could defend themselves," M. Quentin Williams, a former FBI agent and federal prosecutor, said. "The question is whether it needed to get to that point…. From a tactical standpoint, this is going to be questioned. No doubt."
Mullinax's mother said the shooting left her scarred emotionally, especially since it happened in front of her home.
"No mother should have to go through that and for six hours think their child was dead and murdered in front of their eyes," Beason said.
WCNC Charlotte reached out to the York County Sheriff's Office for comment. Shortly after 1 p.m., this statement was provided:
As of the publication of this statement, the York County Sheriff's Office has not been served with a lawsuit filed by Trevor Mullinax related to an officer involved shooting on May 7, 2021. The YCSO cannot respond to any specific allegations until we and outside council have had an opportunity to thoroughly review the document in its entirety.
This matter was investigated independently by the S.C. State Law Enforcement Division (SLED) and all of the deputies involved were cleared of any wrongdoing by the 16th Circuit Solicitor's Office. The only individual that was found to have engaged in wrongdoing on May 7, 2021 was Trevor Mullinax and that was why he was charged criminally with point and presenting a firearm (Warrant No. 2021A4610100429) by SLED as a result of this incident.
"I tell all of my deputies that their goal is to serve the citizens of York County and then to go home safely to their families. Mr. Mullinax chose to put these men in danger by pulling a shotgun. These deputies responded appropriately to the threat as they were trained to do. Had Mr. Mullinax made different choices that day, deputies would not have been required to use force," said Sheriff Kevin Tolson. "Our ultimate goal is to ensure the safety of the public and our deputies. Regardless of the outcome of this lawsuit, we want to reassure our residents that we will continue to provide high quality and professional law enforcement service."
Three of the four deputies involved in this incident are still serving the community as YCSO deputies. One deputy voluntarily left the agency in April 2022 to take a job in the private sector.
The Sheriff's Office looks forward to vigorously defending against these allegations in the appropriate legal forum.
Note: If you or a loved one are facing thoughts of suicide or self-harm, there is help readily available. You can call Suicide and Crisis Lifeline at 988 or chat with them online. There are also resources in North Carolina available here and in South Carolina available here.