The eccentric muralist has been working on a new painting, this time on the side of a parking garage at the corner of Gervais and Assembly streets.
Sky's project is titled "Vista Vision," and the mural itself... he's says the working title is "Fleeting Glance."
"I wanted to do an inspirational piece," he said. "I kept honing down the idea until I reached the point where I thought if I could just show a pair of eyes.. happy... well, not happy, but approving... just looking. Straight at you approvingly."
The wall that the mural is being painted on is 125 yards from Gervais Street -- on the gray parking garage behind TakoSushi.
Sky says he has plotted the distance and scaled his artwork so that when you see the mural from the street, the eyes in the painting will be the same size as if there was someone sitting beside you.
"A person who sees this mural will probably only see it for a tenth of a second," the artist said. "So it had to be simple, direct, you see it all in a fraction of a second."
When complete, Sky says the mural will resemble "the way a woman looks at you over her shoulder."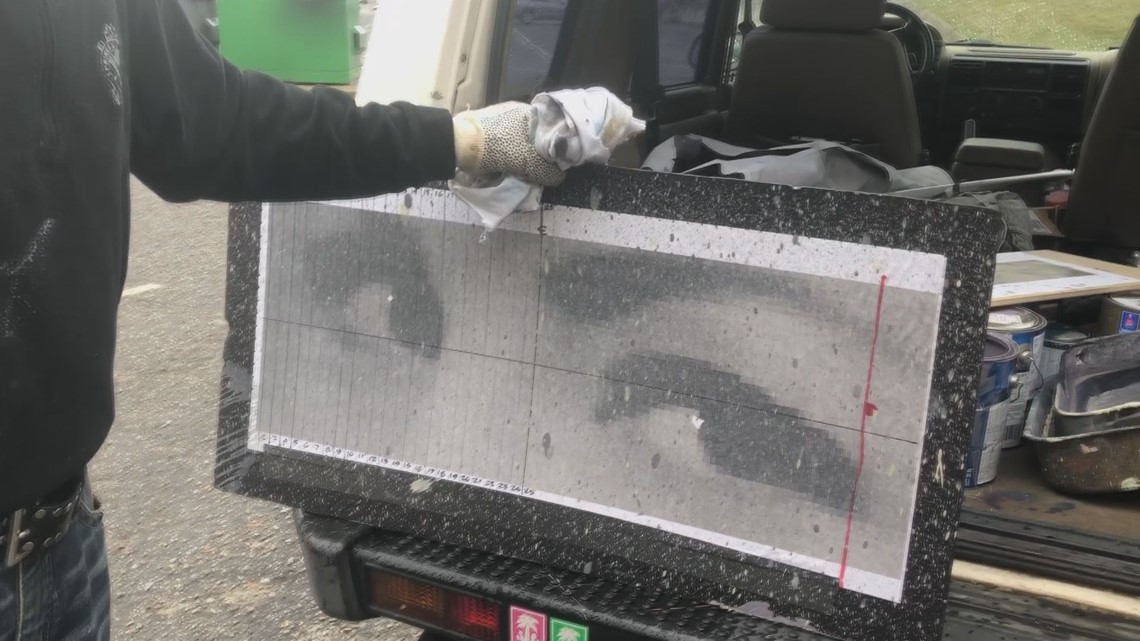 Sky has been working on the project for about three weeks now. He says it took him about a year to get approval for the project.
Working on the mural is laborious.
First, Sky has to position a miniature bucket lift at the perfect location along the wall in the back parking lot and then raise himself up in the lift's bucket to paint.
Moving the lift involves hitching it to his truck and moving it back and forth, and then once in position, leveling the machine so the bucket will operate properly.
Then there's the weather.
Sky has been working in the rain -- or at least he's trying to. He's using Sherwin-Williams restoration-grade water-based paint to create the mural and, although it is fast-drying, the rain that has fallen in the city over the past few weeks has caused some dripping and running.
The artist is paying $100 a day out of pocket to rent the bucket lift. He says that if the weather clears, he may be able to complete "Vista Vision: Fleeting Glance" in about a week.
Other works by Blue Sky in Columbia include "Tunnelvision," "Gervais Street Extension" at SC State Museum, "University of South Carolina" at the USC Visitors Center, "The Other Side of the Tunnel" on AgFirst Farm Credit Bank, "Congaree Swamp" at Congaree National Park, "Adopt Us" at the Columbia Animal Shelter, and at his gallery in the Arcade Mall on Main Street. The artist also has sculptural pieces "Busted Plug Plaza," "NEVERBUST" on Main Street, and "Kawasakisaurus" at South Carolina Bank and Trust.