COLUMBIA, S.C. — The Columbia Housing Authority (CHA) says it's voluntarily relocating 24 families from a set of apartments after a gas leak was found on the property.
In an update Saturday, Dominion Energy and CHA contractors are working to find the gas leak.
The gas leak was found by the Columbia Fire Department at the St. Andrews Terrace Apartments, which is near the intersection of Broad River Road and St. Andrews Road.
"We did a full inspection out here and what we discovered, you could smell gas and we went in one apartment and it smelled pretty strong," said Columbia Fire Chief, Aubrey Jenkins. "The main thing is we don't want another tragedy we experienced in ABC (Allen Benedict Court)."
CHA says Dominion Energy has shut off the gas supply to the property until the source of the leak is found. All residents who are affected are being moved to other homes.
"Out of an abundance of caution, we are cutting off the gas and getting our families to a safe location until we can determine exactly where the gas fumes are coming from and how it can be remedied," said Columbia Housing Authority CEO Ivory Mathews in statement.
Columbia Housing says it's working with Dominion Energy to disconnect the gas supply to the property until the source of the leak is found and a resolution is determined.
"Dominion Energy supplies natural gas to the Columbia Housing Authority up to the metering facility at each unit at the St. Andrews Terrace complex," Dominion Energy said in a statement. "The customer owns and maintains fuel lines and appliances within each unit, which are downstream of the gas facilities operated by Dominion Energy."
Chief Jenkins said crews have responded to at least five complaints of gas leaks at St. Andrews Terrace since February. He said they had one case of two apartments that had to be vacated because of gas issues.
Firefighters said they have been working with the Housing Authority and Columbia Code Enforcement to address the concerns.
Mathews says the Housing Authority placed a letter on residents' doors, offering to place them in a hotel for 5 days or until the gas is safely back on.
"We say voluntarily relocate because disconnecting the gas at the property will result in an inconvenience to the tenants because they will not have the ability to use hot water for bathing or hot water for cooking," she explained.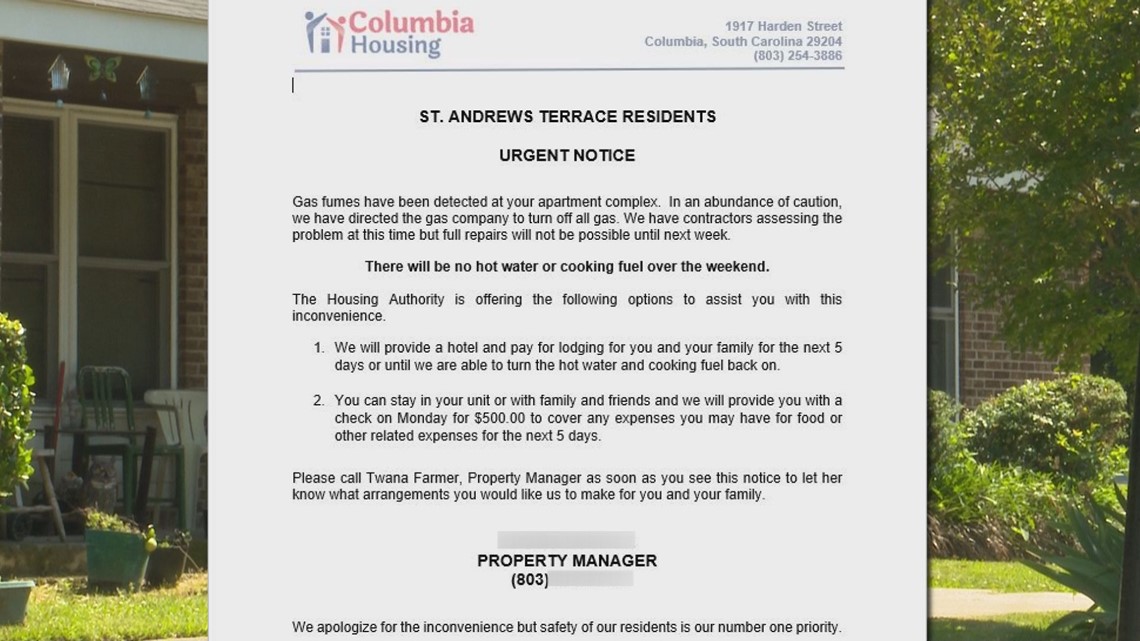 The letter also states if families decide to stay, the agency would reimburse any unplanned expenses with a $500 check.
As of Friday afternoon, 11 families temporarily relocated to hotels. There were no reports of anyone getting sick or any injuries due to the gas leak.
The Columbia Housing Authority acquired St. Andrews Terrace in 1978. Mathews says the agency recognizes the property is in need of repair.
This week, the agency launched their redevelopment plan in which they will address all older properties in their entire real estate portfolio.
Also on Saturday, CHA says they will have an update on June 2 as to where all the properties stand. They plan to have a list with plans on how to repair properties, and what properties will be demolished.