LEXINGTON, S.C. — A popular Midlands store that's been around for 50 years announced they will be closing their doors.
The Satterfield's Jewelry Warehouse, who also houses Garnet and Black Traditions and Tiger Paw Traditions, said they will be closing their last two remaining locations in Lexington and Cayce.
It's been the talk of the town in Lexington County, and Street Squad has been following the story.
People in the community have received phone calls and flyers saying there would be a foreclosure sale up to 70 percent off from May 2-4.
Street Squad Lexington has been to both the Lexington location off Sunset Boulevard and the Cayce location off Knox Abbott Drive, and no one has been allowed in the store.
An official at the Cayce location tells News 19 they were talking with the South Carolina Department of Revenue about "licensing issues" and they hoped to be open around lunch time.
At the Lexington store, signs have been posted on the door saying "Business Closed By Revocation Order of the South Carolina Department Revenue, Retail Sales Tax License Revoked."
The State Department of Revenue tells News19 the retail license for Jewelry Warehouse was revoked Thursday.
A public records search on the department's website shows 5 liens against the company totaling nearly $500,000.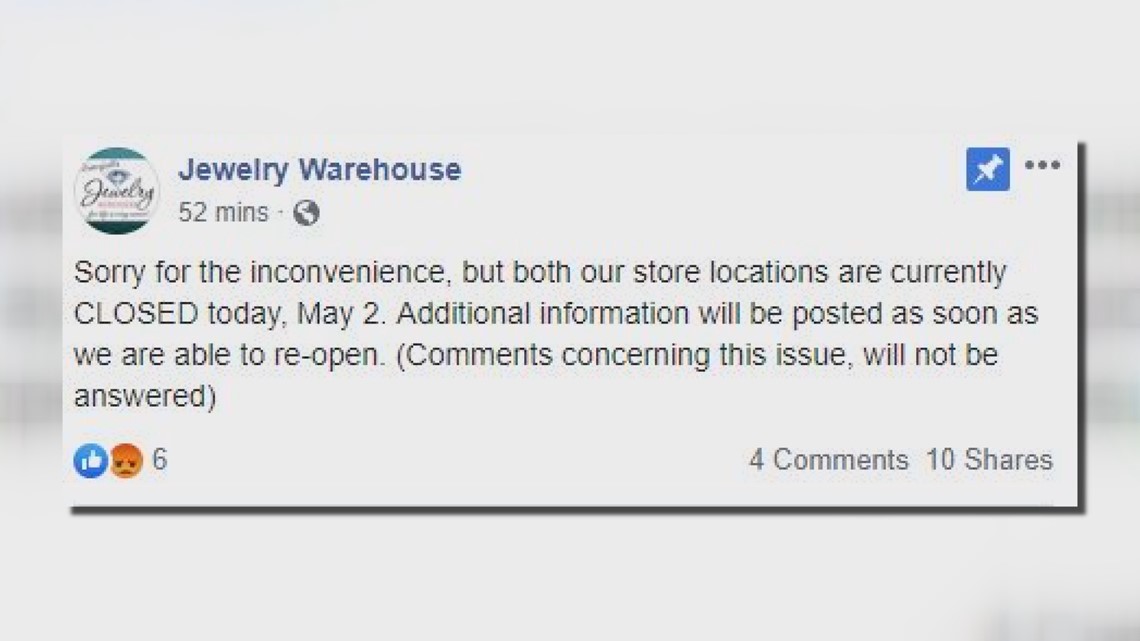 While some customers have questioned if they can get their jewelry, the store says they will be able to get their jewelry repair orders back once they reopen.
An employee at the Cayce location says he's been told the new owner plans on keeping the jewelry store, and a Gamecocks and Tigers store, but will go by a different name.