YAKUSHIMA, Kagoshima — A rare image of a monkey riding on a deer's back has gone viral after the U.K. Natural History Museum released it in a preview of its Wildlife Photographer of the Year competition. The photograph, shot by Atsuyuki Ohshima in a Japanese forest, captured the rare — but not unheard-of — interaction between a macaque and a deer.
Atsuyuki noticed a sudden movement of the deer, a sika stag, and then noticed a Yakushima macaque springing off a tree and onto the deer's back.
Atsuyuki shared the photo, titled "Forest Rodeo," on Instagram, explaining in the caption that "male macaques have been seen clinging to female deer and trying to mate with them."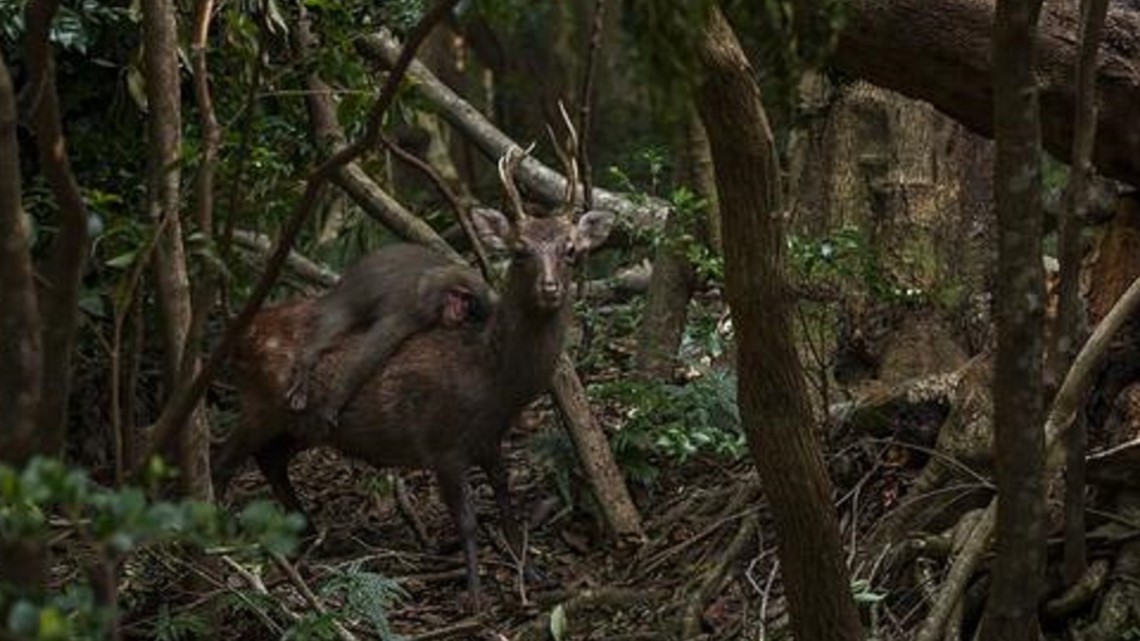 "In this case, however, the macaque was a young female, appearing just to be enjoying a free ride," the caption reads.
The Natural History Museum in London released the image and other photos that were "highly commended" in their categories of the photography competition.
After judging 49,957 photo submissions from 95 countries, judges chose 100 photos to showcase at the museum, beginning on Oct. 13. The winners of the competition will be announced on Oct. 10.
Yakushima macaques are found on the island of Yakushima, off the southern coast of Japan. There are about 12,000 living on Yakushima, according to the tourism website for the island.
There is also a heavy presence of deer on the island and they appear to be unfazed by humans, usually foraging around and only fleeing if a person gets within about 15 feet, according to the tourism site. They are often called "Yakushika" which is Japanese for "the Yakushima deer."
There are an estimated 10,000 to 20,000 deer on the island. There are only about 12,000 people on the island, and in order to control the deer population, there have been periods of culling.
There are many photographs of the deer and monkeys interacting on the tourism website, but Atsuyuki's photo is museum-worthy.
A similar sight was caught on film in 2017 and researchers saw a monkey trying to mate with at least two deer in 2015, according to BBC News. They have also been seen grooming the deer or riding the deer playfully, which is the case for the macaque in Atsuyuki's photo.