Sacramento, Calif. — Since the arrest of Joseph DeAngelo last week, photos have been circulating the internet of people trying to connect DeAngelo to photos taken during the East Area Rapist-Golden State Killer crime spree.
One photo in particular shows a community meeting held to discuss the East Area Rapist.
People have asked whether DeAngelo is in the photo? Could that be what connected him to one of the first attacks on a couple?
To verify these claims, ABC10 spoke with two sources. First, is Shaun Hampton with the Sacramento County Sheriff's Department, and second, is Paul Haynes, an investigative researcher and contributor to Michelle McNamara's book "I'll Be Gone in the Dark," which profiles the East Area Rapist and Golden State Killer case.
"We've had a lot of speculation as to that for the last 40 plus years, and it's something our investigators looked at then and it's something they are possibly looking at now," Hampton said.
Hampton can't verify if DeAngelo is in the photo or not, but said they are looking at all photos taken during that time period.
Carol Daly, one of the original investigators with the Sheriff's Department, also can't verify DeAngelo is seen in this photo.
The photo itself, dated Nov. 8, 1977, was printed in the Sacramento Bee newspaper Nov. 9, 1977.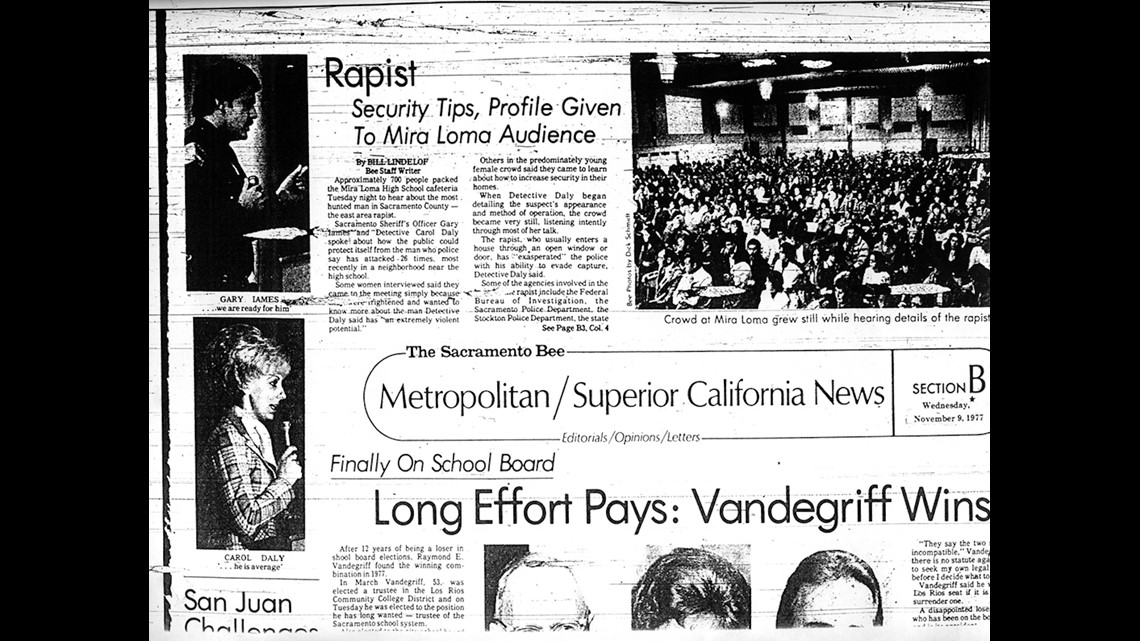 Paul Holes, one of the lead investigators out of Contra Costa County, obtained a copy of the newspaper clip and the negative of the photo, according to Haynes. He then gave copies to Michelle McNamara who wrote "I'll Be Gone in the Dark."
In her book, McNamara wrote about a connection between a community meeting and a victim of the East Area Rapist.
Haynes said victims in the 21st crime attended a community meeting at Del Dayo School on Nov. 3, 1976, where a man criticized the investigation. That man and his wife were later attacked May 17, 1977.
According to Haynes, the photo is not the same community meeting that connects a victim to the East Area Rapist. The photo was taken later.
People have also rumored the man who spoke out said something along the lines of, "How can anyone get away with raping a woman in front of her husband?"
Haynes pointed to the dates again. If the man spoke out at a meeting in 1976 and the East Area Rapist started attacking couples in 1977, then how would this man know the East Area Rapist was targeting couples. Haynes said the claim is just a rumor.
The Sheriff's Department said they'll continue to investigate every possible lead connecting their suspect DeAngelo to crimes that terrorized Northern California.
"We will definitely look at that angle and we will definitely look at all angles with this case because there are just so many," Hampton added.
According to the sources, ABC10 cannot verify if DeAngelo is pictured in that photo of the community meeting in 1977. ABC10 cannot verify there's a connection between the victims in his 21st crime and a community meeting.