An image claiming to show an explosion near the Pentagon went viral on May 22, leading some people on social media to panic.
But other people on Twitter claimed the photo isn't real.
THE QUESTION
Does a viral photo show an explosion at the Pentagon?
THE SOURCES
VERIFY image analysis
Siwei Lyu, Ph.D., director of the UB Media Forensic Lab at SUNY Buffalo
Nick Waters, a London-based researcher for the open-source investigative journalism group Bellingcat
Twitter
THE ANSWER
No, a viral photo does not show an explosion at the Pentagon.
WHAT WE FOUND
The viral photo shared on social media does not show an explosion at the Pentagon on Monday, May 22, and appears to be AI-generated, according to local officials and expert analyses of the image.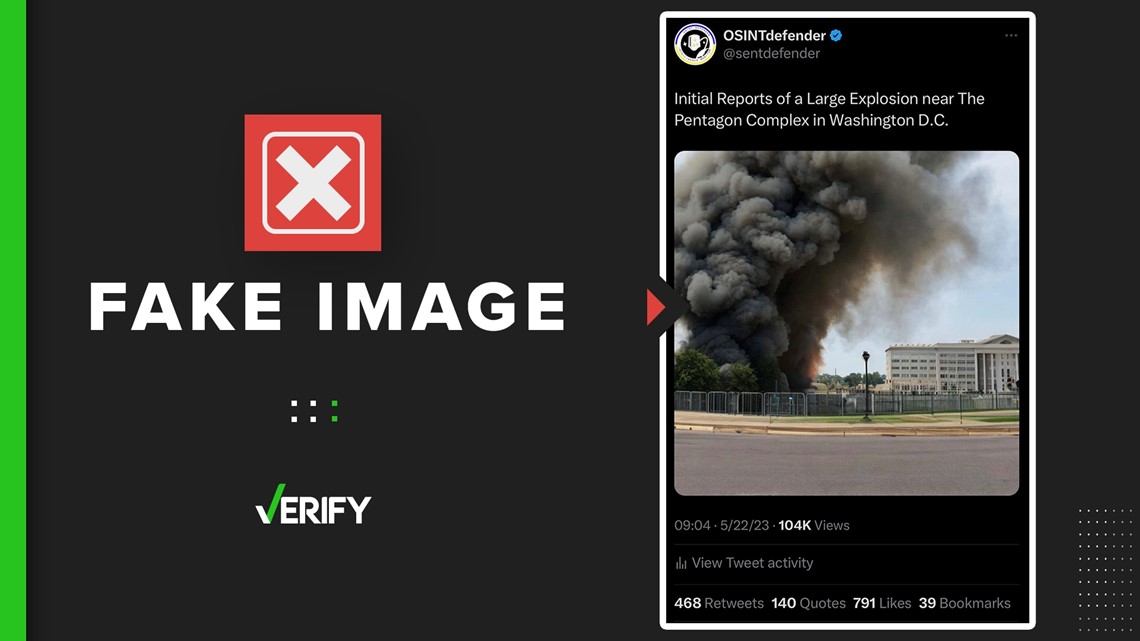 The Pentagon is located in Arlington County, Virginia, near Washington, D.C. In a tweet on May 22, the Arlington County Fire Department (ACFD) debunked rumors about an explosion at the Pentagon.
"There is no explosion or incident taking place at or near the Pentagon reservation, and there is no immediate danger or hazards to the public," the ACFD wrote.
There are some visual indicators that the viral image is fake. First, the windows and shape of the building in the viral photo do not match those in photos of the Pentagon available online. Part of a fence also appears to morph into a crowd barrier. That type of unrealistic distortion is often a sign that an image has been generated by AI.
Siwei Lyu, the director of the UB Media Forensic Lab at SUNY Buffalo and a deepfake expert, said his lab ran the image with its algorithm and found that it may have come from a generative AI model.
Several parts of the building, including the windows on the first and second floors, are "irregular and not consistent with real-life buildings," Lyu said.
He provided the photo below pointing out several irregularities in the fake image: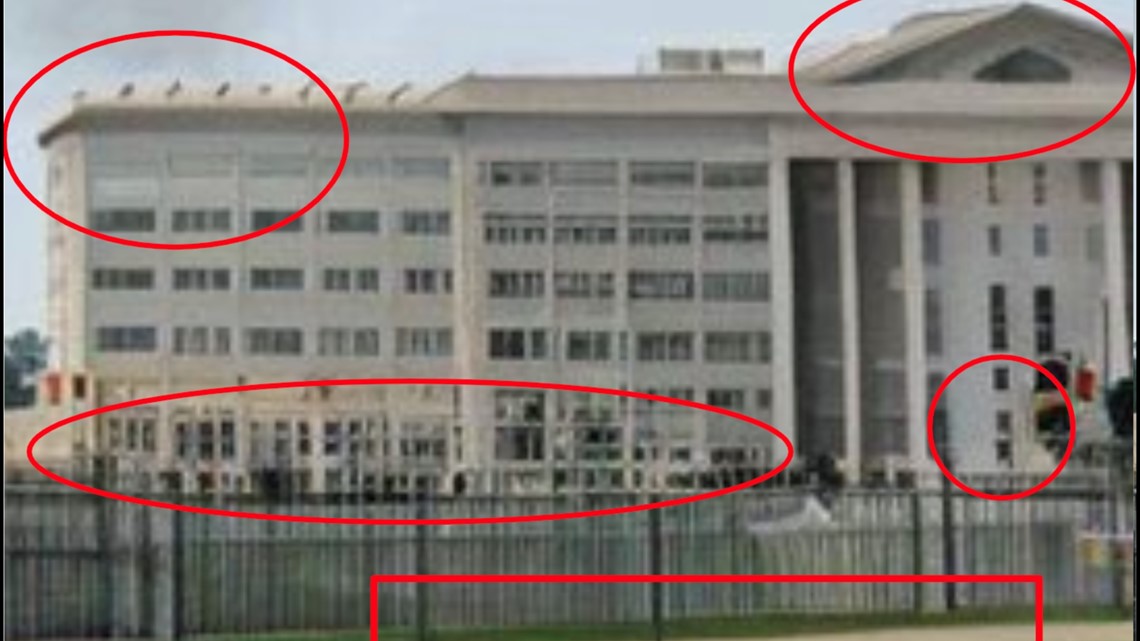 "If a bomb goes off in Washington, it's not just going to be one picture from one angle," Waters told VERIFY partner station WUSA. "You're going to get scores and scores of pictures showing the explosion, showing the after-effects of the explosion [and] people saying they saw the explosion."
WUSA's Matt Pusatory and Bruce Leshan contributed to this report.