COLUMBIA, S.C. — It will be a chilly, wet day across the Midlands. Rain will continue to build into the area. Showers will become widespread with moderate to heavy rain possible this evening through early Friday morning. Cooler, drier air will filter into the area by Friday afternoon. Some sunshine is expected Friday. The weekend will start off mainly sunny and cool.
The clouds moved out for a little while Wednesday. Temperatures were very warm for February. We made it to 74 in Columbia. This tied the warmest temperature of the year, at this point. We also hit 74 degrees on January 19. Orangeburg hit 77 degrees Wednesday afternoon.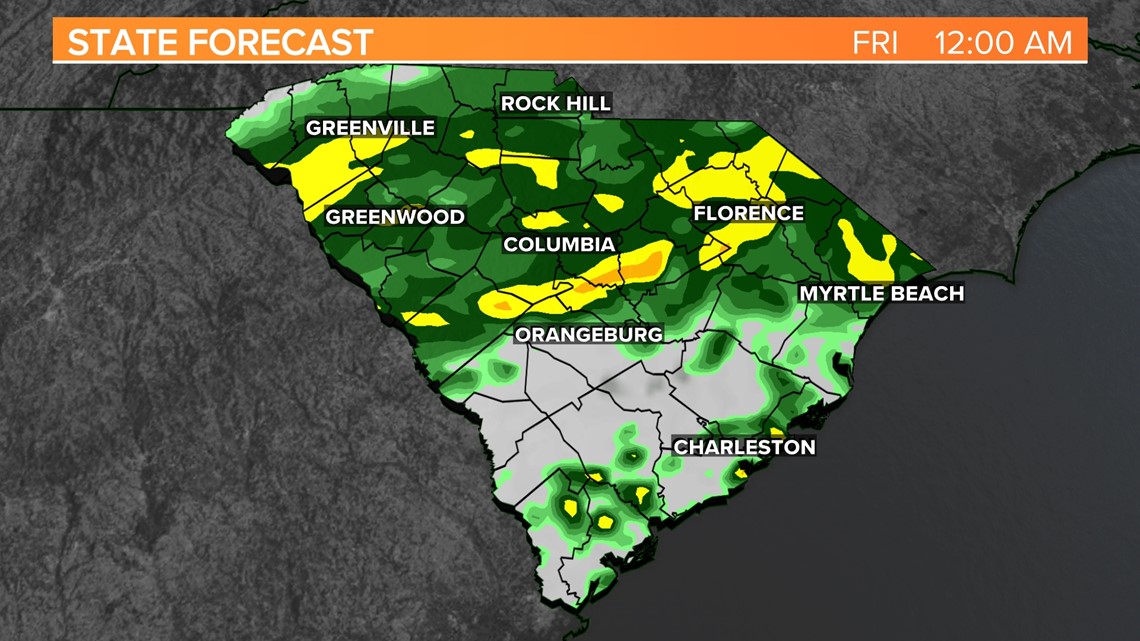 Today will be cool and wet. High temperatures will top out in the middle 40s to possibly the lower 50s in some locations. Rain will continue to spread across the Midlands from west to east. Rain could be heavy at times, but the threat of flooding appears to be small.

Rain will continue to impact the area through the early morning hours of Friday. Our forecast model brings the rain to an end by 9 a.m. and moves the clouds out of the area by noon. Sunshine should return to the Midlands Friday afternoon. Highs will be in the lower 50s.
Saturday will start off cold. Temperatures are forecast to drop into the middle 20s. Saturday afternoon will be mostly sunny and cool. Highs will be in the middle 40s.
A few more clouds will be possible Sunday. Some rain is possible in the eastern half of the state, but we are not expecting rain for the Midlands.
A gradual warming trend is forecast for next week.