COLUMBIA, S.C. — The National Weather Service says at least four tornadoes touched down in South Carolina during Sunday's storms, but that number could still go up.
Forecasters confirmed the news Monday afternoon.
One of the tornadoes was an EF-1, with winds estimated to be 95 miles an hour, that touched down near the Riverbanks Zoo and on the north side of I-126.
Two of those tornadoes were in Lexington County. One traveled on a route just north of I-20 near Highway 6, while the other was south of I-20 from Baneberry to Red Bank.
The other was in Edgefield County.
All across the central South Carolina area, there are reports of downed trees and powerlines, and damage to homes Sunday night.
n Lexington County, a roof was reportedly torn off a house. That's in an area north of Interstate 20 and west of Highway 6. A tree was also reported down on an house on David Lane near the city of Lexington.
"We were cleaning up the dishes and the alarm went off," said Sheila McMillan, who lives in the home. "We started hearing the rain and then the wind. I called my son out to the middle and it just started whipping around and we made a bee line for the bathroom and the other two came down after we got out."
She said they're not sure what they will do after the damage.
"I'm in shock right now....it's all we have right now that's in that crushed up place," Sheila McMillan.
In Red Bank, viewers sent News19 photos of a pillar that was torn away from the Red Bank First Baptist Church. The church, however, still stands. That area was in a zone that was under a tornado warning for almost an hour.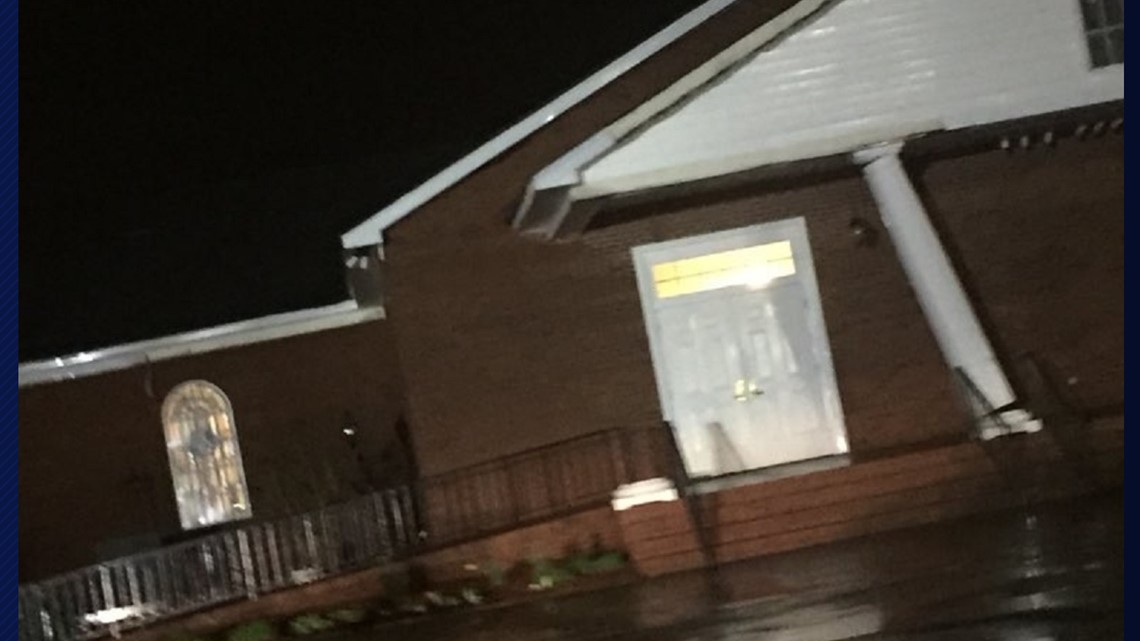 In Richland County, the fire department said a tree fell through a house on Skyland Drive, which is just off Greystone Boulevard and just north of the Riverbanks Zoo exit on Interstate 126. There were also reports of trees on homes on Betsy Drive and Price Street, but luckily, no one was inside the homes at the time.
State Rep. Todd Rutherford of Columbia tweeted a photo that showed a downed three that'd struck a car on Lincoln Street bear Earlewood Park in Columbia.
High winds also took out powerlines, and at its peak, there were thousands without power in parts of the area, mostly in Lexington County.
What's Next
The weather will be turning cooler Monday. Highs will be in the middle to upper 50s. Tuesday will be chilly with highs in the middle 50s.
A hard freeze is possible Wednesday morning, and a freeze is possible again Thursday morning.
Temperatures will moderate for the rest of the workweek.
Here are the list of updates, in chronlogical order, that came to WLTX as the storm came through.
8:00 PM Multiple trees down in the Midlands
Some good advice from SC Emergency Management: Reports of trees down over roadways in multiple areas in the Midlands. Don't get out and drive if you don't absolutely have to. If you absolutely have to drive, go slow.
Treat every down power line as if it were live. Avoid it and report to your utility.
7:50: Traffic lights out on South Lake Drive in Lexington
From Lexington police: Please use extreme caution at the intersection of South Lake Drive and Glassmaster Road. Traffic control devices are not functioning at this time. SC Department of Transportation (SCDOT) has been notified.
7:47 PM: Tornado chances in the Midlands dwindling
From the National Weather Service: The environment is becoming less favorable for tornadoes as the evening wears on. The Tornado Watch has been cancelled for the CSRA, as well as Aiken, Barnwell, and Bamberg Counties. A tornado Watch remains in effect for the Columbia Metro Area
7:38 PM: Severe thunderstorm warnings for Richland County, Sumter County
Severe Thunderstorm Warning including Dentsville SC, Arcadia Lakes SC, Rembert SC until 8:00 PM EST
7:32 PM: All tornado warnings expire
The tornado warnings for Richland, Lexington Counties have expired. That includes the one for the city of Columbia.
7:20 P.M: Possible tornado near Earlewood Park
The National Weather Service says a possible tornado is moving near Earlewood Park in North Columbia, moving east-northeast toward Eau Claire. Take cover!
7:19 UPDATE: Possible tornado near Riverbanks Zoo
The weather service said there is possible rotation along an area from I-26 and I-126.
7:09 UPDATE: Tornado warning for Richland, Lexington Counties
This now includes the city of Columbia, West Columbia, and Dentsville.
6:59 PM: Tornado warning in Lexington County continues
From the National Weather Service: Possible tornado Lexington Co SC about 6 miles west of Red Bank near Interstate 20, moving east. Take cover.
6:57 UPDATE: Funnel cloud reported near Gilbert
A funnel cloud has been reported near Gilbert. There is also a report of trees down near that town. A tornado warning remains in effect for Lexington County until 7:15 p.m.
6:53 UPDATE: Tornado warning for Lee County
A tornado warning has now been issued for Lee County, SC. That's also until 7:15 p.m. Are is just east of Bishopville.
6:42 UPDATE: TORNADO WARNING for Lexington County until 7:15 p.m.
This includes the cities of Lexington, West Columbia, and Cayce. Update: this has now expired
Locations impacted include... Lexington, West Columbia, Cayce, Springdale, Oak Grove, Red Bank, St. Andrews, South Congaree, Pine Ridge, Riverbanks Zoo, SC State Farmer`s Market, Columbia Metro Airport, West Columbia Riverwalk, Gilbert, Summit, Cayce Riverwalk, Edmund, Camp Kinard, Silver Lake and Guignard Park.
This includes the following highways... Interstate 126 near mile marker 0. Interstate 20 in South Carolina between mile markers 41 and 64. Interstate 26 Interstate 77 between mile markers 0 and 2.
Calhoun County and Orangeburg County are now under a tornado warning until 6:45 PM. Cities in the path of the storm include Branchville, Bowman, and Santee. Update: this has now expired
"Possible tornado located in the Savannah River Site moving east towards Snelling in Barnwell Co SC:" Update: this has now expired
A tornado warning in Edgefield and Aiken Counties led to this odd alert from the National Weather Service regarding the Savannah River Site.Update: this has now expired
5:35 PM UPDATE: Tornado warning issued for Bamberg, Orangeburg Counties until 6:15 p.m.
Update: this has now expired
A powerful cold front will approach the area late Sunday. During the late afternoon and evening hours, thunderstorms are expected to move from west to east across the state.
The thunderstorms could be strong or even severe. The greatest risk from any severe thunderstorm that develops will be damaging winds. Locally heavy rainfall will be possible as well.