COLUMBIA, S.C. — The effects of climate change continue to be at the forefront of the daily lives of many across the world. Recently, extreme wildfires in Australia have caught the world's attention. These fires have burned more than 15 million acres, destroyed wildlife and homes, as well as killed many people and animals across the country.
To put the fires in perspective, the amount of land burned in Australia is roughly equivalent to more than 76 percent of South Carolina.
While climate change does not light these wildfires, it does have an impact on the length of the season and intensity of the wildfires.
One of the biggest effects of climate change is an increase in extreme temperature event, as well as an overall increase in temperatures across the world.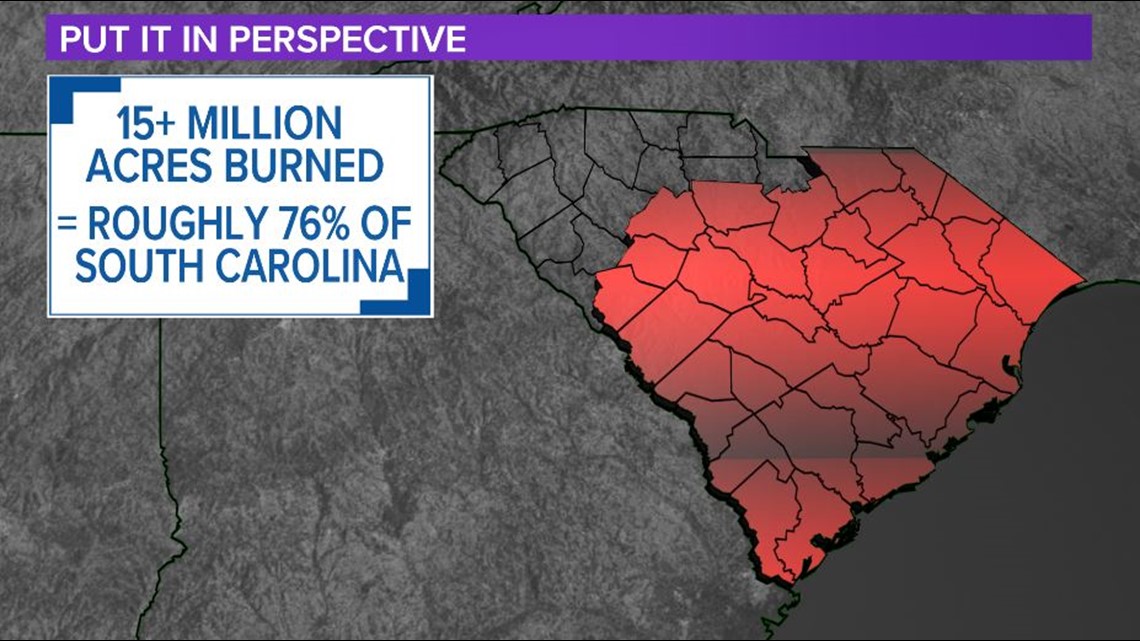 Here in Columbia, we have seen 7 of the past 10 years make it on the top 10 warmest years on record. 2019 was the 7th warmest on record.
In Australia, 2019 was their top warmest year on record.
Another effect of climate change is the occurrence of more numerous and extreme droughts. In South Carolina, we experienced a lengthy drought period during the summer and fall of 2019.
In Australia, 2019 was the driest year on record. Many places across southern Australia, an area that is one of the worst affected by the wildfires, has seen the driest 34-month period in recorded history according to Climate Signals.
Both increasing periods of extreme heat as well as more severe droughts lead to more fuel available to fires, as brush and vegetation dry out. The wildfire season also lengthens due to longer warm and dry periods. Water availability during these times is also limited due to increased evaporation.
While Australia's wildfire season is opposite to the United State's, both countries are recording increased fires and increased fire damage. Here in the United States, especially in the western portion of the country, the number of large fires has overall seen an upward trend.