COLUMBIA, S.C. — King tide floods affected many locations along the East Coast this weekend, including Charleston. This type of flooding, often called sunny day flooding, occurs during the highest astronomical tides of the year.
Dr. Kirstin Dow, a professor at the University of South Carolina, says that king tide floods are normal, but they are also are getting worse.
"What they call the King Tides are driven by the relationship of the Earth to the Moon, and so that, you know, we hope that keeps happening right. We want to keep that relationship going. But, as sea level rises, the tides are going to get worse."
In fact, flooding in general from rain storms, hurricanes, or even sunny days is becoming worse due to climate change.
"We're seeing that ongoing change and we're seeing the impressive increase in the number of recurrent floods that are hitting the coastline." Dow tells WLTX. "And those are much more frequent than they were."
It does not take a lot of water or flooding to cause damage. Along the South Carolina coast, just two feet of flooding could impact over 17,000 people and over 10,000 homes, along with other vital infrastructure, according to Climate Central.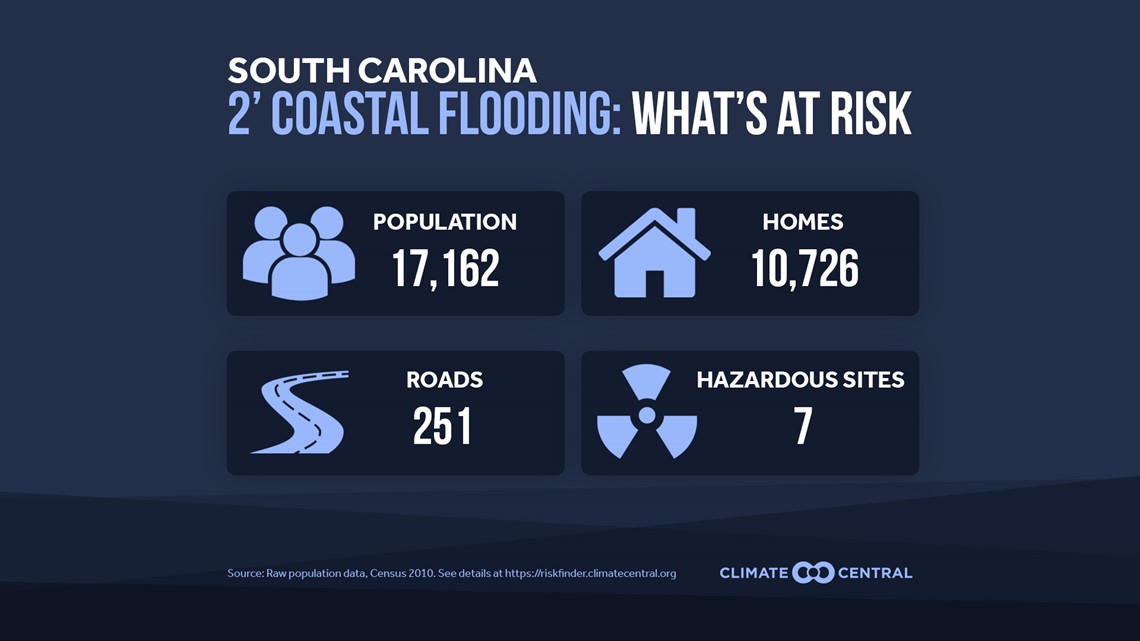 A new analysis from Climate Central also shows that the peak number of concurrent floods, or floods that happen in the same place, has been rising across the coastal United States since 1970.
Even though we do not border the ocean here in the Midlands, we have also seen major flooding events happen, including the flood of 2015.
So what can we do to help better adapt and prepare for increased flooding events?
"This is an all hands can help kind of situation," according to Dow. "If you're in a place that floods, doing simple things like making sure that the drains aren't blocked by leaves will help reduce the flood impact."
Other ways to prepare for flooding, whether you are on the coast or not, is to make sure you have insurance. It's also important to think about future plans in regards to water and flooding as well.
"Going from there to thinking about to choices to how we think about how we build our homes, to roads, to maybe putting in things like rain gardens or landscape features that capture that water if you've got it."