COLUMBIA, S.C. — On the week of October 3-4 in 2015, Columbia and most of the rest of the Midlands experienced a natural disaster unlike any seen in modern history, as a system brought historic flooding to the region.
More than 20 inches of rain were reported in parts of the Midlands in what some dubbed a "thousand year flood." The Congaree River in Columbia reached its highest flood levels since 1936.
The massive rain totals didn't come from a land falling tropical system. Hurricane Joaquin helped funnel moisture into our area. The category 4 hurricane sat several hundred miles off the coast and we never felt direct impacts from the major hurricane in the mainland US.
Joaquin's moisture was able to reach the Palmetto State because of a coastal disturbance. Together the systems were in sync and brought a conveyor belt of moisture that fed into storms.
The human toll was high. A total of 19 people lost their lives statewide during the rainstorm, with nine of those fatalities happening in Richland County alone.
Hundreds of people had to flee their homes when floodwaters began rising, in some case filling their entire homes. People became stuck in their cars, and firefighters had to perform water rescues, even on busy streets such as Decker Boulevard in Columbia.

Damage roads were a major problem too. Over 500 roads statewide were closed at the peak of the damage, and some streets and highway saw sections completely blown out. Early on, parts of Interstate 20 and Interstate 77 were impassable, and a 75 mile long stretch of Interstate 95 was shut down for days.
The roads weren't the only structure that got damaged. A 60 foot breach of the Columbia Canal left 375,000 people without drinkable water for nearly two weeks.
While much of the area has recovered, there are some signs of the flood damage still around. Just in the last year, two buildings on Devine Street in Columbia that were damaged in 2015—the Subway and the Liberty Tax building—were finally torn down. Some homes were rebuilt, but others that were damaged were never reoccupied.
And there were also the stories of courage and dedication that many will never forget: the first responders who braves roads that had turned into raging rivers, the private citizens who risked their own safety to save their neighbors and loved ones, and the public servants who worked around the clock to restore services and keep people safe.
It's a time no one will ever forget, and for good reason.
PHOTOS: Gallery 1 of the 1,000 Year Flood in 2015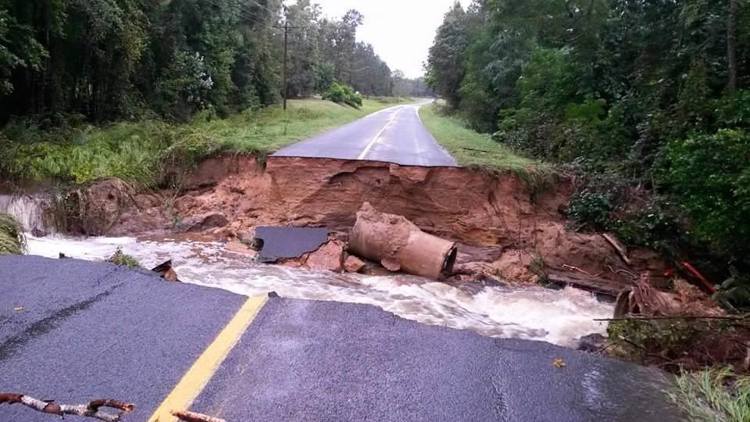 PHOTOS: Gallery 2 of the 2015 Flood