COLUMBIA, S.C. — We picked up some rain in the Midlands today as a cold front approaches the area. This cold front is expected to stall in the south and eventually lead to another rain chance as we start off the next week.
Sunday will gives us a brief chance of some dry weather. Overnight, mostly cloudy conditions will keep lows in the upper 40s. High Temperatures will likely be on the cooler side topping out in the upper 50s. Conditions will be mostly cloudy with cloud cover increasing as we go throughout the day.
The front will begin to drift north with high pressure building to our southeast. This will set the stage for some rain to start the week.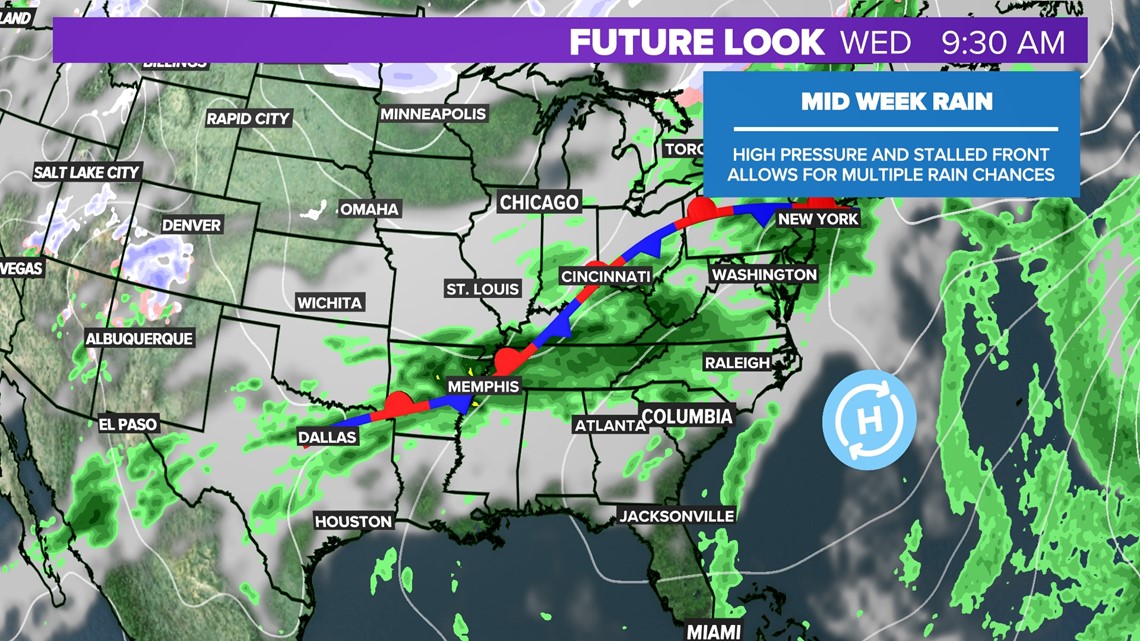 Temperatures will remain on the cooler side in the upper 50s on Monday before scattered showers begin to build into the area on Monday night. The front will begin to move north bringing warmer weather in the 60s on Tuesday with scattered showers likely during the entire day. Wednesday morning we will continue to see some rain chances before drying out.
Looking forward, rain chances look to go away for the rest of the week. The big story though, will be our temperatures which will be very warm for this time of the year. On Thursday and Friday highs look to be in the middle 70s across the entire Midlands, which is well above average for this time of the year. We see a dry cold front move through late Friday which will lead to cooler temperatures next weekend.