COLUMBIA, S.C. — Hurricane Sally will weaken over the southeast on Wednesday, but heavy rain will continue as the storm pushes closer to South Carolina. Widespread rain is expected on Thursday in South Carolina with up to 5" of rain possible in some of the heavier downpours.
Hurricane Sally made landfall near the Florida and Alabama border as a strong Category 2 with winds of 105 mph at 5:45 ET Wednesday morning. The winds associated with the storm will decrease by the evening, but heavy rain will continue as the storm tracks into Georgia and eventually South Carolina.
The National Weather Service in Columbia, SC has issued a Flash Flood Watch for Newberry, Saluda, Fairfield, Kershaw, Richland, Lexington, Aiken, Lee, Sumter, and Calhoun counties for Thursday. A widespread risk of at least 3 inches of rain is expected. This could produce flooding of creeks, streams, and roadways.

Most of the rain will fall in the form of showers and downpours; however, there is a marginal risk for an embedded thunderstorm to produce severe weather capable of gusty winds or an isolated tornado. The greatest risk would be Thursday afternoon or early evening.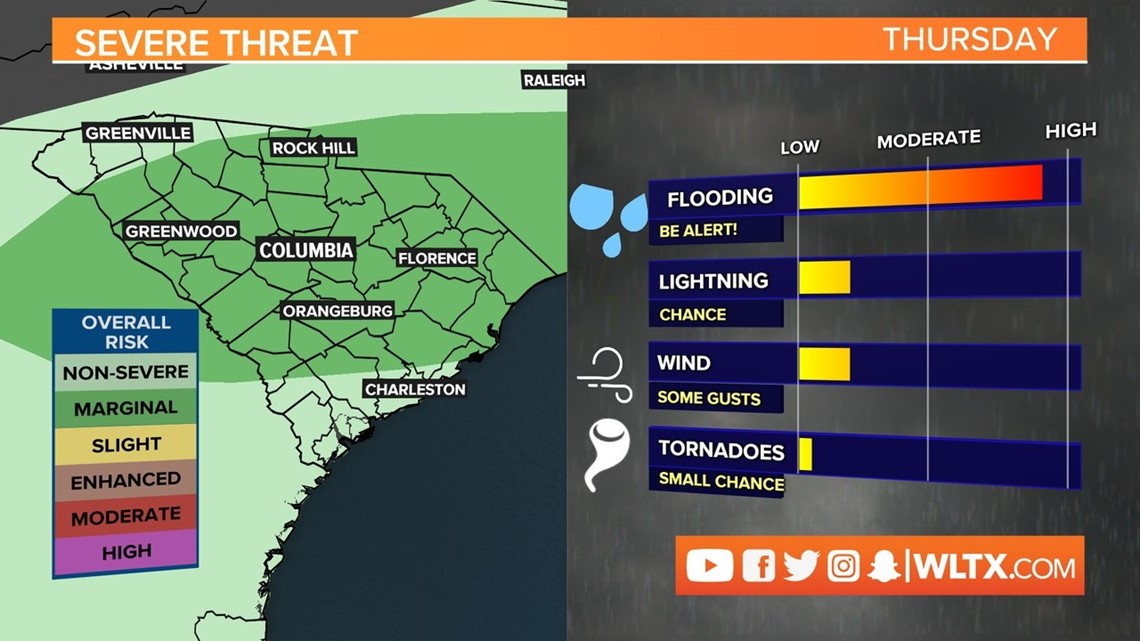 On Wednesday, mostly cloudy skies are expected for most the day, but a humid east breeze will bring a chance for a scattered storm this evening. A few downpours are possible after 2 pm, but rain will remain scattered through midnight.
Pockets of heavy rain may develop as early as the Thursday morning commute, but widespread rain is more likely later in the morning. The heaviest rain is expected later in the day.
A few thunderstorms are possible Thursday afternoon and evening. Some storms may produce gusty winds, but the primary threat is heavy rain. The chance for storms will be low after sunset on Thursday with lingering showers possible into Friday morning.
A lingering shower is possible on Friday, but conditions will begin to improve later in the day as much cooler weather sets in for the weekend.