COLUMBIA, S.C. — A wave of severe weather Midlands of South Carolina left behind damage in several parts of the region.
A tornado watch that had been in effect was allowed to expire. A tornado watch means conditions are favorable for a tornado to form; that's different from a tornado warning, which would a tornado is indicated by radar or spotted by someone on the ground.
Two tornado warnings that had been been in effect for Lexington and Newberry Counties have expired. It's unclear if those warnings actually led to confirmed tornadoes.
News19 viewers submitted videos and pictures that showed how rough the weather got. Numerous people showed us hail that ranged up to a half-dollar sized pellets. Off Augusta Road in Lexington near Four Oaks Farms, an uprooted tree fell on a vehicle. We're told the emergency crews were able to get the driver out to safety, and the Lexington County Sheriff's Department has confirmed that the injuries to the passenger were non-life threatening.
The storms were triggered when a warm front pushed through the area early on Monday morning bringing warm air and moisture into South Carolina. This warm and muggy air provided fuel for storms to continue on and off through the day.
More rounds of rain are possible Tuesday into Wednesday.
Lingering storm activity from Monday afternoon will move east overnight bringing a mix of clouds and sun early on Tuesday. Warm and muggy conditions will persist on Tuesday morning with peeks of sun rapidly bringing temperatures into the upper 80s on Tuesday afternoon. Tuesday is expected to be the warmest day so far this year – the current warmest temperature for the year is 87F. The heat and humidity will spark scattered storms through the afternoon with severe weather most likely west, but conditions for severe weather to occur are possible anywhere in the midlands on Tuesday.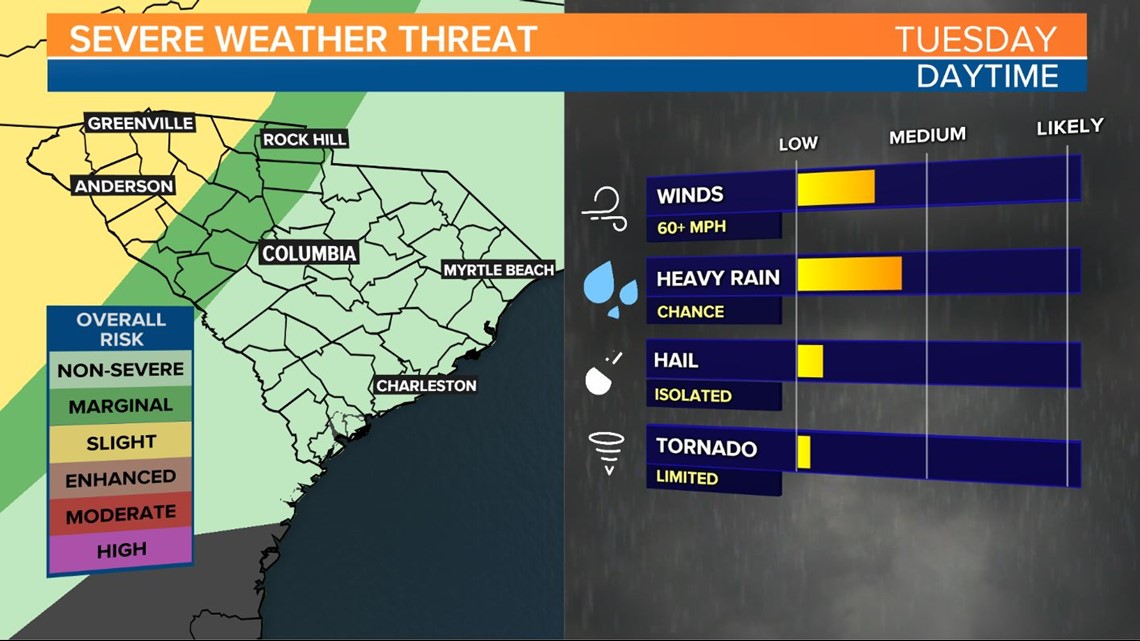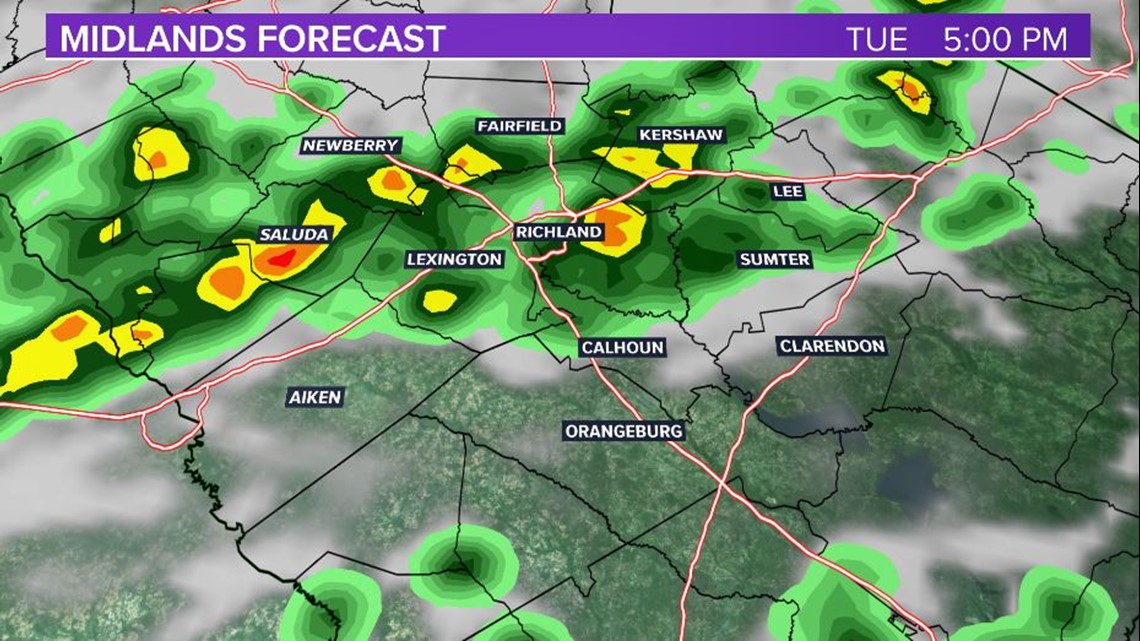 A cold front will push through on Wednesday, but model guidance is still offering different solutions regarding the amount of moisture available for rain. There's a possibility for gusty thunderstorms and downpours on Wednesday, but coverage again may be scattered. Humidity will begin to lower on Wednesday night with dry weather and sunshine in the forecast for the remainder of the week.
The South Carolina Midlands are in much need of some rain. April is historically the driest month for the Midlands, but this past April was the 8th driest on record for the Columbia Airport (records go back to 1888). The winter was unusually rainy so many cities in the Midlands are still reporting a rain surplus for the year, but the lack of rain in recent weeks is problematic for gardeners and farmers starting crops for the season.