COLUMBIA, S.C. — Hot weather continues across South Carolina through the weekend, as temperatures on Friday could top 100F in the Midlands, which is the hottest weather South Carolina has experienced in nearly two years. Meanwhile ,the remnants of a frontal system could fuel one or two thunderstorms across the state Friday evening, brining a risk for damaging wind.
The National Weather Service in Columbia has issued a heat advisory for most of the Midlands on Friday from noon to 8 pm. Heat index values are expected to reach 105 – 110F. If the heat index reaches 110F in Columbia, it will be the hottest "feeling" afternoon since the summer of 2015.
The NWS in Charleston has issued an Excessive Heat Warning for parts of the low country where heat index values could surpass 115F on Friday afternoon because of the humidity.

The heat index is calculated based on the temperature and level of humidity. Excess humidity makes it more difficult for our bodies to cool down so the heat index provides insight on how dangerous temperatures will be. This value only accounts for how the air will feel in the shade. It will feel even hotter in full sunshine. When heat index values reach 105F, heat exhaustion is likely and heat stroke is possible. Heat stroke is a medical emergency and can be fatal.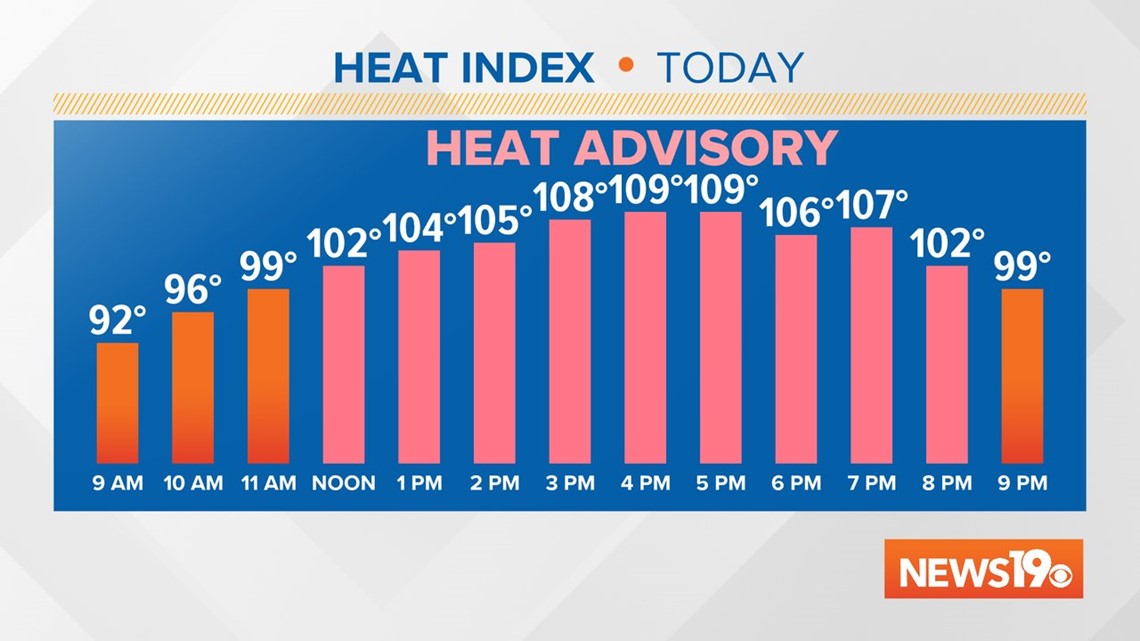 On Thursday, the temperature at the Columbia Metropolitan Airport reached 96F, which is the hottest so far this year. If temperatures go above 98F, it'll be the hottest reading since October 4, 2019 when Columbia reached 100 degrees.
A passing storm is expected to move in from North Carolina on Friday evening. Rain will not be widespread, but any storms that do develop could contain lightning and damaging wind. The best chance for these storms will be after 6 pm through 11 pm.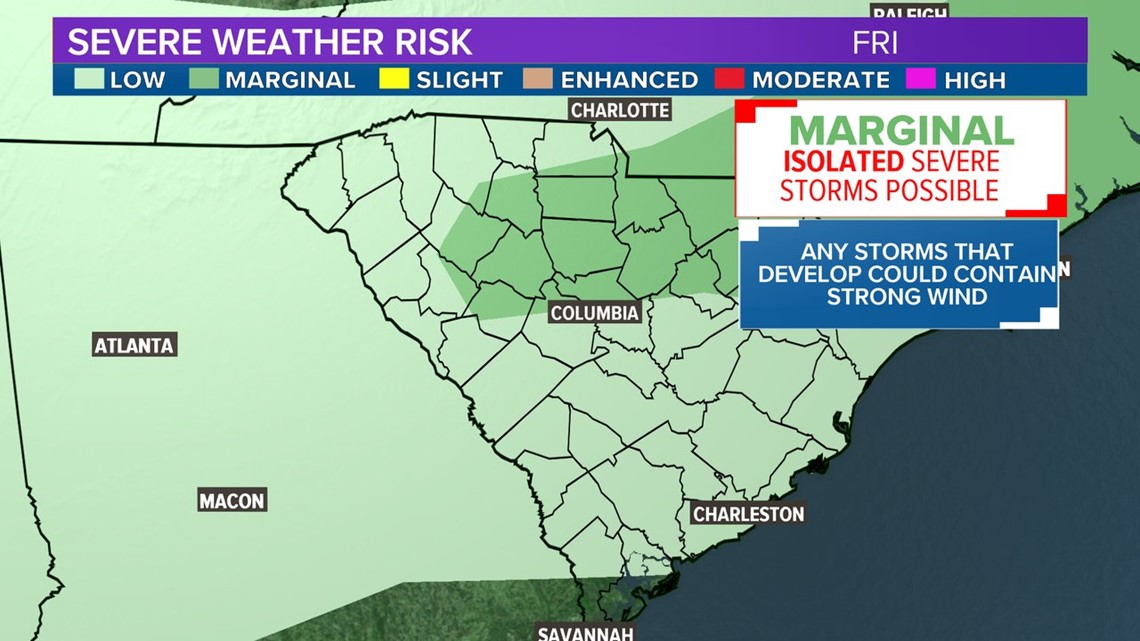 Saturday could also feature pop up storms and the chance for storms is much greater on Sunday afternoon, although not before temperatures heat up to the upper 90s.
The heat will break on Monday and a rainy pattern will persist through early next week.