CHARLOTTE, N.C. — The ridiculously hot weather is going to hang around the Carolinas for at least another day with highs climbing into the upper 90s Friday with a "feel like" temperature well over 100 degrees.
Wednesday was the hottest day of the year with an actual high of 95 degrees and Friday could be even hotter. The current forecast high is 96 degrees and the heat index could make it feel as hot as 103.
"It doesn't feel great when it's super hot and humid, but North Carolina, especially Charlotte, the hottest it's ever gotten in Charlotte was 104," said First Warn meteorologist Chris Mulcahy.
Hottest temperatures of the year
This week's heatwave has led to some of the most oppressive weather of the year, with the "feel like" temperature being over 100 degrees and actual highs in the mid-90s.
Heat and humidity are nothing new for the Carolinas in July, but the heat index climbed to 100 degrees on Wednesday and Thursday, and will again Friday, according to WCNC Charlotte forecaster Larry Sprinkle. It's possible a heat advisory could go into effect, especially across areas like Anson, Gaston, Mecklenburg and Union counties in North Carolina, as well as Chester, Lancaster and York counties in South Carolina.
"We don't really have record-breaking high temperatures all the time," said Sprinkle. "All in all, this summer yeah it's been hot, but nothing exceptional of any major extreme. We're not going to set a record high. It may feel like one, but we won't set a new record this week."
Air Quality Alert
The North Carolina Department of Environmental Quality has issued a Code Orange Air Quality Action Day for Ground Level Ozone for Mecklenburg and Union counties until 8 p.m. Friday.
Under Code Orange conditions, the outdoor air quality is likely to be unhealthy for some people -- especially children, people who are sensitive to ozone, and people with heart or lung disease. Officials advise those individuals limit prolonged outdoor exertion during the late afternoon or early evening when ozone concentrations are highest.
WCNC Charlotte Chief Meteorologist Brad Panovich has a simple explanation for the Air Quality Alert: smoke still coming in from the wildfires in the northwest part of the United States and in Canada.
"There's clouds in here, but also a lot of haze that has been pushed down from the north," said Panovich. "Anytime we get this flow out of the northwest, we're going to tend to see some smoke into the region."
Why is it so hot?
First Warn meteorologist Iisha Scott explained the "feel like" temperature is so high because the dew points are in the 70s. Those high dew points are why it's so humid and take your breath away when you step outside in the afternoon.

Know the signs of heat stroke and heat exhaustion
If you must be outside during the afternoon, remember to stay hydrated and find some shade. It doesn't take long to become weary and experience fatigue. You should know the signs of heatstroke and heat exhaustion.
Symptoms of heat exhaustion include:
Feeling faint or dizzy
Excessive sweating
Cool, pale, clammy skin
Nausea or vomitting
Rapid, weak pulse
Musacle cramps
If you're experiencing symptoms of heat exhaustion, you should move immediately to a cool place and drink water.
Symptoms of heatstroke
Throbbing headache
No sweating
Body temperature above 103 degrees
Red, hot, dry skin
Nausea or vomiting
Rapid, strong pulse
May lose consciousness
If you're experiencing symptoms of heat stroke, you should call 911 and move to a cooler place, if possible.
Also, remember to look before you lock your car. When it's 90 degrees outside, it only takes 10 minutes for the inside of a car to climb over 110 degrees. After 30 minutes, the temperature can climb to just over 120.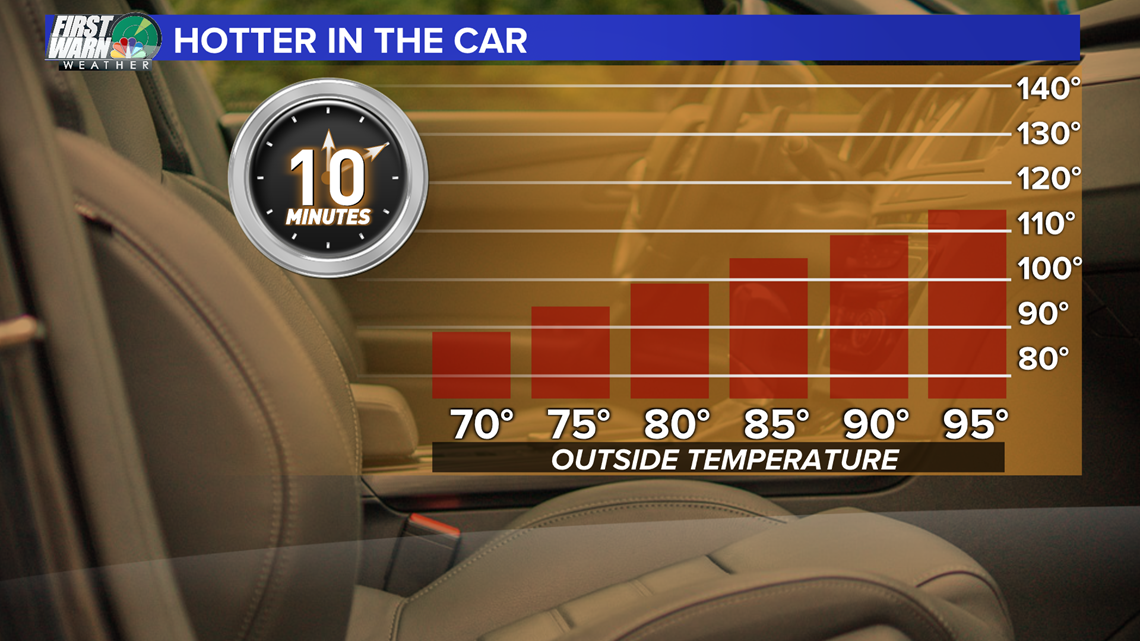 Charlotte opens cooling centers
Mecklenburg County is opening cooling centers to provide refuge for residents from the extreme heat. Officials said the centers, listed below, will be equipped with precautions to help prevent the spread of COVID-19.
Open Thursday and Friday, Roof Above will use its Day Services Center as a cooling station. The Day Services Center is located on 945 N. College Street. The Center will be open from 8:00 a.m. – 4:00 p.m. Monday – Friday and 9:00 a.m. – 12:30 p.m. on Saturdays, Sundays and holidays. Misting stations, fans, water fountains, chairs, and face coverings are also available.
County parks and libraries are also providing cool stations.
The following Park and Recreation spray grounds are available for use:
Clarks Creek Community Park, 5435 Hucks Road
Captain Jack, Elizabeth Park, 1100 E. Trade St.
Cordelia Park, 600 E. 24th St.
First Ward Park, 309 E. Seventh St.
Latta Park, 601 East Park Ave.
Nevin Park, 6100 Statesville Rd.
Romare Bearden Park, 300 S. Church St.
West Charlotte Recreation Center, 2401 Kendall Drive
The following Park and Recreation pools are available for use:
The Double Oaks Family Aquatic Center is open Thursday and Saturday from 11 am – 7 pm.
Cordelia Pool is open Sunday and Tuesday from 11 a.m. – 7 p.m., with limited capacity.
Double Oaks is located at 2014 Statesville Avenue in Charlotte. The Cordelia Pool is located at 2100 N. Davidson Street in Charlotte.
The following Park and Recreation Centers and Senior Centers are open to the public seeking relief from the heat.
Bette Rae Thomas
David B. Waymer
Eastway Regional
Mallard Creek
Ivory/Baker
Revolution Park Sports Academy
Tyvola Senior Center
CATS will provide free transportation to anyone needing transport to the Roof Above Day Services Center location, any Charlotte-Mecklenburg Library location and the Mecklenburg County Park and Recreation Centers, Senior Centers and spray ground and pool locations designated as cooling stations.
Assistance paying energy bill
Individuals and families in Mecklenburg County who are experiencing a cooling (or heating) energy bill-related crisis, a life-threatening or health-related emergency, and have a past due or final notice can apply for energy bill assistance through the DSS Crisis Intervention Program.
 Assistance is available year-round or until all funds are exhausted.
For more information, about cooling stations or other heat-related respite and assistance, visit www.mecknc.gov.
When cooler temperatures return to Charlotte
Panovich says there is the possibility of pop-up showers, and clouds from previous storms will help keep things cool.
"They're going to slow down the warming today. The reason I'm a little excited about them is it's going to keep the temperatures from jumping too high," he said, noting temperatures would still be fairly warm. Even still, the clouds are doing something else we need: acting as a barrier for strong storms until later in the afternoon.
"We've already got a slight or low risk for severe storms across the Carolinas because of this trough," he said. "As things heat up, we will see storms develop along that little trough, so it'll take this a little while to happen because the clouds not only cool us down, but they keep those storms at bay temporarily."
Fortunately, the weekend will be slightly cooler with a chance of storms on both Saturday and Sunday.
"It won't be a washout but there is certainly the possibility of a few storms this weekend," Sprinkle said.
The long-term forecast also points to good news with the mid to upper '80s are likely in the next six to 10 days of the extended forecast.
All of WCNC Charlotte's podcasts are free and available for both streaming and download. You can listen now on Android, iPhone, Amazon, and other internet-connected devices. Join us from North Carolina, South Carolina, or on the go anywhere.