COLUMBIA, S.C. — Tomorrow is Groundhog Day and Punxsutawney Phil will make a prediction for our weather over the next few weeks.
The legend says if Punxsutawney Phil sees his shadow we will have 6 more weeks of winter, but if he does not see his shadow we will have an early spring.
Last year, Phil did not see his shadow and predicted an early spring. Taking a look back, both February and March 2020 were in fact warmer and rainier than normal in South Carolina.
However, that might be more of a coincidence. According to Climate Central, Phil has only been about 40% correct since 1887 predicting the arrival of an early spring when looking at data for the entire country.
Looking at Columbia, over the past 20 years the accuracy of Punxsutawney Phil goes up to about 50%, still not a great prediction.

So what will Phil say this year? Looking at this more scientifically, Punxsutawney, Pennsylvania will be cloudy with some snow showers possible on Tuesday morning. This would suggest that Phil will not likely see his shadow and predict an early spring.
No matter what Phil says, the overall trend in South Carolina is that spring is coming earlier as our climate warms. A lot of this has to do with our morning temperatures, which are warmer than the long term averages.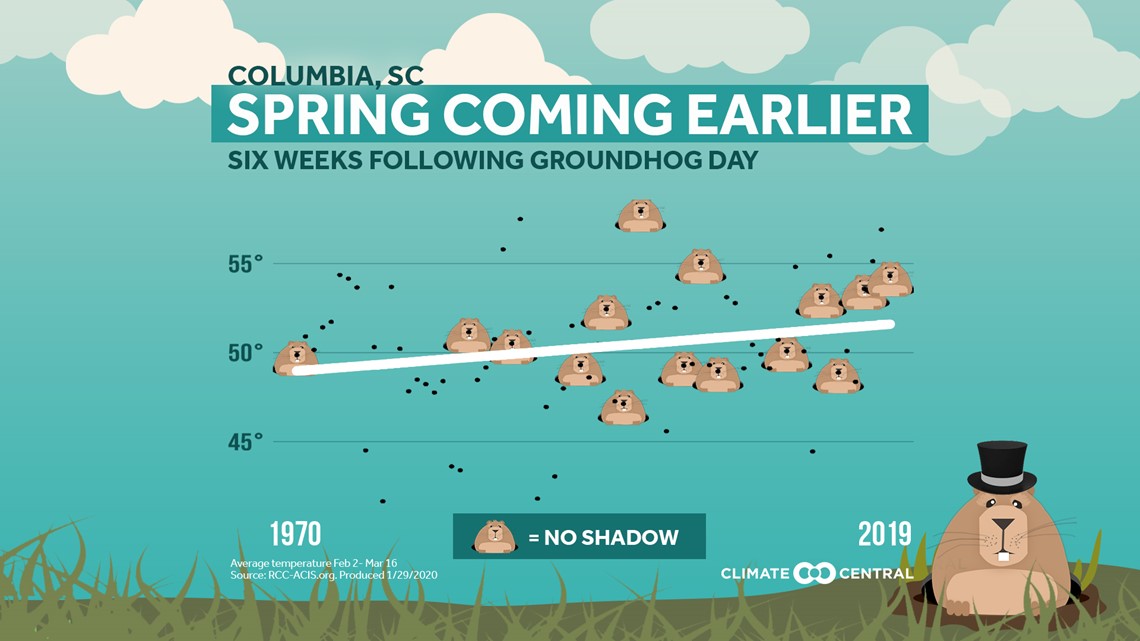 However, this winter has actually trended cooler than previous winters. December temperatures were slightly below normal while January temperatures were a touch above normal.
Looking further into February, the Climate Prediction Center is forecasting cooler than normal temperatures to take over much of the country as an arctic air mass travels south. So we'll have to wait and see what the groundhog says and what actually happens to see who wins this forecast.