COLUMBIA, S.C. — Hurricane Ian is moving closer to the United States and is expected to strike Florida sometime Wednesday. And while it will be a much less potent storm, it will be affecting South Carolina's weather by the end of the workweek.
Hurricane Ian made landfall early Tuesday morning in western Cuba as a powerful Category 3 hurricane. It is the second major hurricane of the 2022 season.
As of 11 PM Tuesday, Hurricane Ian was located about 110 miles southwest of Naples, Florida. The storm had sustained winds of 120 mph with higher gusts. Ian was moving towards the north-northeast at about 10 mph.
A tropical storm watch has been issued for parts of the Lowcountry of South Carolina. A storm surge watch was also issued. This watch includes several counties along the Lowcountry.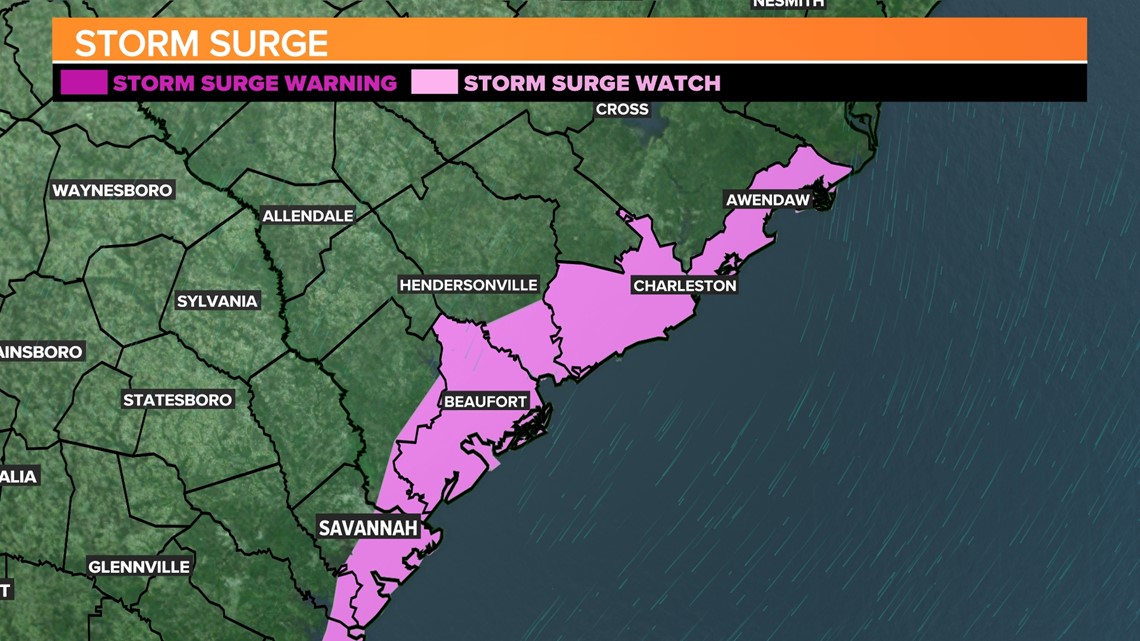 A hurricane warning is in effect for Bonita Beach to the Anclote River, including Tampa Bay and Dry Tortugas. A storm surge warning is in effect for the Anclote River southward to Flamingo.
A tropical storm warning is in effect for the lower Florida Keys from Seven Mile Bridge westward to Key West. Flamingo to Bonita Beach, Suwannee River to the Anclote River, Volusia/Brevard County Line south to Jupiter Inlet, and Lake Okeechobee are also included in this tropical storm warning.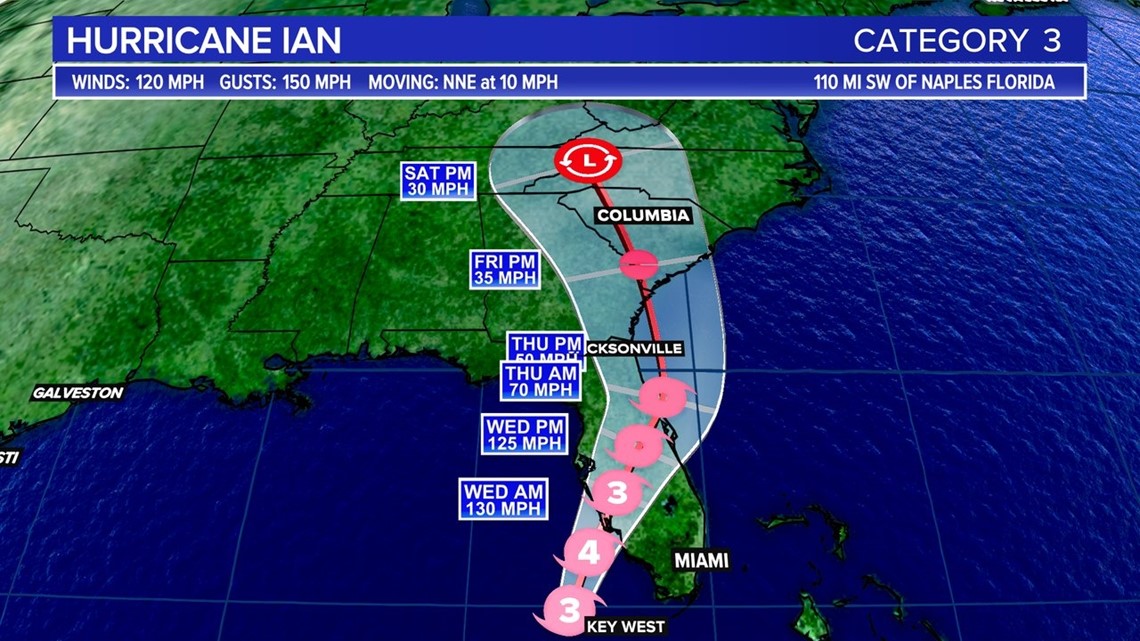 A hurricane warning means that hurricane conditions are projected somewhere within the warning area. Preparations to protect life and property should be rushed to completion.
A tropical storm warning means that tropical storm conditions are probable somewhere within the warning area.

Heavy rainfall will increase across the Florida Keys and South Florida, spreading into central to northern Florida Tuesday and Thursday, and the Southeast by Friday and Saturday, likely causing flash, urban, and small stream flooding.
What will the impacts in South Carolina be?
The storm will begin dumping heavy rain in South Carolina on Friday as it moves further north. That is expected to continue all day Saturday and possibly into Sunday.
When it's all over, anywhere from 3 to 6 inches of rain could fall.
There is the possibility of strong storms on Saturday. While the National Weather Service does not expect tornadoes to be a major threat, there is a chance of isolated twisters in the eastern part of the state.
There remains some uncertainty on the exact track of Ian, and that could affect the forecast. One possibility that remains is the storm could go offshore in Jacksonville, Florida and ride the Georgia coast into South Carolina. That scenario, if it did happen, likely wouldn't change the forecast except for the coast, which could see more storm surge.
Considerable flooding is expected across central Florida into southern Georgia and coastal South Carolina, with significant, prolonged river flooding expected across central to northern Florida.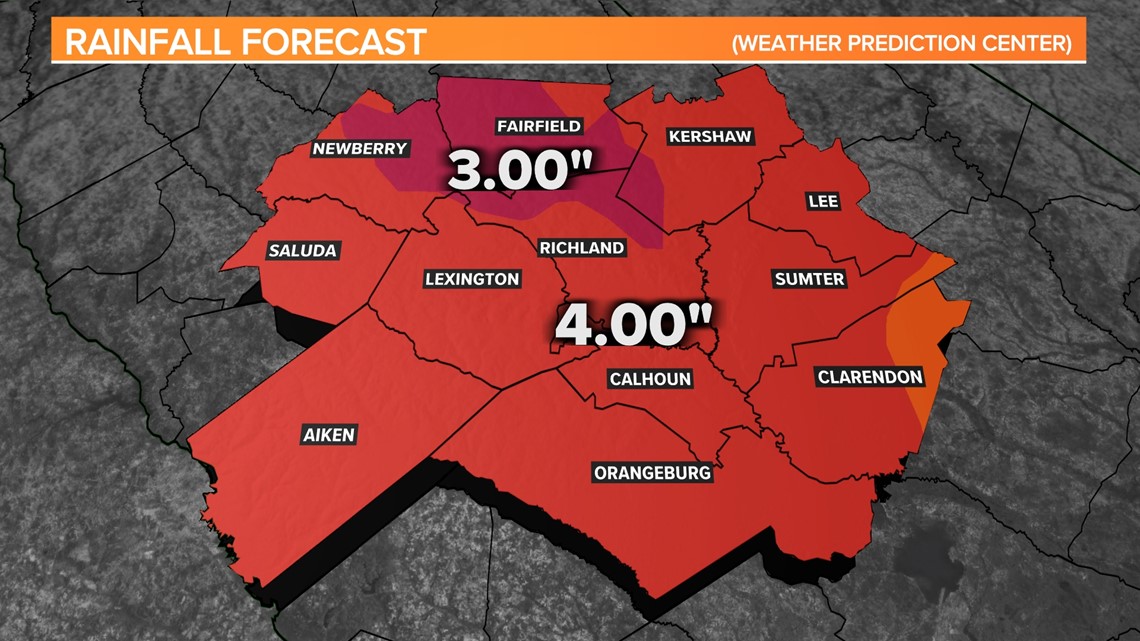 Ian's Possible Midlands Impacts:
Gusty winds are anticipated Thursday and Friday, but the chance of tropical-storm-force winds are small. Heavy rainfall is possible Friday through Saturday. According to the ultimate track of Ian, severe weather could be possible late Friday and into Saturday.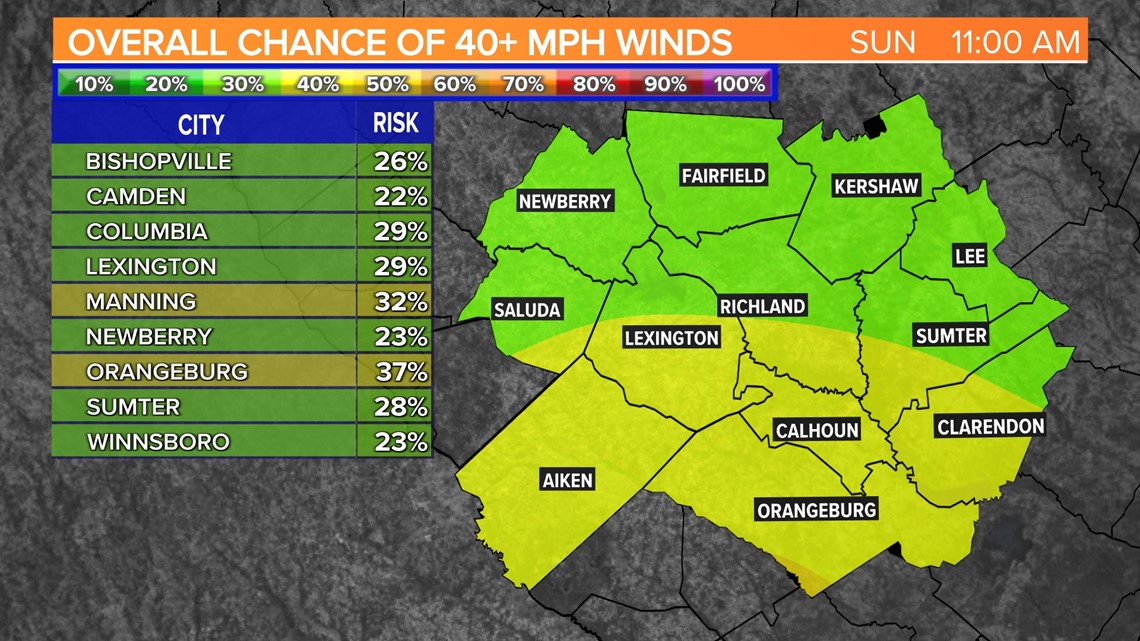 There is still a lot of uncertainty in the storm track and timing. Small changes in the strength, track, or timing can lead to big changes in our weather.