COLUMBIA, S.C. — Tropical Storm Danny made landfall in South Carolina Monday night, as the storm remains a threat to bring heavy rainfall to the Southeast region over the next day.
The National Hurricane Center said around 8 p.m. that Danny came ashore just north of Hilton Head on Pritchards Island. Danny is the fourth named storm of the 2021 Atlantic hurricane season.
The storm is expected to weaken rapidly now that it's on land. It was moving west-northwest at 16 mph.
In advance of the landfall, tropical storm warning were issued for parts of the South Carolina coast, from Edisto Beach to the South Santee River. A tropical storm warning means that tropical storm conditions are expected somewhere within the warning area.
Danny could produce 1 to 3" of rain with locally higher amounts along the immediate coasts of Georgia and southern South Carolina.
Swells produced by the storm are forecast to affect parts of the palmetto state. The swells could cause life-threatening surf and rip currents.

The tropical system will help increase the moisture across the state, including the Midlands, especially the southern and eastern Midlands.
Severe weather is not expected, but heavy, tropical downpours will be possible.
As the tropical system continues to move west, the chances for rain will decrease for South Carolina, but a few showers will be possible overnight though Tuesday morning.. Lows will be in the lower 70s Tuesday morning.
Typical summer-like weather is expected Wednesday and Thursday. Highs will be in the lower 90s. There will be a chance for a few showers and storms both days.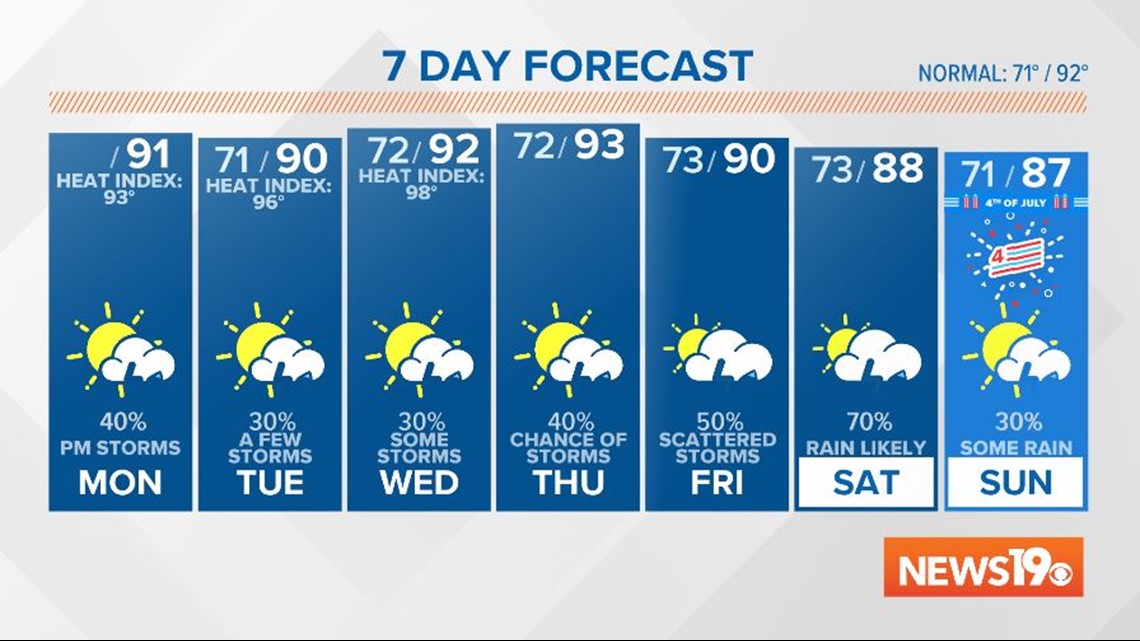 A front will approach the area by the end of the workweek. The rain chances will increase Friday and Saturday. Showers and storms will be likely Saturday, but some slightly drier air may move into the Midlands for the July the 4th holiday.
Elsewhere in the Tropics:
An area of low pressure associated with a tropical wave is producing a small cluster of showers and thunderstorms over the central tropical Atlantic Ocean.
Some slow development is possible through the end of the week while this system moves quickly westward to west-northwestward at about 20 mph, likely reaching the Lesser Antilles Wednesday night.