COLUMBIA, S.C. — The winter storm in South Carolina is causing hazardous driving conditions as well as falling trees and power outages across the Midlands.
In multiple counties, reports have come in of ice or a snow/ice mix covering roadways. In some cases, the hazards are being caused by trees weighed down by ice falling onto the highway.
That was the case for a time along a 13 mile stretch of Interstate 26 East in Newberry County between mile markers 76 and 63. That's a stretch between the town of Newberry and Jalapa.
The South Carolina Department of Transportation sent out a photo of a snowplow working to clear the road. By just before 11 a.m., however, the road had reopened.
Power outages are a problem too with over 100,000 statewide as of 12 p.m.. But the numbers continue to fluctuate. Richland County saw over 16,000 outages at the peak, but that number has dropped to about 7,000. Sumter County is also down, but Newberry, Fairfield, and Kershaw Counties are up.
More updates can be found further down in the story.
LIVE VIDEO: Streaming Updates on the Winter Weather
LATEST UPDATES FROM AROUND SOUTH CAROLINA:
10:41pm WLTX has the best weather watchers!
9:28pm Dominon update on Twitter.
9:20pm Here's what it looks like at WLTX on Garners Ferry road.
9:17pm Update on Waste collection centers in Lexington county.
8:19pm Video of snow in Winnsboro by WLTX meterologist Daniel Bonds.
7:50pm WLTX Meterologist Daniel Bonds tweeted about a little snow in Winnsboro.
7:39pm From Reporter Julia Kauffman in Newberry
7:13pm: Black River Electric co-op posted on their Facebook page. The utility serves Lee, Sumter, Clarendon and Kershaw counties.
"Our crews have been working since 6 am and we thank you for your patience. Unfortunately, due to the widespread damage in our four counties, we will not get power restored to everyone tonight. This ice and the low temps have been brutal! We still have crews working currently. We understand your frustration, and will keep crews in the field tonight as long as it is safe for them to work. And we will be back at it very early tomorrow! "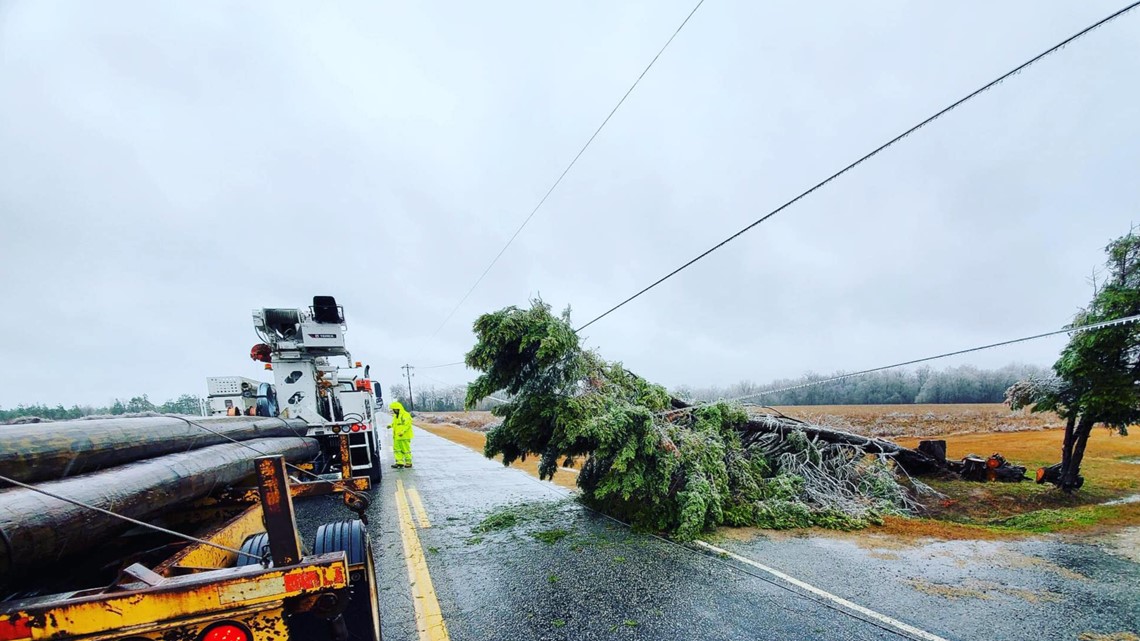 6:49pm Keshaw Sheriff Lee Boan tweets out that he's thankful that residents stayed off the roads.
6:27pm Fairfield county fire department says they have responded to over 100 calls for downed trees
6:24PM Photos from Laurens, SC in the Upstate from the National Weather Service.
6:15pm Photos from the Kershaw Sheriff Department's Facebook page.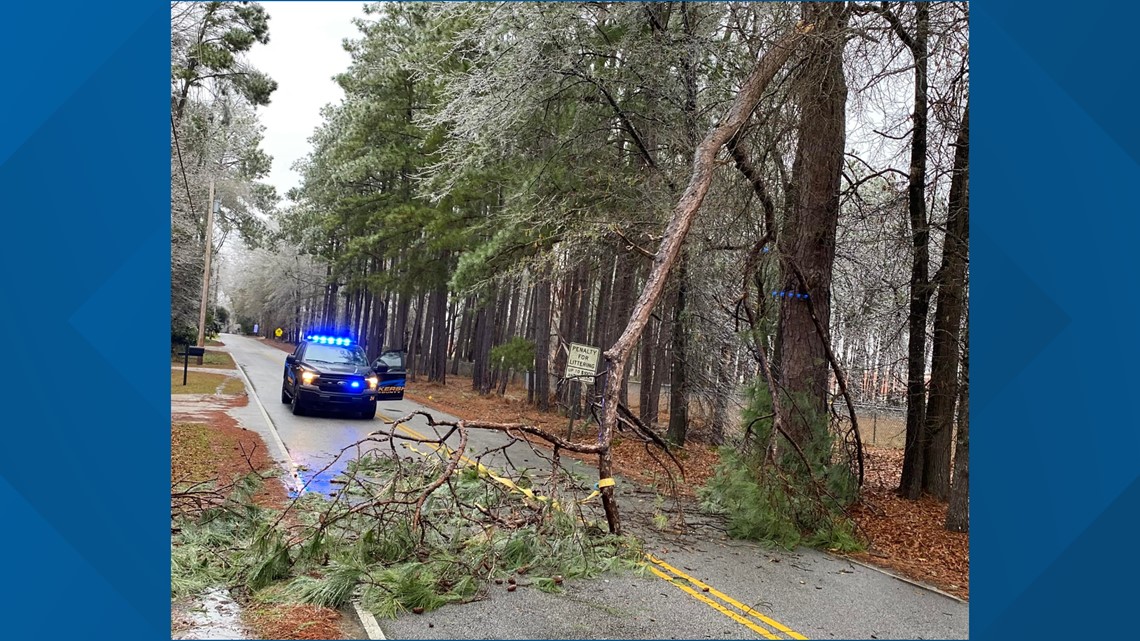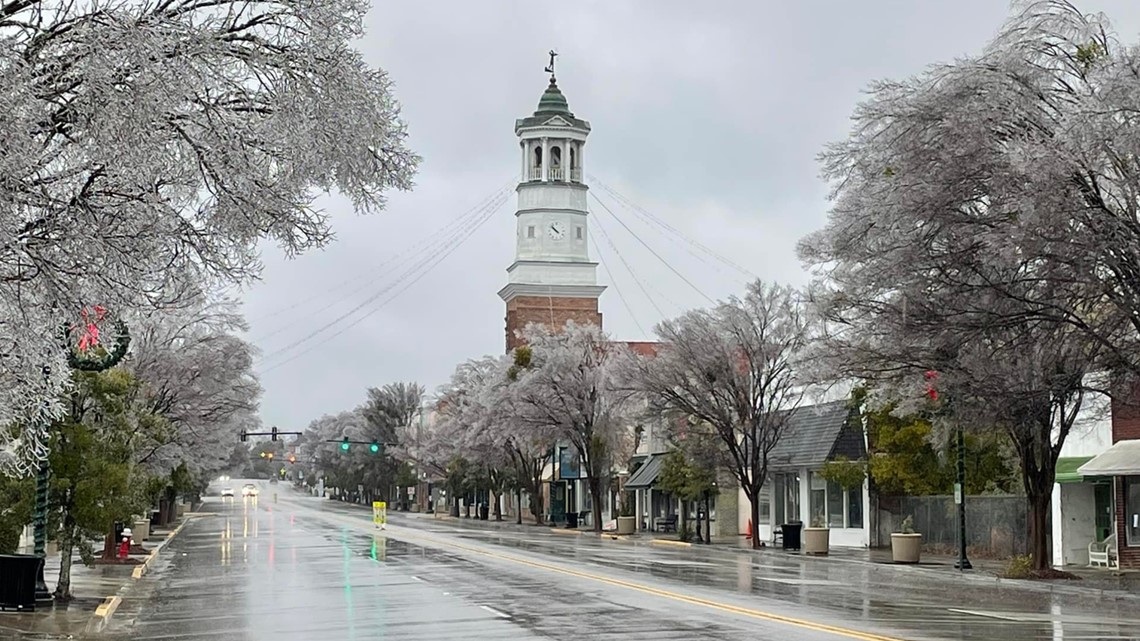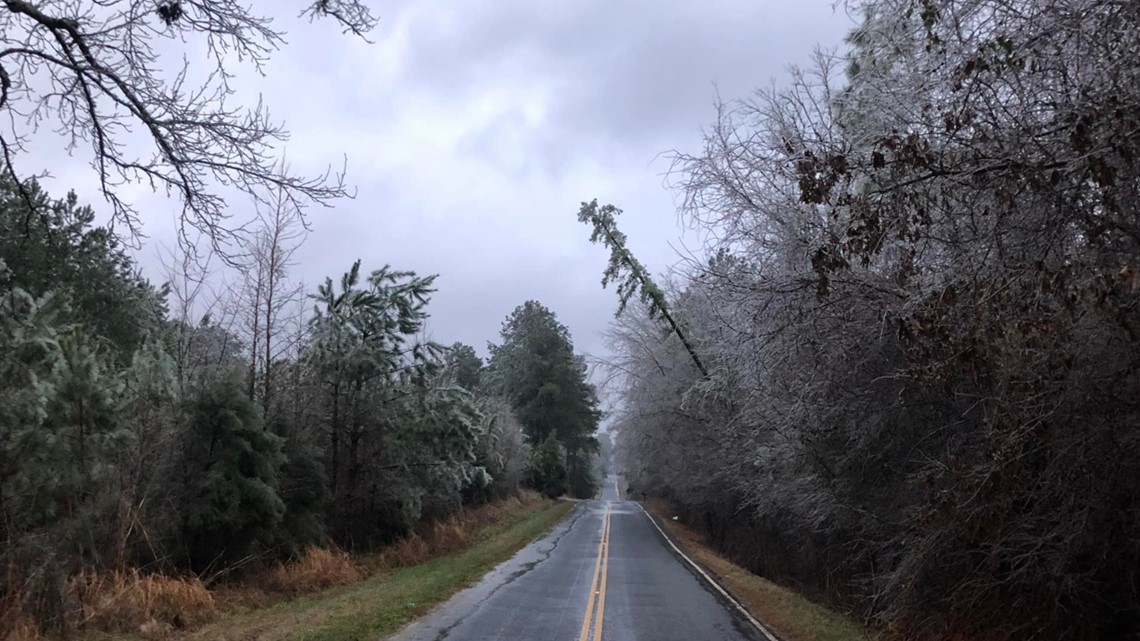 6pm Photos from South Carolina State Parks, this is at Table Rock, SC.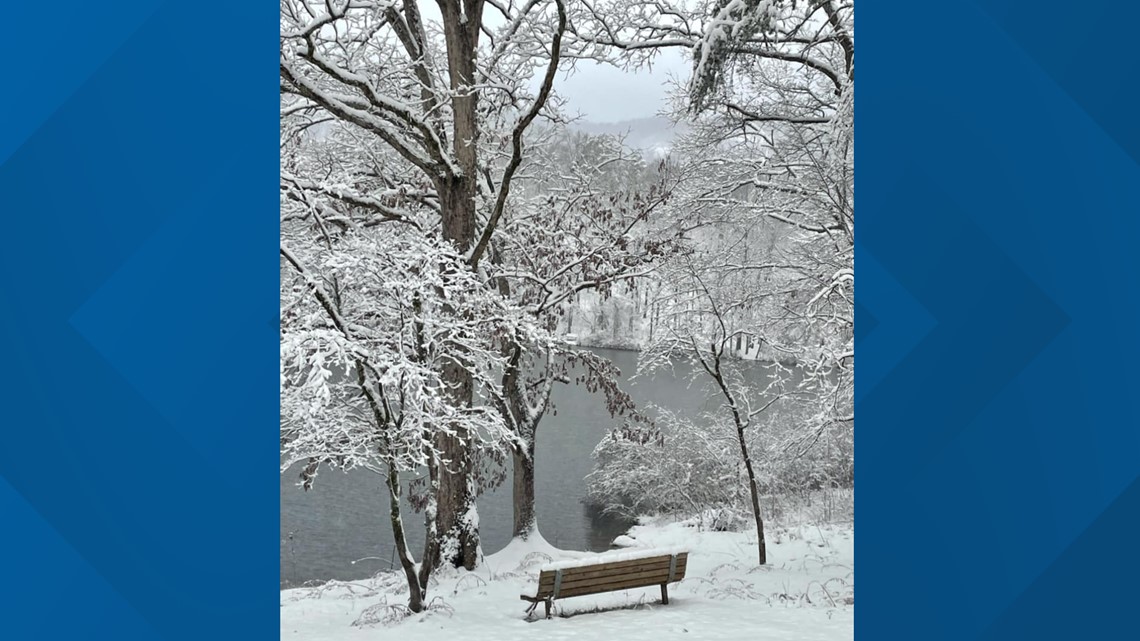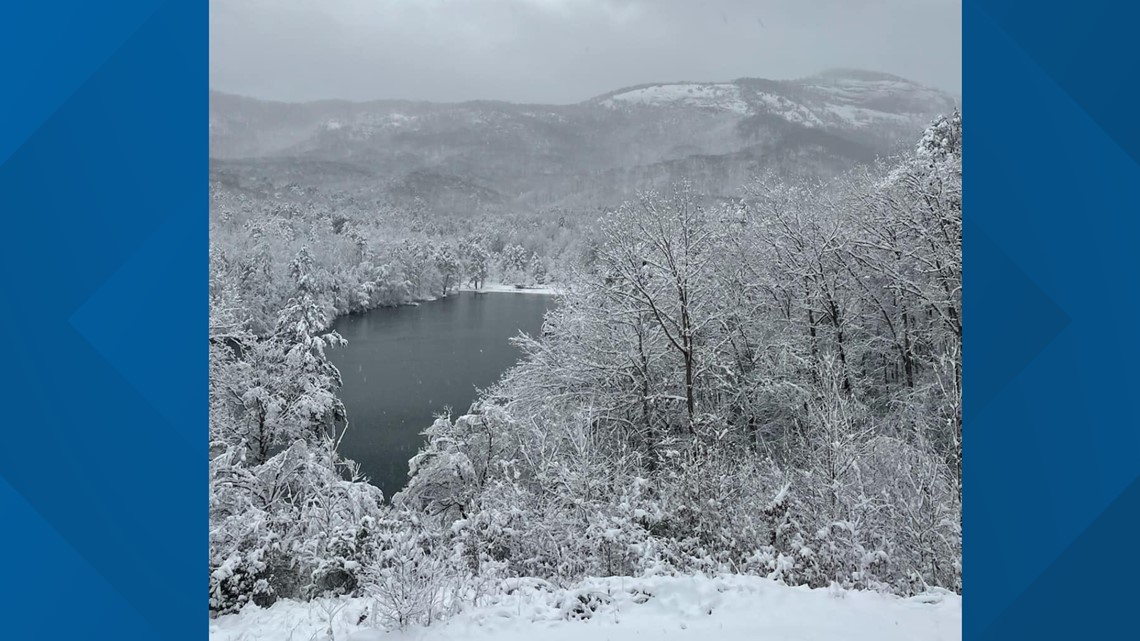 5:51pm Newberry School district schools to go to e-learning next week.
Newberry schools will go to virual learning the week of January 18-21. Tuesday through Friday the school wll be in "e-learning" because a high number of staff and students have tested positive for the coronavirus.
There will also be no school-related extracurricular or after school activities from January 18- January 21.
The district hopes to return to in-person learning on Monday January 24 and will let parents and faulty know by Friday January 21
5:13pm As WLTX meterologists look toward the rest of the week
5:11pm Camden neighborhood
4:01 PM: The National Weather Service has canceled the ice storm warning for Chesterfield, Fairfield, Kershaw, Newberry, and Lancaster counties.
4 PM: Dominion Energy reports more than 2,000 employees and crew members across South Carolina are working to restore power to customers following the winter storm.
2:24 PM: The winter weather advisory has been canceled for Calhoun, Clarendon, Edgefield, Lee, Lexington, McCormick, Richland, Saluda, and Sumter counties. An ice storm warning has been continued for Chesterfield, Fairfield, Kershaw, Newberry, and Lancaster counties until 1 a.m.
1:13 PM: As roads continue to sit at or below freezing in many parts of South Carolina, the highway patrol is reporting "numerous" vehicles running off the road. They're urging drivers to reduce speed if they must be on roadways in the area.
12:22 PM: The signal lights on Sunset Boulevard have been repaired according to Lexington Police.
12 PM: Dominion Energy currently reports roughly 10,815 outages among its South Carolina customers.
11:56 AM: Kershaw County authorities are urging the public to stay off the roads in the area - especially the bridges which they say will ice over in such cold weather. They also shared a short video that really drives the point home. It shows a visibly frozen bridge caution sign in the area.
11:52 AM: Power outage in the 4300 block of Sunset Boulevard/US-378 in Lexington. Signal lights are out at the intersections of Sunset Boulevard and Corely Mill Road as well as Sunset Boulevard and Northside Boulevard.
11:35 AM: Fort Jackson Commissary has reopened after a power outage earlier in the day.
11:30 AM: Traffic hazard in Lexington
Lexington Police say Standing water on South Lake Drive/SC-6 at Railroad Avenue is covering the outbound lane. Please use caution if passing through the area
11:15 AM: I-26 in Newberry County cleared
SCDOT reports that the snow/ice mix that has shut down a 13 mile stretch of the road has now been cleared.
11:03 AM: Highway Patrol reports power lines down on SC 269 and Estes Lane in Fairfield County.
11:00 AM: Road conditions are rough in South Carolina.
Here's an update on the road conditions in Newberry County from Trooper David Jones with the South Carolina Highway Patrol. His advice? Stay off the roads unless it's an emergency!
10:50 AM: Highway Patrol in Dentsville reports power lines down in roadway, blocking Spring Valley Court and Spring Valley Road.
10:41 AM: Crews clearing roads in Newberry County
Newberry Maintenence crews are seen helping to clear the roads on I-26 between Jalapa Road and the Laurens County line.
10:40 AM: The South Carolina Highway Patrol reports an ice storm with a tree down on I-20 westbound at mile marker 111 in Kershaw County.
10:30 AM: National Guard helping stranded drivers
U.S. Army National Guard Soldiers with Company I, 237th Support Battalion, SC #NationalGuard, assist stranded motorists, Jan. 16, as part of a vehicle recovery team activated in support of winter weather response efforts.
10:23 AM: Fort Jackson Commissary is closed due to a power outage.
10:20 AM: Lots of trees starting to fall, blocking roads
From Trooper David Jones, SC Highway Patrol:
"A lot of trees are starting to fall in the northern midlands blocking many roads. Please use caution if you are out and about. Clink the link for the latest calls of service the SCHP has received."
10:16 AM: Snow plows on I-26 in Newberry
10:12 AM: Power outages rising in the state
SC Emergency Management says there are 88,610 outages statewide
10:12 AM: The South Carolina Highway Patrol reports a tree in the roadway blocking a lane of I20 at mile marker 79.5 in Richland County.
9:51 AM: South Carolina Highway Patrol reporting downed tree blocking the roadway on Knights Hill Road in Kershaw County.
9:40 AM: Public reports of an ice storm with social media reports of downed power lines blocking Wilson Road between Evans and Smith streets in Newberry County.