COLUMBIA, S.C. — The Midlands was largely spared from a predicted violent weather outbreak, as most of the area saw just gray skies and little else Thursday.
A tornado watch that had been n effect for Newberry and Fairfield Counties expired at 6 p.m., the final alert for the central region of the state.
A watch which previously had been issued for Saluda, Orangeburg, Calhoun, and Clarendon has been cancelled.
A watch means conditions are favorable for a tornado to form. That's different from a tornado warning, which would mean a tornado has been spotted or detected on radar.
STAY INFORMED: Download the WLTX App for the latest information, alerts for storm warnings, and uploading your pictures
In the Midlands, there was just one severe thunderstorm warning, and that was in Newberry County, where there was a report of some down trees.
Isolated other parts of the state did get some severe weather. A tornado warning was issued for Jasper County and York County. There's been no confirmation yet that a twister actually touched there.
On Wednesday, The Storm Prediction Center had issued a level 4 out of 5 risk for severe weather for almost the entire state of South Carolina. The threat was enough for local school districts to switch to an e-learning day instead of in-person, and several large vaccinations sites canceled services.
But on Thursday morning, as conditions changed, the SPC began backing off that advisory. First, they lowered it to level 3 for most of the state, then to level two or below for the western regions of the state.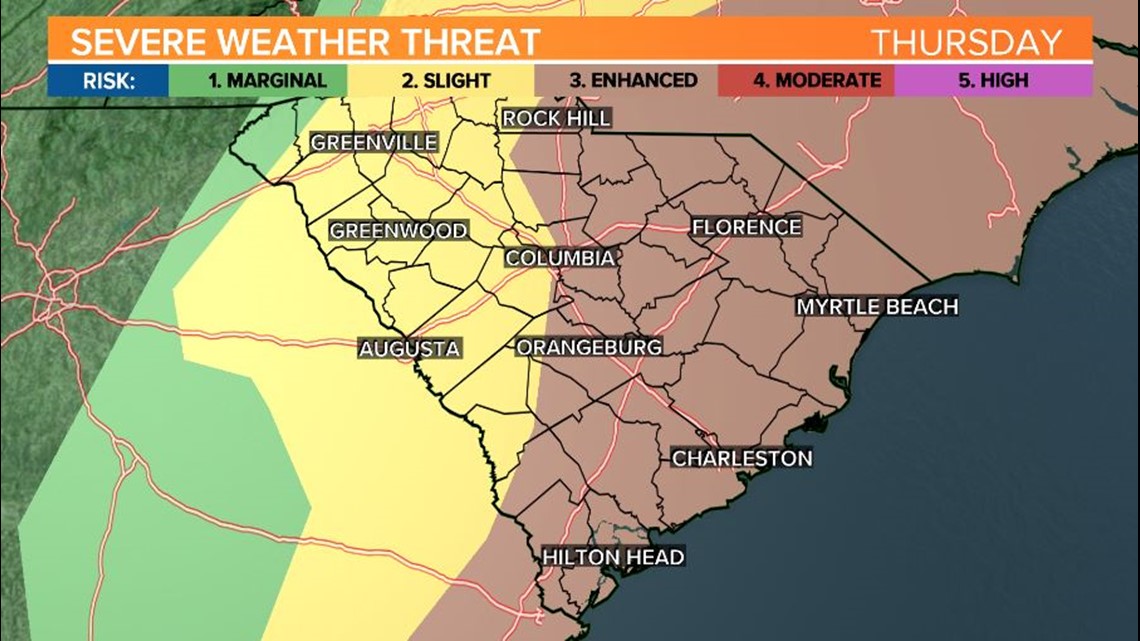 The reason for the change is that the storm was moving faster than anticipated and had less time to strengthen. The storm also lost some of its potential energy as storms moved through southern Georgia and the Florida panhandle.