COLUMBIA, S.C. — High winds whipped up by another round of severe storms in the Midlands toppled trees and knocked out power for thousands Tuesday afternoon.
The line of storms started moving through around 3:45 p.m. There were reports of winds gusts as high as 80 miles an hour in some of these storm cells.
Photos taken by News19 viewers showed snapped trees and limbs in some parts of the area. Some of the worst damage appeared to be near Chapin and Lake Murray. However, storm reports from the entire area are not complete yet.
At it's peak around 13,000 people in the Midlands lost power, but by the early evening, that number had dwindled significantly.
This is the same storm system that brought severe storms in the South Carolina Midlands on Monday afternoon. The primary impact will be the potential for damaging wind, but hail and an isolated tornado cannot be ruled out.
Monday's storms brought damaging wind and large hail in Saluda, Lexington, Lee, and Sumter Counties. Hail the size of golf balls and close to tennis ball sized were reported in parts of the Midlands yesterday. This was fueled by a stiff southerly breeze in the mid levels of our atmosphere, called a "low level jet" and an upper level disturbance higher in the atmosphere that supported large thunderstorms with cold cloud tops capable of producing hail.
Although strong storms will only be scattered today, they could be impactful so preparations should be in place to seek shelter if any warnings are issued.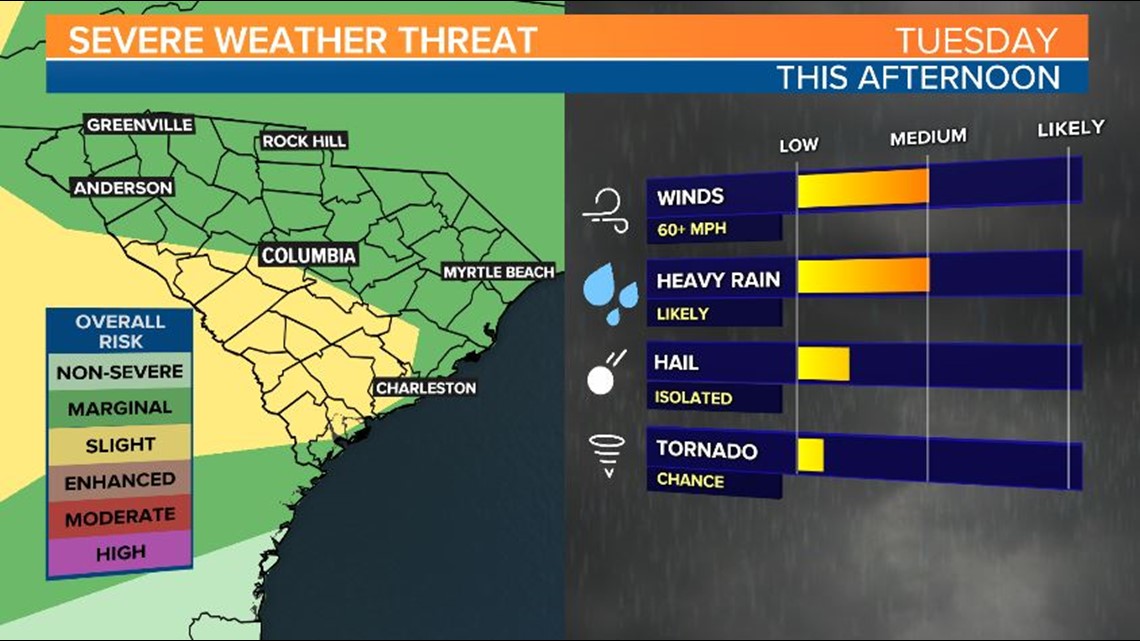 A lingering storm is possible early on Wednesday during the morning or early afternoon as a cold front arrives, but conditions will improve Wednesday evening and the rest of the week will be dry with pleasant temperatures.