COLUMBIA, S.C. — We are looking at a very active end to the week across the U.S. A High Risk was put out by the Storm Prediction Center. Since then, we have seen tornadoes form from Iowa down to Arkansas Friday evening. This very dynamic system will bring the chance of showers and storms to the Midlands as we go into the first half of Saturday.
The timing for the impactful weather looks to be around 10 AM to 3PM on Saturday.

With the timing of the storms the best energy will be south and east of I-20. Because of this the best chance for severe weather looks to be In places like Lexington, Columbia, Camden, Manning, Sumter and Orangeburg.
The biggest threat with storms tomorrow will be the chance of damaging winds. We could see a storm that could produce a tornado but, that threat looks to be on the lower end right right now.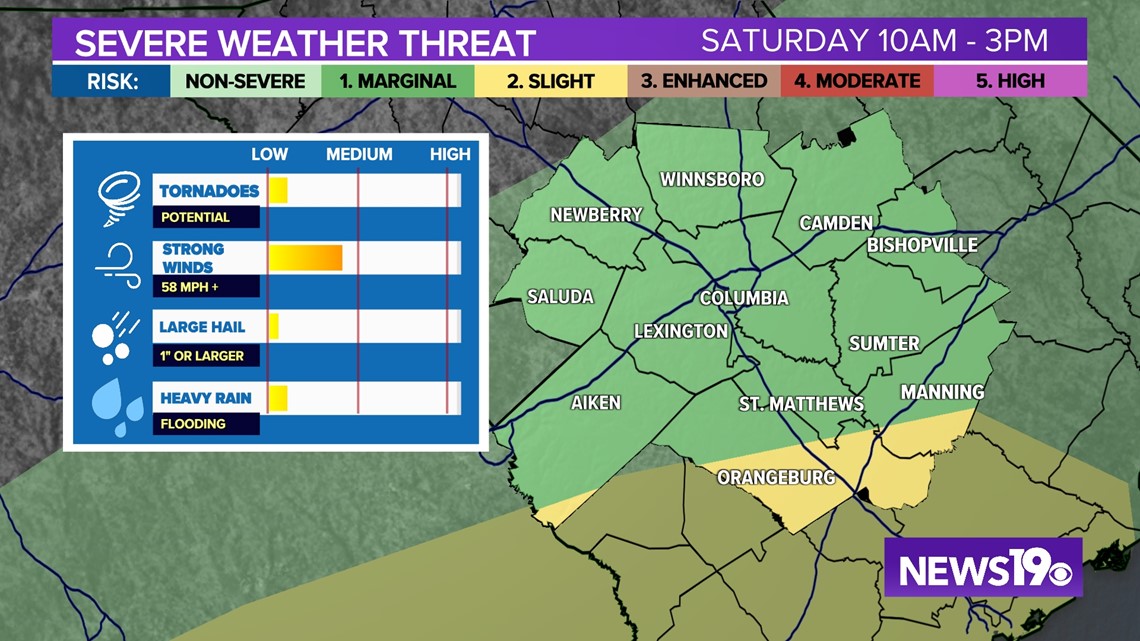 Outside of thunderstorms, we will be seeing very windy conditions. As of right now, a wind advisory is out for mainly the northern Midlands. Winds are expected to be around 20-25 mph sustained with gusts up to about 40 mph during the day. This could lead to some sporadic power outages in the region.