COLUMBIA, S.C. — Today is the first day of meteorological winter and our temperatures are certainly feeling like winter as well. We started off in the mid 30s with a northwesterly breeze under clear skies.
Skies will remain clear and sunny today with high pressure in control. Despite the sunshine, temperatures will not climb too high. Afternoon high temperatures will only be in the mid to upper 40s in the South Carolina Midlands.
Overnight lows will be even colder. Expect temperatures to drop into the upper 20s to near 30 degrees. A hard freeze is likely so make sure to bring in any pets or plants that are outside.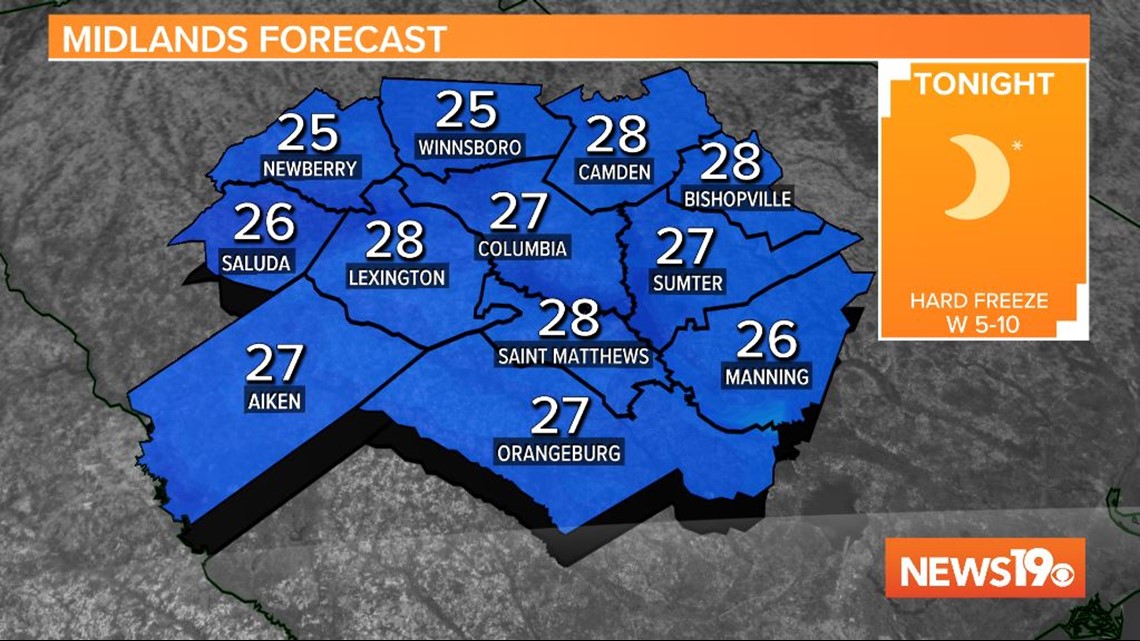 After tomorrow morning, temperatures will increase by a few degrees through the end of the week. High temperatures on Wednesday and Thursday will be in the mid to upper 50s respectively with mostly sunny skies.
A few more clouds build into the area on Friday with temperatures the warmest out of the next week. Lows will be in the 40s Friday morning with highs in the 60s. There is a small chance for rain as well Friday afternoon through Saturday morning as our next storm system moves through.
Looking ahead to the weekend, temperatures once again drop below normal. The long term forecast also supports these below normal temperatures through mid-December.
The 6 to 10 day temperature outlook for December 6 to December 10 puts the Southeast under a 50% chance of seeing below normal temperatures. The Northern Plains and West Coast are likely to see above normal temperatures through mid-December.