ST. PETERSBURG, Fla. — Hurricane Epsilon, the season's 10th hurricane, maintained its weakened 85-mph winds Thursday afternoon.
As of the National Hurricane Center's 11 p.m. Thursday update, Hurricane Epsilon is a Category 1 storm with maximum sustained winds of 85 mph.
Epsilon went from a Category 1 hurricane to a sudden Category 3 hurricane earlier Wednesday.
It is located about 190 miles east of Bermuda and is moving north-northwest at 9 mph.
Hurricane Epsilon is forecast to track well to the east of Bermuda, with the center of the storm moving away from Bermuda overnight.
At this point, the storm is not expected to make a U.S. landfall as most forecast models then turn the storm to the northeast away from the United States.
Disturbance 1 is also being tracked by the National Hurricane Center. A trough of low pressure extending from the southwestern to the northwestern Caribbean is producing a large area of disorganized showers and thunderstorms. Any development of this system is expected to be slow over the next several days as the system passes near western or central Cuba, the Florida Straits, and the Bahamas. The disturbance's chances of development were increased Thursday to a 30-percent chance over the next five days.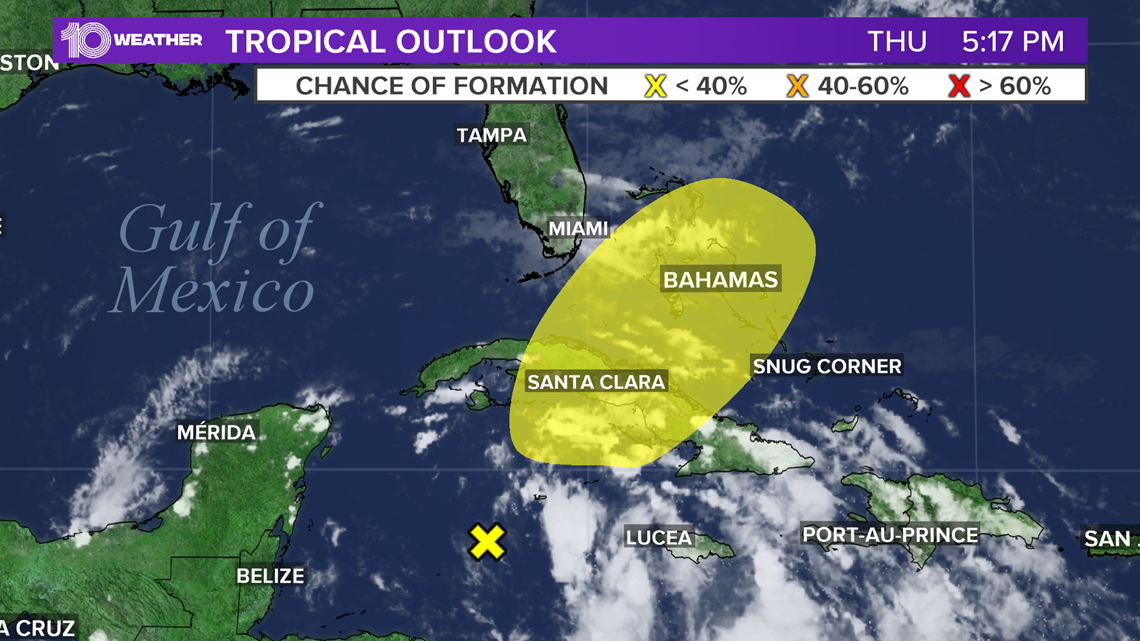 In the most active hurricane season on record, in 2005, late-season storms continued late into the year. Tropical storm Alpha and Hurricane Beta developed in late October. Tropical Storm Gamma, Tropical Storm Delta and Hurricane Epsilon developed in November.
Tropical Storm Zeta developed after the official hurricane season in late December.
Before Epsilon, the last-named storm of the 2020 season was Hurricane Delta. Delta made landfall in Louisiana on Oct. 9 as a strong Category 2 hurricane.
What other people are reading right now: