LEXINGTON, S.C. — Jurors trying to decide the final fate of a man who murdered his five children saw gruesome crime scene photos and heard an audio recording of the killer talking about the crime and what made him mentally snap.
The sentencing stage in the Timothy Jones Jr. murder trial began Thursday morning in Lexington County Court.
On Tuesday, the jury found Jones guilty on five counts of murder for killing his children — Abigail Elaine, 1; Gabriel, 2; Nahtahn, 6; Elias, 7; and Merah Gracie, 8 — on August 28, 2014. By SC law, the jury had to take 24 hours after handing down the guilty verdict in order to begin the sentencing phase.
The death penalty is not automatic in this case — jurors could consider extenuating circumstances and sentence Jones to life without parole, rather than death. All twelve deciding jurors must be in agreement and sign the verdict form.
The penalty phase is much like a second trial, with both the prosecution and defense presenting opening arguments, evidence and character witnesses. The State will go first, followed by the defense team. The State could then have the last word with a reply if they so desire.
Deputy solicitor Suzanne Mayes gives emotional opening argument for the prosecution, describing the children and what they were wearing, when they were found.
"Nahtahn was named after a warrior and he was one until the end. But he never stood a chance in that man's world," she says, pointing to the dead boy's father Tim Jones.
Mayes describes what will follow in this phase of the trial.:
The jury will hear victims' impact testimony that will describe the unique characteristics off each child.
There will be an offer of mitigating circumstances from the defense — Mayes asks the jury to consider if whether the evidence is an explanation or an excuse
The character of the defendant can only be offered now — evidence of the crime Jones committed, the condition of the bodies, some of the evidence already presented, some will be new evidence.
There is evidence of aggravation in this crime that meets two of the state of South Carolina's criteria for the death penalty: (1) the murder of a child under 11 — all five children were younger; (2) murder of two or more persons in an ongoing course of conduct
Mayes says Jones blamed a 6-year-old child on the death of his siblings then, "Throughout the night he made choice after choice after choice after choice to kill those other four children.
He wasn't going to leave any witnesses alive; think of that when considering character. It was all about him — him about his children."
When asking the jury to deliver the death penalty in this case, Mayes says, "it's not about vengeance but about the punishment that fits the crime."
Tim Jones' lead defense attorney Boyd Young opened his argument for sparing Jones' life beneath a photo of Jones' suicide attempt at Kirkland Correctional Center.
He asked jurors to look at Jones' whole life, his family history, and his "individual human frailty." In this case, he said, a life sentence is appropriate.
Mitigation, he says, is any reason for any one of the jurors to choose life penalty.
"The twelve of you found aggravating circumstance to find Jones guilty, but in sentencing, mitigation is different, not every one of you has to agree," said Young. "I think the Jones family has seen enough death."
He went on to say "mercy is not earned, it is freely bestowed, it is grace. The decision on who lives and dies is extremely personal, an extremely moral judgement."
Solicitor Rick Hubbard calls David Lawrence, former Lt. with SLED Midlands Region investigative services, now a polygraph expert.
Lawrence went to Mississippi and Alabama with Lexington County Sgt Creech and FBI agent Mackey on Sept 8, 2014 to interview Jones. Jones agreed to show them where the bodies were on Sept. 9.
Lawrence describes the caravan to Alabama: It was 175 miles from Smith County; the group stopped around noon to get lunch for Jones and gas up vehicles; they arrived at the scene around 2:30/3 pm.
Lawrence describes it as "a remote area, extremely rural." He was impressed when Jones was able to lead them to where the bodies were placed — in reverse order as to where he left the bodies.
The former investigator continues his recollection of the scene in Alabama:
The caravan turned down a dirt road and drove 40/50 yards down the road to clearing that looked like it was a former logging site.
Everyone got out of their vehicles.
The bodies were 100/150 yards further in — Jones pointed out direction of bodies' location in brush then he was put back in car with Creech and sent back to Smith County.
At that point, law enforcement agents from the Smith County Sheriffs Department, Alabama Bureau of Investigation, SC SLED, Lexington County Sheriffs Department, Alabama State Troopers, and local law enforcement agencies, along with 2 helicopters dropping off Alabama investigative team, began processing the scene.
Lawrence was commanding officer on the scene. His role in someone else's jurisdiction — when he believed children were killed in Lexington County — was to make arrangements and coordinate operations across the multiple agencies in order to bring in Lexington County and SLED officers to process crime scene and coordinate with coroners and prosecutors in Alabama and South Carolina.
While waiting for Lexington CSI, Lawrence enlisted the Alabama State Troopers to get aerial photos and set up a cursory perimeter search to look for a hand saw and saw blades and anything else of value.
Lawrence shot video of scene as if you were walking up to the bags. The video shows five black garbage bags partially covered with brush. He said that September in Alabama was hot and dry and describes the smell of decomposed human remains (the children) as "horrendous."
Lexington CSI arrived at 7pm, near dusk.
Lawrence asked Alabama officers to supply a light source to continue processing scene.
At one point, law enforcement had to verify what was in bags.
The Alabama coroner provided fresh body bags and labels, and Lawrence ordered each garbage bag to be slowly moved on top of an open, unzipped body bag. After being moved and tagged, the garbage bags were cut or opened just enough to see inside — to identify the contents as human remains.
Photographs from Alabama crime scene were shown to the jury only — not to the open court.
Lawrence describes the photos:
Animals had gotten to Merah's bag
In one bag there was bedding and quilts that covered the body so that the bag had to be completely opened — Gabriel was inside
Nahtahn's bag had more bedding and had to be opened
One alternate juror is crying after seeing the photos and the judge calls for a 15 minute break.
Upon the court's resumption, defense attorney Rob Madsen made a point of focusing on Tim Jones' cooperation in leading law enforcement to the bodies of his children.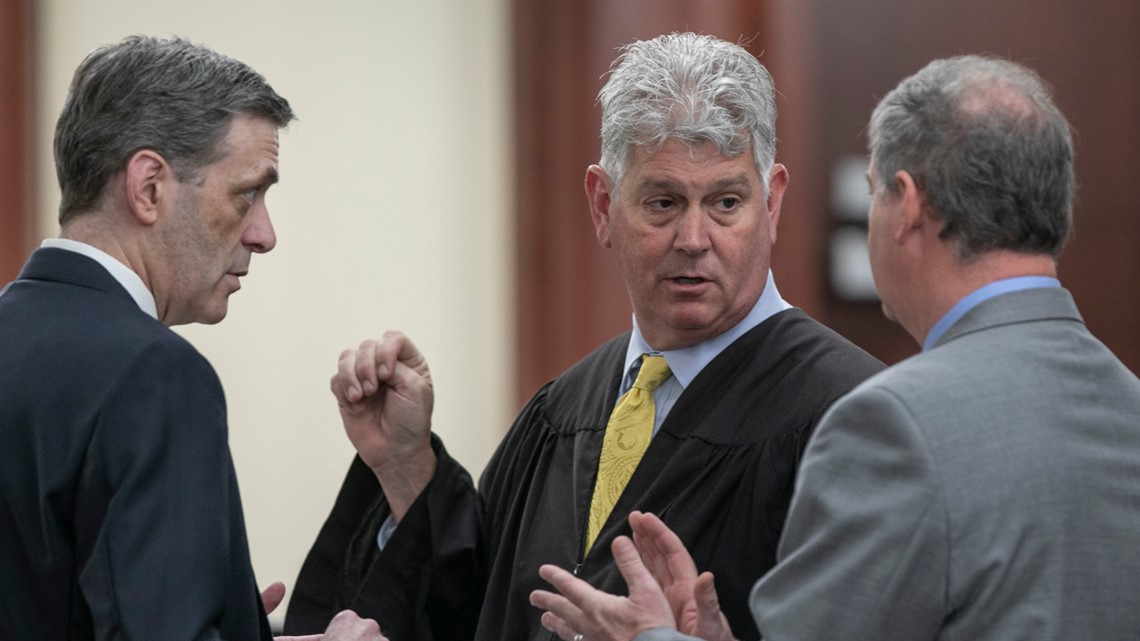 Deputy solicitor Shawn Graham calls Shelby Derrick, a crime scene investigator with Lexington County who testified earlier. Derrick did an extraction/data dump of Amber Jones Kyzer's cell phone on Sept 11, 2014, and retrieved photos and video from Amber's phone.
A video created June 16, 2013, features Tim and Merah. It shows Merah crying "Please mommy" and Tim prompting her off camera to "tell mommy what you want her to hear."
A second video, from June 7, 2014, shows Elias crying, his words unintelligible.
After the video is played in court, Tim can be seen wiping away a tear.
Graham then enters into evidence a recording of phone call from Nov 26, 2014, made to the South Carolina Department of Corrections. In it, a conversation between Tim Jones Jr., Tim Jones Sr., an aunt Bernadine and a cousin Blake can be heard.
Although the first portion of the recording is unclear, bits of conversation can be heard where Jones Sr. talks to Jones Jr about Amber's new boyfriend and daughter, Tim Jr's divorce and that he is still mad at everybody.
Then they begin to talk about the murders of the five children and Tim's reason behind them:
"I'm feeling like I'm insane; Nathahn was trying to get to his mom. He was just like me and I didn't want him to see him go through the pain (like he says he had "chasing after Cyndi"). I blame Amber on this one… its not him (Nahtahn), its her… she should know better, she caused the whole thing, it was her fault… if she would've been home it wouldn't have happened."
Hubbard calls coroner Dr. Janice Ross testified earlier about the autopsies she performed on the children. She is back on the witness stand to talk about the condition of the bodies when they were found.
Elias' bag (and body) showed signs of animal activity, the body was clothed in a Saxe Gotha t-shirt.
Merah's bag (and body) showed signs of animal activity (left arm missing), the body was in a sleeping bag in bedding, the body was unclothed
Gabriel's body was face down with knees beneath, foot facing wrong way, as if shoved in the bag. The boy was dressed in adult large t-shirt, in the bag was a girl's slipper, Hello Kitty journal, a used diaper. Ligature marks evident on boy's neck
Abigail Elaine's body was wrapped in sheets, wearing a portion of a diaper
Nahtahn's body was wrapped in a Ninja Turtle comforter, unclothed. The boy's elbow shows signs of injury. Exposed bone on knee shows signs of sawing
Copies of the children' official death certificates are entered into evidence. Cause of death for Elias: strangulation; Merah: homicidal violence; Gabriel: homicidal violence, probable strangulation; Abigail Elaine: homicidal violence; Nahtahn: homicidal violence.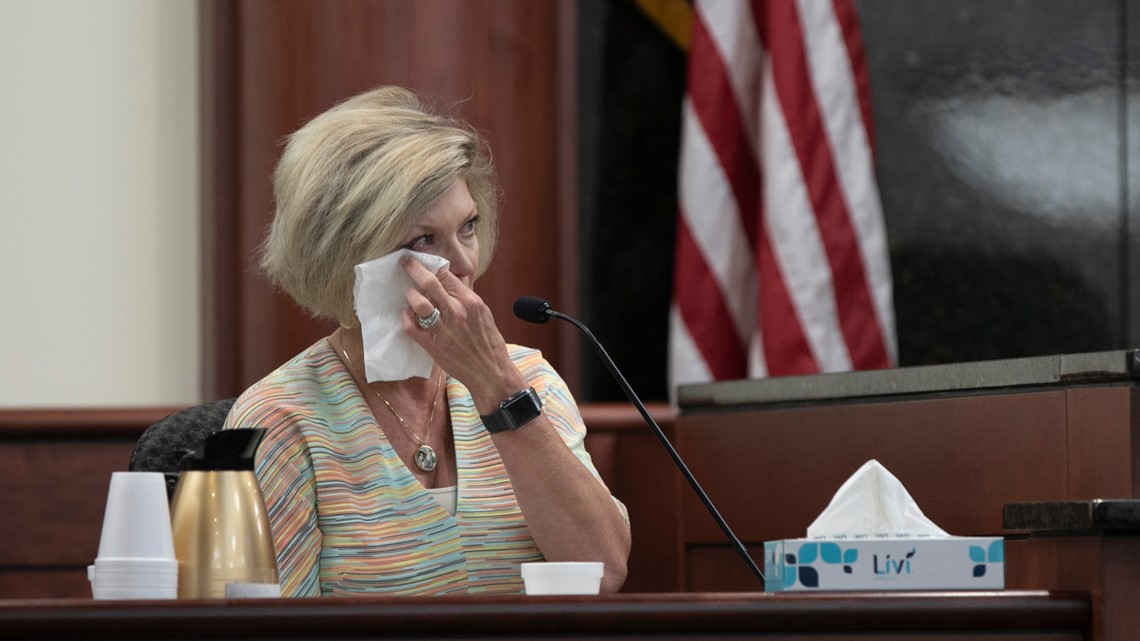 Mayes calls Janice Ricard, Saxe Gotha assistant principal while the Jones children were attending. She is a character witness for the children and gives a brief impression of the three oldest children:
Merah was going into first grade, behind academically in math and English; a very sweet, friendly young lady who was making academic strides in her second grade year. She had the highest academic progress in math in her grade.
Elias was going into kindergarten; the oldest boy was was a bit mischievous.
Nahtahn came a year later, was very active and busy
All of the children were friendly
With a voice sometimes breaking with emotion, Ricard recounts how the school pulled together in September 2014, after the murders: in the 2014-15 school year, the three children's photos are included in the school's yearbook. One of Elias' kindergarten teachers painted a mural with a beach theme in the learning commons. The mural, called Jones Beach, has five sets of footprints and five turtles (Elias' favorite animal), with reading areas and chairs.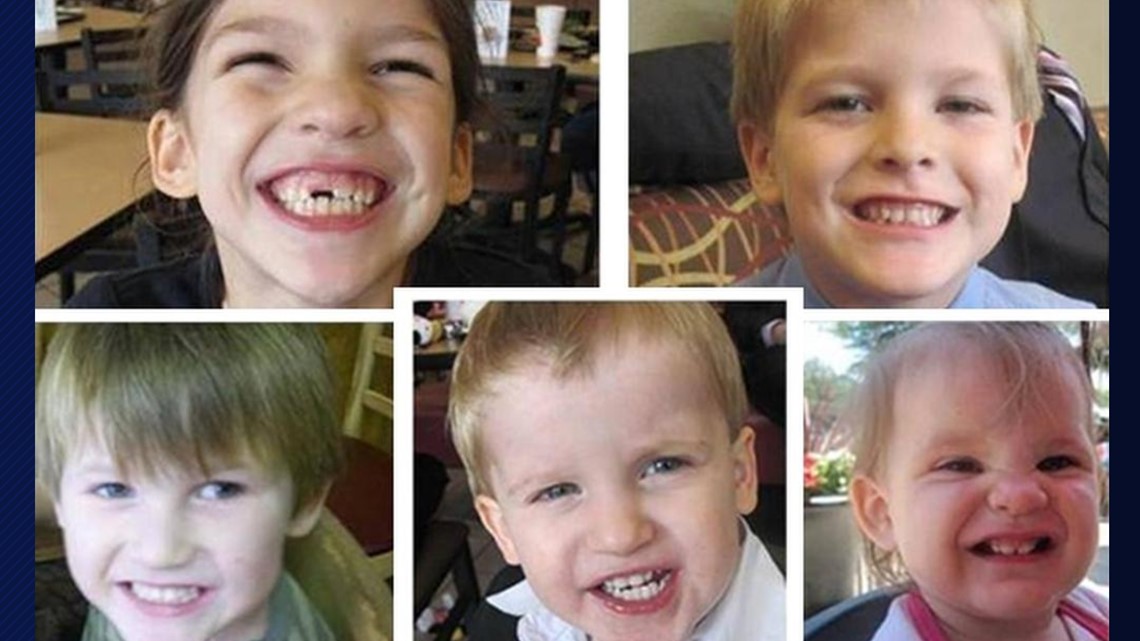 Ricard also reads from Merah's school work and letters. She wants to be a ballerina, a helpful sister, a good daughter, a good student, a nurse.
Elias began Saxe Gotha in kindergarten, "he was a special little fellow who wanted to please, everybody loved him," says Ricard.
She chose him as a student to work with because she knew he probably didn't get enough help at home as he could have — to fill a maternal void. That semester the two worked his reading skills. Her coursework required her to get him out of class and take time to learn about him and his development. Ricard says Elias looked forward to their time together.
A video taken by Ricard shows Elias learning to read a book aloud, sounding out words. His father stares up at the screen from his chair at the defense table below.
Mayes asks Ricard about the effect the deaths of the children had on her — it still impacts her today
On cross-examination, Madsen asks Ricard about photos of the children — family night at school, Merah with a favorite teacher, Nahtahn and Tim together at the Thanksgiving play. It is to show that Jones was active in the children's school life
Mayes next calls Joy Lorick, Jones' babysitter that made the DSS call in August 2014. She was the babysitter for the two youngest children in the spring and summer of 2014, before Christina Ehlke.
Mayes asks Lorick about Gabriel and Abigail Eliane. Gabriel always wanted to be held and wanted to do what his older siblings did, very sweet. Elaine was bubbly, wanted to be held, very sweet.
Lorick tears up when describing the older children: Merah was the helper, playing with the babies or preparing food; Elias was overprotective of Abigail; Nahtahn and Elias would catch bugs and frogs, always cheerful.
The babysitter is asked about a series of photos of the children showing them playing together or with their friends. During the slide show, Jones looks at the screen or straight ahead.
Young asks Lorick about photos of Tim Jones and his children — to show he had a loving relationship with his family.
After this, at 4 p.m., the jury breaks for the day.
The State will resume calling witnesses Friday morning.