COLUMBIA, S.C. — President Joe Biden touted his economic policies at a plant in West Columbia Thursday afternoon, saying the goal is to build from the middle class up.
Biden spoke at Flex LTD, a company he says benefits from those policies. The company is a short distance from the Columbia Metropolitan Airport, where Biden arrived around 11:45 a.m.
Biden toured the facility before his speech.
Biden began his speech by thanking Rep. James Clyburn for his support over the years and said it was great to be back in South Carolina. He also thanked the management of Flex before going into his talk about his Investment in America program.
Biden said Flex will partner with Enphase Energy to manufacture microinverters for solar panels. Enphase will invest approximately $60 million in capital investments nationwide and create 1800 jobs with this partnership. That investment would be $20 million in South Carolina and the potential for 600 new jobs between Enphase and Flex. Biden announced Midlands Technical College will be working with Flex to train workers to fill the positions created by the Enphase/Flex partnership.
According to its website, Flex LTD delivers technology innovation, supply chain leadership, and manufacturing solutions and services worldwide to diverse industries and end markets.
Biden also touted other investments in South Carolina -- most were investments in clean energy solutions such as lithium batteries, electric vehicles, and solar power. The president told the audience that money and the progress of Bidenomics in local communities can be tracked online at invest.gov.
The president said when he was elected, he promised to be the president for all Americans and said he has worked to keep that promise and to invest where the need was most -- in rural America. He said there is still much work to be done.
"Bidenomics," he said, is another way to restore the American dream to live and raise kids on a decent paycheck. Investing in the middle class, Biden said, is the best way to invest in America.
He and White House staff have also talked about the large, multi-million dollar infrastructure investments in areas such as broadband expansion, EV charging networks, and water and sewer upgrades in rural areas that have taken place under his Inflation Reduction Act (IRA).
Staff also noted that Republican lawmakers, in South Carolina and elsewhere, who voted against the Inflation Reduction Act and are pushing to repeal it, are also celebrating the investments that are creating jobs in their communities.
When Biden arrived in the Midlands, about a dozen cars with families and children lined up in the viewing area adjacent to the airport to watch the arrival of Air Force One, along with some Trump supporters.
Columbia Mayor Daniel Rickenmann and Clyburn were waiting on the CAE tarmac to greet the president after Air Force One landed. White House Deputy Press Secretary told reporters traveling with the president that Republican Rep. Joe Wilson was "made aware" of POTUS' travel to his district today but did not say whether he was invited to join the event.
Before heading to Flex LTD in West Columbia, President Biden shook hands with people who had waited on the tarmac to see him. The father of former South Carolina women's basketball star A'ja Wilson was among those in the crowd greeting the president. Some of these people had come out to CAE around 10 a.m. for a chance to see Biden.
A few Trump supporters lined the route the president's motorcade took from CAE to Flex LTD.
Air Force One took off from Andrews Air Force Base around 10:45 a.m. Among those traveling with the president were John Podesta, Senior Advisor to the President for Clean Energy Innovation; Ashley Jones, Deputy Assistant to the President & Deputy Director of Legislative Affairs & House Liaison; and Mike Donilon, Assistant to the President & Senior Advisor to the President.
According to the White House, companies have committed over $500 billion in manufacturing and clean energy investments in the United States since the beginning of the Biden Administration. Of that money, $11 billion has been invested in South Carolina for manufacturing and clean energy investments, and the administration has awarded the state $2.6 billion in funding for infrastructure projects. Biden says over 14,000 jobs have been created in South Carolina during his administration, and America's GPD has been cut by $1.7 trillion in the past two years. The jobs, Biden said, do not require a four-year degree in education.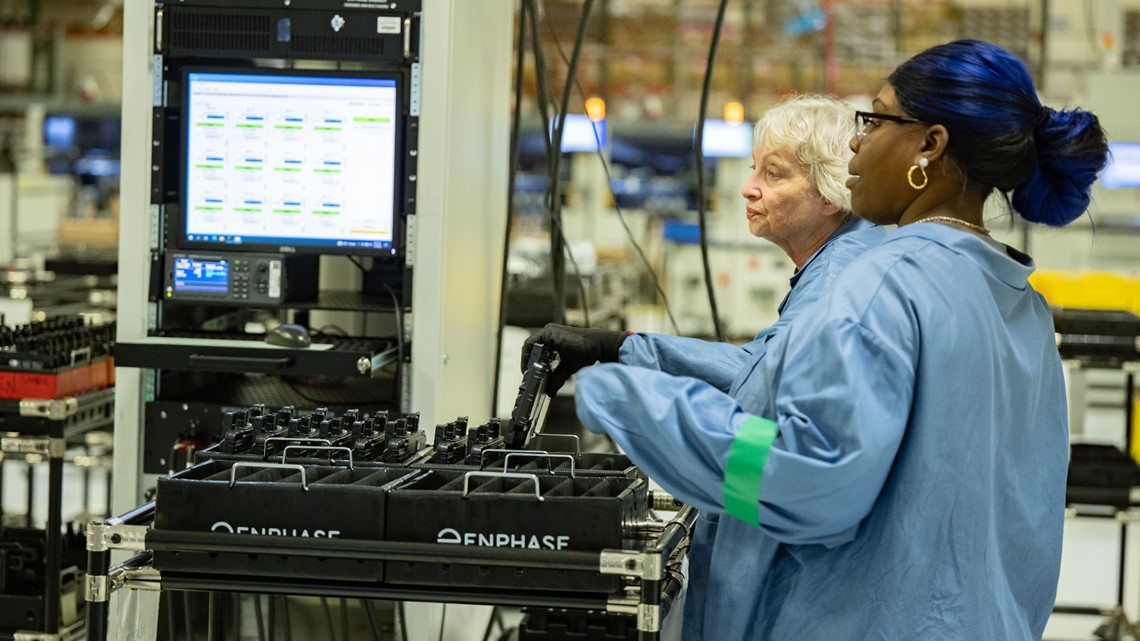 Biden and the First Lady last visited the state in the summer of 2023, spending vacation time at Kiawah Island. However, the last time he appeared and made a speech in the Midlands was in December of 2021, when he spoke at a South Carolina State University graduation.
Republicans running for their primary have been crisscrossing the state, making appearances. On July 1, Former President Donald Trump held a rally in Pickens, South Carolina.