COLUMBIA, S.C. — Meteorological winter is over and we are finally moving on to spring! Meteorologists define spring as the months of March, April, and May.
This is slightly different from astronomical spring, which officially begins on March 20th on the vernal equinox.
Why the difference in start dates? Meteorologists choose to look at the seasons climatologically, so winter is marked by the coldest months of the year (December, January, and February) and summer is marked by the warmest (June, July, and August). Accordingly, spring fits between these seasons! Astronomical seasons are based on the position of the Earth in relation to the sun.
One of the highlights of springtime is gaining daylight. In total, we gain just over two hours and 45 minutes of daylight over the next three months. Sunset on March 1st is at 6:20 pm, while sunset on May 31st will be just before 8:30 pm.
Spring also brings a big increase in our temperatures. The average high in Columbia on March 1st is 64 degrees. By the end of the season, on May 31st, that average high jumps to 87 degrees.
Looking at the entire season over the past few decades, there has been a noticeable increase in our temperatures. According to an analysis by Climate Central, we are experiencing about 15 more days above normal during the spring since 1970.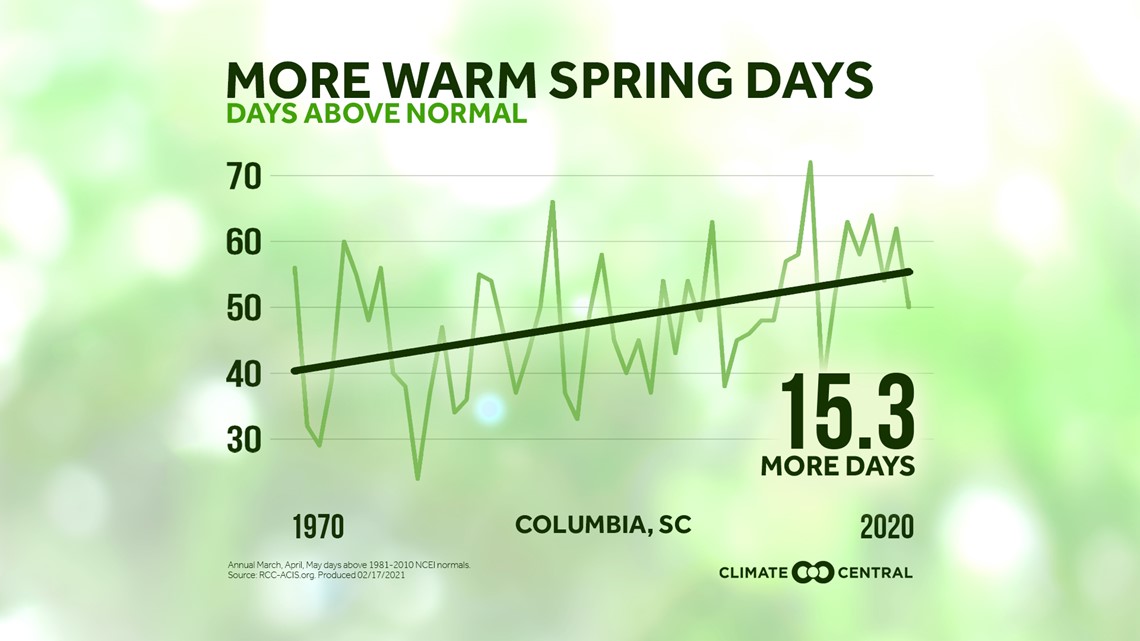 One of the consequences of earlier and warmer springs is earlier blooming of trees and plants and allergies.
Based on data from the United States National Phenology Network, we're already seeing the first leaf out earlier than normal in most of the Midlands and Low Country. This could cause problems if we get any more freezes in the area. Our average last freeze in Columbia is around the end of March.